15 Best Banana Desserts Easy Homemade Recipes (Best Ever!)
The mere mention of the words "Banana Bread" brings me comfort.
Aside from this most popular banana dessert, there are a plethora of other ways we enjoy utilizing this delectable fruit.
From banana pudding to banana muffins and pancakes, monkey bars, and, of course, the classic banana split, the 8 Best Banana Desserts are all waiting for you below.
WHAT TO DO WITH LOTS OF RIPE BANANAS?
If you come home with a bunch of ripe bananas that you don't know what to do with, look below for some delicious recipes that use ripe or even overripe bananas.
Banana bread, banana muffins, cookies, and even bars are all possibilities! If you're still stuck, simply freeze them and come back to them later!
In this banana pudding stuffed chocolate cake, the perfect combination of creamy banana pudding and caramel sauce is hidden inside a chocolate loaf cake.
It only takes about 20 minutes and everyone will be asking for more. It's also a great make-ahead option if you're entertaining.
Bananas Foster is a rich, rum-infused dessert made with sliced bananas, brown sugar, and butter. This famous New Orleans dessert is usually served with ice cream and tastes fantastic! This single-serving Bananas Foster recipe includes a step-by-step guide for making a perfect flambé as well as one without the flame.
This is the best banana bread! It's simple to make and comes out soft and moist. The key here is to use ugly, overripe bananas for this bread – the riper your bananas, the more moist your bread will be with an incredible banana flavor! It only takes 15 minutes to prepare!
These banana muffins are flavorful and ready in just over 30 minutes! Skip the mixer with this recipe; simply combine two bowls, some overripe bananas, flour, baking soda, cinnamon, brown sugar, butter, and vanilla extract to enhance the flavor, and you'll have the perfect on-the-go snack!
This moist banana cake pairs perfectly with a hot cup of coffee or tea and is ideal for an on-the-go breakfast, snack, or afternoon pick-me-up. It's moist, it melts in your mouth, and it's delectably delicious! You will not be disappointed with the time it takes to come out of the oven.
A banana split is something that will transport you back to your childhood. Nothing beats a good old-fashioned banana split – it's delicious and comes in one bowl.
So go ahead and grab the chocolate, vanilla, and strawberry ice cream, as well as a banana, peanuts, and maraschino cherries, and you'll be on your way to a dessert that both kids and adults will enjoy.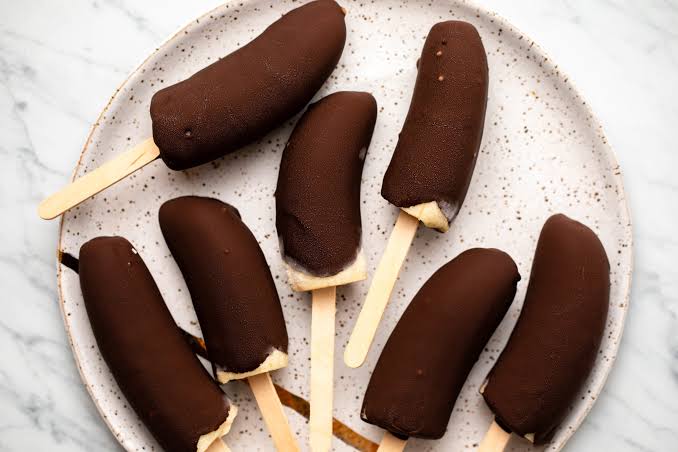 Chocolate-Covered Bananas are the most simple snacks ever! Crispy and chocolatey on the outside, creamy and sweet on the inside, and made with just a few ingredients: banana, chocolate, and coconut oil, plus toppings like crushed M&Ms, fruity pebbles cereal, and colored sprinkles.
These Chocolate Bananas are both beautiful and delicious! There's even a video tutorial!
Banana cream pie is creamy and delicious, and it's ideal for a family gathering or even when it's raining.
Because it's a no-bake pie, you'll need to bake the crust ahead of time and then simply fill it with this delectableness! If you want to take it to the next level, try adding some baked coconut topping.
In this banana pudding packed chocolate cake, the perfect combination of creamy banana pudding and caramel sauce is hidden inside a chocolate loaf cake.
It just takes around 20 minutes and everyone will be asking for more. It's also a terrific make-ahead choice if you're entertaining.
These pan-fried bananas take only a few minutes to prepare and can be easily changed into a delectable snack, dessert, or topping.
they're caramelized on the outside and have a warm, soft, and sweet taste on the inside, making them an excellent ice cream topping!
Banana pancakes are gently flavored with bananas and are fluffy on the inside and crispy on the outside! This recipe will easily yield twelve 4-inch pancakes that taste great with maple syrup sprinkled on top or even fresh fruit!
It's banana bread pudding, a delectable dessert with banana, croissant, and chocolate flavors!
It just takes 10 minutes to prepare, is inexpensive, and is ideal for potlucks or family events! Serve it fresh from the oven with a sprinkle of chocolate sauce.
Banana brownies that are super moist, chewy, and fudgy are a must-try! They are unquestionably the best way to use up those overripe bananas while also satisfying your chocolate cravings.
They have a bit of cocoa, a moderate banana flavor, and a ton of chocolate chips – you can't go wrong with this recipe.
You can make these peanut butter banana bars in 30 minutes with just three easy ingredients: peanut butter, oats, and bananas.
They're crunchy and sweet, and they're a filling snack for your youngsters! Furthermore, the toppings are fully customizable!
A basic dish sprinkled with chocolate chips to make it extra wonderful! Take a deep breath and smell the banana bread that is currently cooking in your tiny dwelling.
Fifteen minutes of preparation will result in days of delight. And, for the greatest flavor results, we recommend placing the banana bread on the counter, covered in plastic, at room temperature.
CAN YOU FREEZE OVERRIPE BANANAS?
The simple answer is YES, you can freeze overripe bananas as well as ripe bananas.
The best method is to slice them up, place them on a baking sheet lined with parchment paper, place them in the freezer for a couple of hours, and then use them in your baking.
Frequently Asked Questions
Can you microwave bananas?
Put them in the microwave for 30 seconds. Firm yellow bananas can be zapped to mushy ripeness in a matter of minutes. Unpeeled bananas should be poked all over with a fork or knife. Then, place them on a paper towel or plate and microwave on high for 30 seconds at a time, until they're as soft as you like.
What happens if we eat banana daily?
Eating too many bananas may have detrimental health effects, such as weight gai, poor blood sugar control, and nutrient deficiencies.
Are bananas flammable?
People want perfectly ripe bananas to eat. It is this fruit-ripening process that poses a potential fire hazard. As bananas, tomatoes, avocados, honeydew melons, and other fruits ripen naturally, they generate ethylene gas, a flammable gas with a flammable range of 2.7 to 36 percent.
Print
Perfect Banana Split Recipe
---
Author:

Prep Time:

5 minutes

Cook Time:

5 minutes

Total Time:

10 minutes

Yield:

2

servings

1

x
Description
One of my family's favorite weekend desserts, and it's so simple to make! Set up your own ice cream sundae bar with a variety of delicious toppings to enjoy this dessert.
---
2

 

bananas

 

, peeled & cut in half, then split in half again

6

 

scoops

 

neapolitan ice cream 

, two scoops of chocolate, two scoops of vanilla, and two scoops of strawberry

2

 

Tablespoons

 

chocolate syrup

2

 

Tablespoons

 

caramel sauce

4

 

Tablespoons

 

whipped cream

2

 

maraschino cherries

 

, with stems

crushed nuts 

, optional
---
Instructions
Place banana slices in a bowl and sandwich ice cream scoops between them.
Then top with the remaining toppings.
Serve right away and enjoy!
Category:

Dessert

Method:

Blend

Cuisine:

American
Nutrition
Serving Size:

2 servings

Calories:

652kcal

Sugar:

69g

Sodium:

244mg

Fat:

24g

Saturated Fat:

14g

Carbohydrates:

103g

Fiber:

5g

Protein:

9g

Cholesterol:

94mg
Keywords: Banana split recipe, best banana split recipe, easy banana split, dessert banana