Keto Baked Avocado Egg [So Yummy!]
★★★★★ 5 from 1 reviews
For breakfast, try this creamy, luscious Baked Avocado Egg! They are Keto-friendly, simple to prepare, and gluten-free. They have fresh tomatoes and Parmesan cheese on top. Start your day off right with this tasty low-carb breakfast.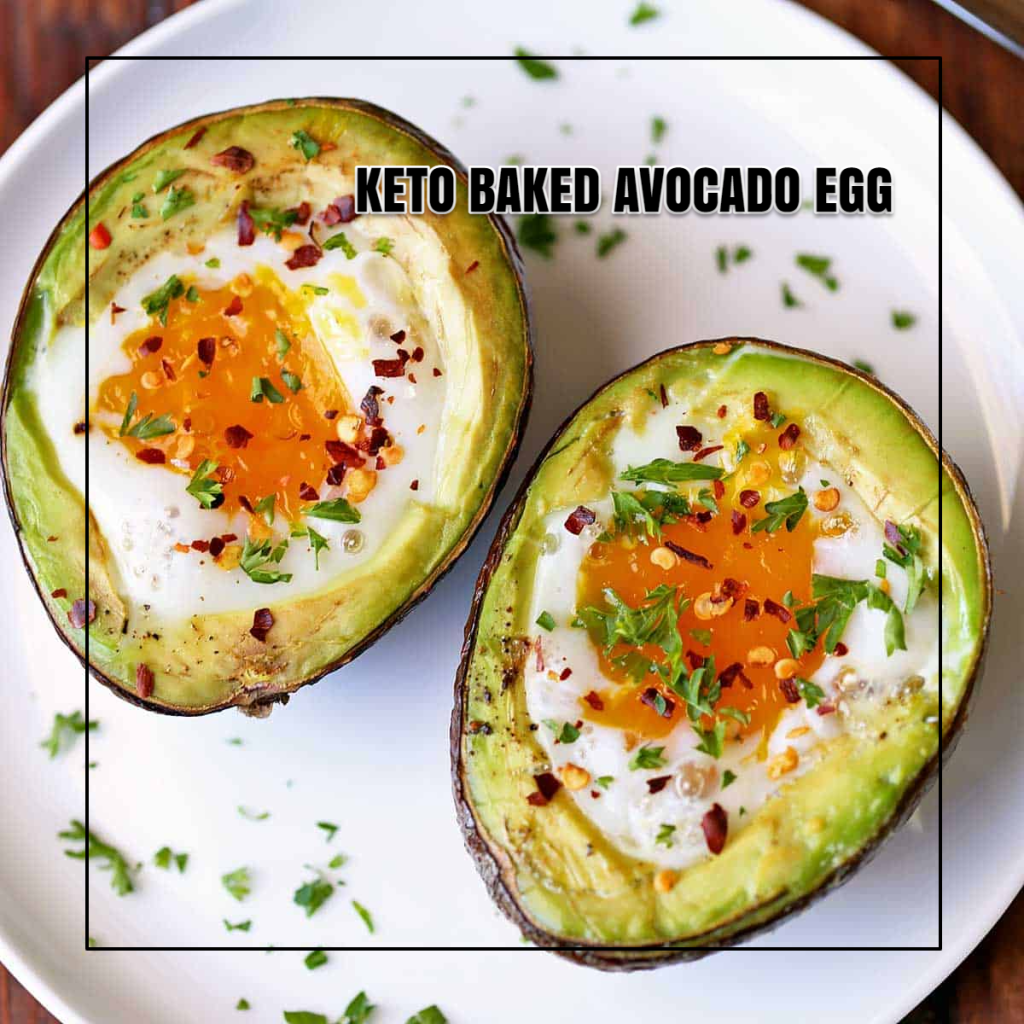 Start your day off right with this simple Baked Avocado Egg Breakfast that's cooked to perfection. This creamy and tasty breakfast meal is topped with parmesan cheese and fresh tomatoes.
WHY WILL YOU ENJOY THIS BAKED AVOCADO EGG-LOADED AVOCADO?
These green beauties are full of taste. Egg, cheese, and herbs combine for a delicious breakfast in an avocado!
A nutritious breakfast. This Baked Avocado Egg is high in protein and healthy fats while being low in carbs, making it keto-friendly. They are also gluten-free and Paleo. Something about pairing avocado and eggs is not only delicious but also healthy!
A simple breakfast concept. With only 5 ingredients, this baked breakfast goes from pantry to table in about 30 minutes.
INGREDIENTS YOU'LL NEED
Large Avocado
Eggs
Parmesan Cheese
Parsley
Salt & Pepper.
HOW TO COOK AN BAKED AVOCADO EGG
Cut your avocados in half and remove the pit.
Fill your avocado slices with an egg and season with salt, pepper, Parmesan, and parsley.
Bake for 12-14 minutes (or until the eggs are done to your liking).
Garnish, serve, and have fun!
Alternative Video Recipe: Baked Avocado Egg Boats
Suggested Posts:
NOTES AND TIPS FOR RECIPE
Look for more giant avocados because they work better in this recipe. They have an enormous pit and so more egg room.
If your avocado has a small pit, remove part of the avocado meat with a spoon to make way for the egg.
To keep the egg inside, keep the avocado upright. To make things easier, put them in ramekins.
No worries if you don't have a ramekin! You can learn the avocados against each other to support them.
Preheat the oven.
Be careful not to break the yolk when cracking the eggs into the avocado.
Sprinkle crushed red chili flakes on top for a spicy bite.
You can use cheddar or crumbled feta for the Parmesan.
For a burst of freshness, top with chopped fresh tomato.
ARE EGGS AND AVOCADO GOOD FOR YOU?
Yes! Eggs and avocados are both high in nutrients.
Eggs and avocados are both high in nutrients. Eggs are a low-cost source of high-quality protein. The egg whites will contain the majority of the protein, as well as some Vitamin B. They are also high in selenium, vitamin D, B6, and B12. They have been linked to a lower risk of heart disease, among other health benefits.
Avocados are highly nutritious. They are high in vitamins C, E, K, and B-6, fiber, and heart-healthy monounsaturated fatty acids. In addition, avocados can help decrease cholesterol.
Include fresh avocados in your daily healthy eating plans to help increase your fruit and vegetable intake and provide a tasty, heart-healthy, whole food supply of naturally excellent fats. Avocados fit perfectly with various fruits and vegetables recommended to help reduce weight and blood pressure.
When you combine eggs and avocados, you have a breakfast (or snack!) that is high in protein, healthy fats, and fiber. It would be best if you tried eating a baked stuffed avocado daily.
HOW TO DETERMINE IF AN AVOCADO IS READY
If the avocado yields to firm, mild pressure, it's ripe and ready to eat. Ripe avocados may have a darker hue, but color can vary, so judge by feel. It will feel slightly soft but not squishy to the touch. That day calls for a ripe avocado.
CAN YOU PREPARE THIS BAKED AVOCADO EGG IN ADVANCE?
You don't want to re-cook the eggs or avocado in this dish, so make it fresh. You can also prepare the garnishes ahead of time if you want to. However, this baked avocado egg takes a few minutes to prepare, so it's quick even if you don't cook it ahead of time!
HOW TO MAKE BAKED AVOCADOS WITH EGGS
Remove the stone from an avocado by cutting it in half lengthwise. You'll need to scrape more avocado flesh to fit each egg into the cavity. Ensure each avocado half is level by slicing a little skin off the bottom to prevent it from rocking or tilting.
Crack an egg into each avocado, which is more complicated than it seems because they tend to overflow. So here's how I accomplished it: crack each egg into a cup, then drop the egg yolk into the avocado with a spoon. Then spoon enough egg white into the cavity to fill it.
This may result in some egg white waste (as well as any extra scooped-out avocado if you haven't already snacked on it!). I've seen recipes that call for beating the egg before putting it into the avocado, but one egg per entire avocado is plenty. So give it a shot if you prefer!
Season the stuffed avocados on a baking tray with salt and pepper. I also add some red pepper flakes because I enjoy the flavor combo!
Bake for 18-20 minutes, or until the eggs are cooked to your preference, in a preheated oven. Sprinkle with chopped fresh flat-leaf parsley leaves before serving.
AVOCADO HEALTH BENEFITS
Avocado provides numerous health benefits when consumed first thing in the morning. For starters, it's high in vitamins like potassium and vitamin K. It's also high in healthful fats that are helpful for your heart. Fiber is another advantage of this superfood, which is beneficial for weight management.
Antioxidants are also present, aiding in the prevention of aging and protecting your eyes. So avocados are your friend if you want to look and feel your best! Starting your day with baked avocado and eggs is a quick and easy way to add this to your diet.
Print
KETO BAKED AVOCADO EGG
---
Description
For breakfast, try this creamy, luscious Baked Avocado Egg! They are Keto-friendly, simple to prepare, and gluten-free. They have fresh tomatoes and Parmesan cheese on top. Start your day off right with this tasty low-carb breakfast.
---
1

 

Large 

Avocado

2

 

Eggs

1

 

Tbsp

 

Grated Parmesan Cheese

½

 

Tbsp

 

Parsley

Salt and Pepper to Taste
---
Instructions
Preheat the oven to 400 degrees Fahrenheit. Remove the pit from the avocado and cut it in half lengthwise.
If the pit is small, remove some avocado meat with a spoon to make way for the egg.
To keep the avocados upright, place them in two small ramekins. You can also bake without ramekins.
Fill each avocado half with an egg and top with salt, pepper, parsley, and parmesan cheese.
Bake for 12-14 minutes or until the eggs are done to your preference.
Category:

breakfast

Method:

Baked

Cuisine:

American
Nutrition
Serving Size:

2

Calories:

235kcal

Sugar:

1g

Sodium:

108mg

Fat:

20g

Saturated Fat:

4g

Unsaturated Fat:

0g

Trans Fat:

0g

Carbohydrates:

9g

Fiber:

7g

Protein:

9g

Cholesterol:

166mg
Keywords: Baked Avocado Egg
FAQs About Baked Avocado Egg
Is it possible to heat avocado in the oven?
Baked avocado eggs are a simple dish to prepare. Remove the pit from an avocado and season with salt and pepper. Fill the center with pico de gallo and top with shredded cheese. Place the halves on a baking sheet and bake at 325°F until the cheese has melted and the avocado is warm all the way through.
Is baking avocado safe?
Halve the avocados and remove the pit. Drizzle the interior with olive oil and sprinkle with sea salt. After that, crack in an uncooked egg and bake at 400°F until the whites are opaque. That's all you need to make a hot egg and avocado delight.
How does baked avocado taste?
Let's face it: baked avocado does not taste exactly like raw avocado. Though the texture remains unchanged, baking avocado alters the flavor significantly.
Some people find it slightly bitter, but when appropriately cooked, the baked avocado egg is delicious with, bacon, chives, and a drizzle of sriracha.
Can you bake an avocado to make it ripe?
It is one of the most popular methods for swiftly ripening avocados. Remember that this approach only works with almost-but-not-quite-ripe avocados. Wrap the avocado whole in aluminum foil. Place in a baking dish and bake at 200°F for 10 minutes until the avocado softens somewhat. When you bake avocado, it emits ethylene gas, which encourages ripening.
Is it possible for me to prepare this ahead of time?
It's ideal for creating and serving baked avocado eggs as soon as they're ready. It is not suggested to reheat avocado with eggs. It simply takes 10 minutes to prepare this.
Can you eat eggs and avocado together?
Eggs and avocados are a great anti-aging combination. This meal combination comprises vitamin C, which encourages the synthesis of collagen, and vitamin A, which shields the skin from oxidative stress damage in the form of retinol and beta-carotene.
More Alternative Keto Avocado Recipes to try!
KETO AVOCADO FRIES WITH CHIPOTLE MAYO
I couldn't stop myself from eating French fries under any circumstances. Thankfully, these avocado fries allow even keto dieters to indulge. These salty, crispy avocado slices will appeal to both children and adults. They taste great and are quite simple to make.
Slices of avocado are covered in seasoned and—wait for it—crushed pork rinds. The end result is finger-licking wonderful and creamy on the inside and crispy on the outside.
They make the ideal side dish when combined with the chipotle mayo recipe.
KETO CHICKEN SALAD WITH AVOCADO AND BACON
One of my go-to lazy lunches is chicken salad. And this dish is a delectable and healthful variation of the traditional. The bacon adds a salty, delicious crunch, and the avocado makes the salad incredibly creamy.
You'll save time and get an extra taste using rotisserie chicken. You won't be dissatisfied with the results, regardless of how you choose to prepare your components. This salad is deserving of a gold medal, keto or not.