★★★★★ 5 from 1 reviews
You want to fry some food, do you? Well, cook me up and call me a Latkes, potatoes!
Jewish households in eastern Europe have a heritage of making these potato pancakes. As the grated potatoes and onions cook with lacy, golden brown, crisp edges that fan outward, they are light, delicate, and well-seasoned. However, the squishy interior is detectable when you bite into one. That, my friends, is latke perfection at its finest!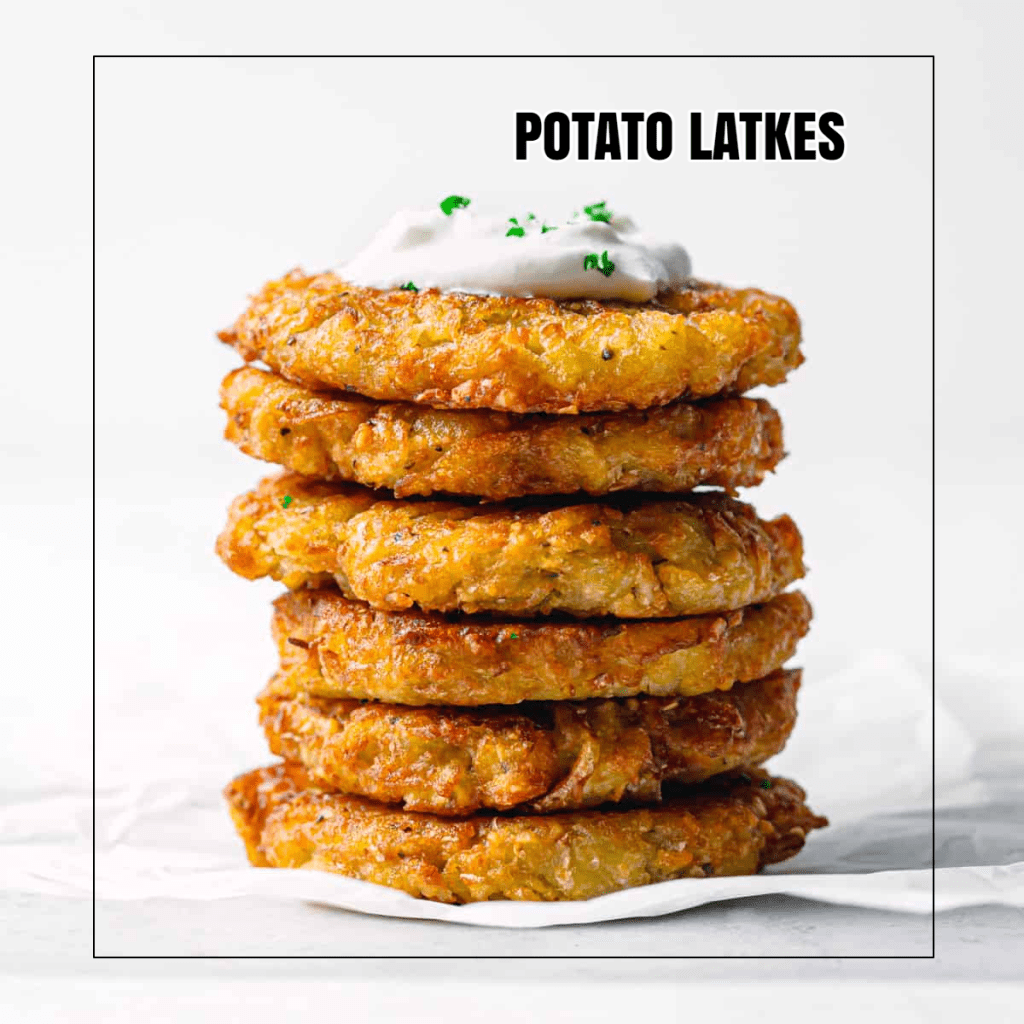 Since we have rediscovered our love for latkes, we have added them to the rotation for "any time of the year" instead of just December and Hanukkah. I can see some grins now that I've reminded you to prepare your favorite holiday snack.
WHAT ARE LATKES?
Latkes are only little fried pancakes made from grated potatoes. Although you would connect them to Hanukkah, they have older roots. In eastern European nations like Germany, Russia, Austria, and Poland, where potatoes were inexpensive and plentiful, potato pancakes were first made as a typical dish.
They did indeed become familiar and had many creative cooking variations. One of them is these potato latkes. In eastern Europe, they are a well-liked festival meal during Hanukkah.
The Jewish holiday of Hanukkah is named after a lamp that was supposed to have just enough oil to burn for one night but ended up burning for eight. Fried meals are frequently served because this occasion honors the wonder of oil. Without a large platter of latkes, no Hanukkah meal would be complete.
The East Slavic word Alaska, which means little pancake, is where the word latke originates. Simple ingredients make up the basic potato latke, which can be topped with various things after being fried.
The most frequent is sour cream, which Eastern Europeans and Russians prefer, and applesauce, which is most prevalent in Germany. They only require a few ingredients you always have in your home so that you can cook them any day of the week.
CAN POTATO LATKES BE PREPARED IN ADVANCE?
Yes, but not that pretty early. The latkes should be baked at 350°F on a baking sheet lined with paper towels after being fried. You can do this to fry the entire batch of batter before giving it to everyone at once.
However, it would help if you consumed the latkes as quickly as possible because they reduce their crispiness every minute you wait to serve (or eat!). Make sure to grate one potato and then one chunk of onion if you're grating the potatoes and onions in advance. The potatoes won't change color because of the sulfur in the onion.
Alternative Video Recipe: Fast and Easy Potato Recipe
Recommended Posts:
WHAT VARIETIES OF POTATOES WORK BEST FOR MAKING POTATO LATKES?
Russet potatoes are the way to go if you want fluffy, soft inside and extremely crispy edges in your latkes. Their high starch content immediately turns brown. I choose to grate them instead of using a hand grater, using the grating disc in my food processor. It produces a fine shred and is a great deal simpler.
DO POTATO LATKES NEED TO BE THICK OR THIN?
The latkes you cook denser, the more moisture there is in the batter. After shredding the potatoes and onions, squeeze them with your hands to eliminate most of the moisture for a more delicate latke. On a fresh dish towel, spread the potato and onion mixture, and roll it up. Twist the ends while holding them in different directions. Do this over a sink, of course! The amount of liquid that comes out will astound you.
WHAT KIND OF OIL IS USED IN A RECIPE FOR POTATO LATKES?
Picking an oil with a high smoke point, one of the best for frying is crucial. Vegetables, canola, safflower, or peanut oil would be appropriate in this situation because they can all withstand the high heat required without burning. Don't cut corners when it comes to frying, either. For that lovely crispy exterior, lots of oil is required.
WHAT IS USUALLY SERVED ALONGSIDE POTATO LATKES?
There are many alternatives for what to serve with latkes, whether you're making them for Hanukkah or as a side dish for dinner. Latkes are typically served with applesauce, sour cream, or a combination. Don't stop there, even though those are excellent. Try bacon, poached eggs, smoked salmon or trout, French onion dip, or Romesco sauce.
INGREDIENTS YOU'LL NEED:
Russet potatoes are ideal for making crispier latkes since they are heavy in starch. Leaner potatoes result in crispier latkes.
Spanish or white onions are onions. The red onion should be avoided since it could overwhelm the delicately fried potatoes.
One of the binders is an egg.
We are using flour, which works incredibly well. You can substitute matzo meal and cornstarch in its stead.
To taste, add salt and pepper.
Canola oil or any other oil with a high smoke point can be used for frying. It was delicious when we first tried cooking them in ghee (clarified butter).
A FEW TIPS
All seems terrific and straightforward, right? Not so simple. It will quickly become a soggy, greasy mess if you don't use a few tricks and procedures. We do not desire that.
Here is what you need:
A pan that will heat up evenly and sustain high temperatures is ideal. You don't want stainless steel works because they can become sticky if you use too little oil, nor do you want non-stick because it doesn't retain or distribute heat well.
The cast iron skillet, of course. You will receive perfectly crisp, beautifully golden-brown latkes from them.
Remove the liquid by squeezing it out: This is crucial. Your grated potatoes containing water will produce mushy latkes, oil spray, and a filthy kitchen.
Answer: When grated, potatoes and onions produce a lot of liquid. After grating the potatoes, put them in a tea towel, cheesecloth, or delicate muslin cloth. Squeeze and twist the liquid as much as you can. Paper towels are another option, although they frequently become drenched and disintegrate. The grated onions' water can also be squeezed out.
The latkes don't need to be deep-fried; this is the proper cooking temperature. Oil should cover the latkes halfway up in the skillet, heating at a medium-high temperature. The oil must be heated between 365°F and 375°F for latkes to be crispy. Drop a small amount of the latke batter into the oil and listen for a satisfying sizzling if you don't have a thermometer. Your oil is now prepared for frying. If served too soon, the latkes will soak up oil and become soggy. They will burn if it is too hot.
Avoid packing the pan too tightly since latkes prefer the room to fry. Use two skillets if necessary to avoid crowding one or frying in batches. Draining them on paper towels prevents sogginess and helps to absorb additional oil.
How can you keep them fresh? Latkes are best eaten from the pan, as with any fried dish. Crispy, spicy, and deliciously crunchy! Before moving to the table, half of our latkes are completed in this manner. However, if you are preparing a large quantity ahead of time, you must consider maintaining that crispness at the table. There is a great answer…
When frying the latkes, preheat the oven to 250 degrees Fahrenheit. Use parchment paper to line a baking sheet (or you can use a cooling rack). Transfer the latkes to the baking sheet as soon as they come out of the frying pan, and bake them there until you are ready to eat. They stay warm without further cooking in this manner.
AFTER ALL THESE SUGGESTIONS, CREATING THEM IS SIMPLE!
Set the oven to 250°F to begin. After frying the latkes, place them on a cooling rack or a baking sheet lined with parchment paper.
Use your box grater's widest hole to grind potatoes. Use a food processor with a sizable shredding or grating blade if you have one. Add some cold water to a bowl and add the shredded potatoes. Make onion grating.
To extract as much liquid as possible, drain the water from the potatoes and squeeze them into a cheesecloth or tea towel with the onion.
Mix grated potatoes, onion, eggs, flour, salt, and pepper in a sizable basin. To thoroughly combine, use your hands.
It's time to prepare the latkes. Oil should be heated before adding the ingredients with a large spoon or a 1/4 cup measuring cup. With a spoon, flatten the tops of the latke batter into 3-inch discs. For about 5 minutes, let them cook untouched until the edges become golden.
Fry for an additional 4-5 minutes after a gentle flip using two spatulas to prevent them from breaking. When ready to eat, either places them on a baking sheet and keep them hot in your preheated oven after draining them on a paper towel or serve them immediately.
Print
How to Make Crispy Latkes
---
Author:

Prep Time:

15 minutes

Cook Time:

30 minutes

Total Time:

45 minutes

Yield:

6

1

x
Description
Jewish households in eastern Europe have a heritage of making these potato pancakes. As the grated potatoes and onions cook with lacy, golden brown, crisp edges that fan outward, they are light, delicate, and well-seasoned. However, the squishy interior is detectable when you bite into one. That, my friends, is latke perfection at its finest!
---
2

lbs Potatoes

1

small white or Spanish onion

2

eggs, lightly beaten

1/4 cup

flour

1/2

to

3/4

cup oil
Sea salt and pepper, to taste
---
Instructions
The oven to 250 degrees Fahrenheit.
Use a box grater's biggest hold to shred the onion. Potatoes are peeled, grated, and then placed in a big dish of cold water. The potatoes for five minutes, then thoroughly drain them in a strainer.
Put the potato and onion in a triple-layered cheesecloth, muslin cloth, or kitchen towel. To wring out as much liquid as possible, tightly twist the cloth after wrapping it around the food.
Place this bowl with the potato and onion combination. Add eggs, flour, salt, and pepper by stirring. Mix well.
In a large skillet, heat the oil over medium-high heat. By putting a small amount of the latke batter into the oil, you can determine the temperature of the oil. When the temperature gets high enough, it will sizzle. Fry the latkes in batches once the oil is ready. Spread each latke's 1/4 cup of potato mixture into 3-inch rounds in the skillet using the back of a spoon. Repeat this process until the pan is nearly full. Cook for 4-5 minutes on each side or until golden brown.
Latkes should be drained for two minutes on paper towels before serving.
Keep the latkes warm on a wire rack or a baking sheet coated with parchment paper in the preheated oven until you have finished frying the entire batch. For up to 30 minutes, you can keep them heated in this manner.
Serve the latkes with apple sauce or sour cream and fresh chives as a garnish.
Notes
The best way to eat latkes is immediately. However, if you're making them ahead of time or consuming leftovers, warm them in the oven at 300°F for 5 to 10 minutes. When reheating latkes, keep a close eye on them to prevent burning.
You can add more flour to the potato mixture if the latkes aren't sticking together. If additional egg is required, you can do so because both serve as binders.
Category:

Side dish

Method:

Pan Fry

Cuisine:

American
Nutrition
Serving Size:

6

Calories:

312 kcal

Sugar:

2g

Sodium:

88mg

Fat:

16g

Saturated Fat:

1g

Unsaturated Fat:

0g

Trans Fat:

0g

Carbohydrates:

37g

Fiber:

4g

Protein:

7g

Cholesterol:

62mg
Keywords: potato latkes. Crispy Latkes,
FAQs
Who created the potato pancake?
A relatively contemporary Ashkenazi innovation, potato latkes rose to fame in Eastern Europe around the middle of the 1800s. Due to their ease of cultivation and low cost, potatoes were widely planted in Poland and Ukraine after several crop failures.
What race are latkes?
It turns out that the latke originates in an ancient Italian Jewish tradition that dates back to the 14th century. So it might appear that Jews originally cooked pancakes to celebrate Hanukkah there. They were made of cheese back then, though.
Is the term "latkes" Yiddish?
Officially speaking, though, a latke is just a pancake; the word itself is derived from a Russian term that means "small pancake" and was adopted into Yiddish. In reality, practically any vegetable, bean, cheese, or grain can be used to make latkes.
What's the origin of latkes?
This Hanukkah miracle, when the oil of the menorah in the looted Second Temple of Jerusalem was able to remain aflame for eight days despite there only being enough oil for one day, is symbolized by these potato pancakes (also known as latkes). The symbolism is there in the oil used to fry the latkes.
Why do Jews eat latkes?
Eat, of course, latkes! Potato pancakes are crispy, fried, and slightly oniony with luxurious (a euphemism for fattening) toppings. Latkes: why? The simplest explanation is that they are intended to remind Jews of the Hanukkah miracle involving the oil.
More Alternative Recipes to try!
CRISPIEST EVER POTATOES
These tiny creamer potatoes are boiled in water with baking soda and then smashed, falling between crunchy hash and oven-roasted potatoes. The baking soda's alkaline properties help the skins crisp up rapidly. Their surface area and contact with the pan are increased by smashing. The crust is the most crunchy ever as a result.
TWO-POTATOES ANNA
How we prepare potatoes Anna (thinly sliced potatoes cooked in delicious butter). Use a blend of sweet and rooster potatoes and add fragrant, fresh rosemary.