Best Macaroni Coleslaw Salad Recipe
★★★★★ 5 from 1 reviews
Coleslaw and macaroni salad combine well in Macaroni Coleslaw Salad, which is brimming with vegetables, noodles, sliced apples, and your two favorite summer side dishes! Take this delicious, simple recipe to a BBQ or potluck.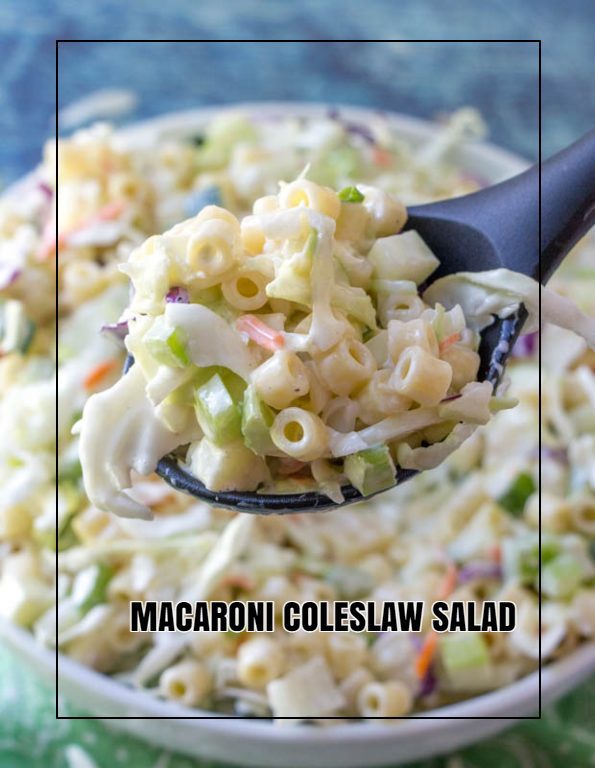 A traditional coleslaw salad and macaroni salad with a creamy dressing! A straightforward recipe that makes the ideal side dish for summer picnics and family get-togethers!
What exactly is this mixture? This dish is essentially a combination of macaroni salad and coleslaw! The ideal of both worlds is combined in one salad!
There are plenty of vegetables, macaroni noodles, and a quick homemade coleslaw dressing. As well as being crunchy, sweet, and tangy. The best dish to bring to a summer potluck or BBQ is macaroni coleslaw salad.
The main course of your next barbeque, potluck, or quick lunch can be this simple Coleslaw and Macaroni Salad. It is easy to prepare and has a delectable flavor and texture. You'll adore the creamy dressing that includes mustard, relish, and a touch of sweetness. It is the ideal accompaniment to grilled pork chops or barbecued chicken.
One of the simplest meals to prepare is macaroni salad with coleslaw. After the macaroni has finished cooking, all that is left is to combine the creamy dressing with the slaw and noodles. Put it together in a matter of minutes, then let it sit in the refrigerator for a few hours. Just like that!
Making a bit extra of this meal is advised if you're serving it at a gathering. You'll be surprised at how much food is consumed; leftovers are always welcome. It's excellent to have on hand for a quick lunch because coleslaw macaroni salad keeps nicely in the fridge for a few days.
WHAT IS AL DENTE?
To obtain the most excellent texture possible while cooking pasta, it's crucial to cook the pasta until it's al dente. If you are unfamiliar with the phrase "al dente," it refers to cooking pasta until it is firm and chewy but retains its shape when the sauce is applied.
Alternative Video Recipe: Coleslaw Macaroni
Recommended Posts:
INGREDIENTS YOU'LL NEED:
The following ingredients are required to create this macaroni salad (for serving sizes, see recipe card): Among the ingredients are macaroni, apple cider vinegar, celery stalks, red onion, green bell peppers, cucumbers, mayonnaise, white sugar, salt, ground black pepper.
INGREDIENTS FOR A MACARONI SALAD WITH COLESLAW
Apple cider vinegar and macaroni. Elbow macaroni is highly recommended for this recipe, although other short noodle shapes would work. Because the noodles are so thin, there are many crevices for the dressing and other small components to tuck into, allowing them to be equally distributed throughout the pasta. To prevent the cooked pasta from sticking and clumping together, we toss a tiny dab of apple cider vinegar after it has been drained.
Salad dressing. Simple is best in this case; a packet of coleslaw from the grocery works wonderfully! Most coleslaw mixes are next to other packaged salad mixes in the grocery store's produce area.
Celery. This traditional ingredient gives the macaroni salad a pleasant crunch.
Cucumber. In this salad, we prefer English or Persian cucumbers (also called little cucumbers). Regular cucumbers don't have enough texture and flavor. They degrade faster and are relatively watery, which is undesirable in this salad.
Onion red. If you can't stand the taste of raw red onion, soak the sliced onions in ice-cold water with salt for ten minutes. Before using, drain thoroughly. So that you know, the red onion flavor gets stronger the longer this salad sits and keeps in the fridge.
A green bell pepper Another item that gives the salad a wonderful crunch and savory quality is this one.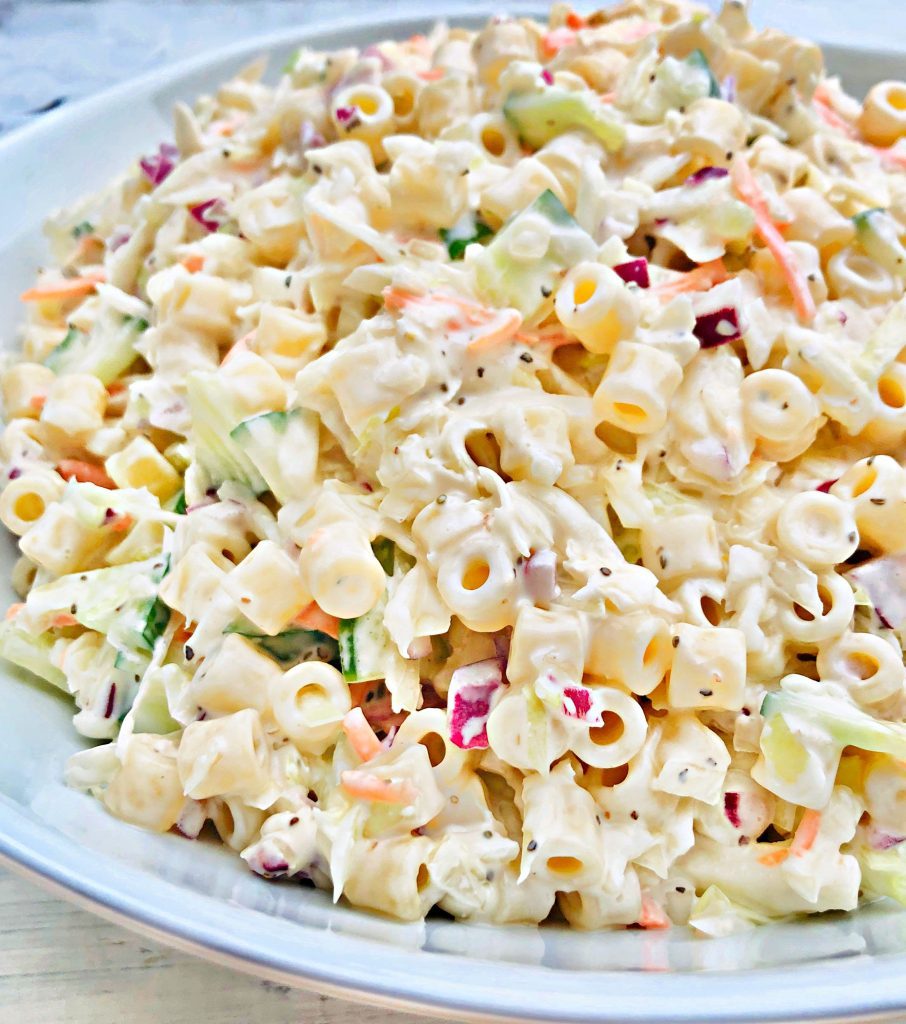 INGREDIENTS IN DRESSING
Mayo. The mayonnaise in this recipe is possibly the key component because it significantly affects the flavor. We adore Best Foods® by Hellman's® the most (not sponsored). It isn't overly sweet and somewhat creamy. We like their standard (full-fat) mayo in this salad since it makes the creamiest dressing.
Sugar. This macaroni salad is typical in that it is purposefully sugary. The sugar balances the vegetables by reducing the acidity of the vinegar in the dressing. If you don't like sweetness, add sugar gradually and according to taste.
Alcohol from apple cider. The vinegar adds a pleasant tang to the salad and counteracts the sweetness of the mayo and sugar.
Seasonings. Minor additives like salt, pepper, and garlic powder all have a significant impact on flavor. A little extra salt may be all the salad needs if the flavors appear bland.
Juice of fresh lemon. This acidic component harmonizes flavors and gives the salad a little more zing. If you enjoy fresh lemon juice, you may wish to add more of this ingredient! We firmly believe that fresh lemon is superior to bottled lemon. Seriously! For best results, use fresh lemon juice.
HOW TO PREPARE MACARONI COLESLAW SALAD
Bring salted water to a boil in a kettle. As directed on the package, prepare the macaroni al dente—transfer the macaroni to a sizable serving bowl after draining and rinsing it in cool water.
The macaroni should be tossed with a tablespoon of apple cider vinegar.
Add the chopped cucumbers and green pepper to the macaroni. Mix everything together thoroughly by tossing. Chopped celery and red onion should be added to the bowl. Mix the coleslaw mix in after adding it.
In a small mixing bowl, combine all of the dressing's components. To blend, whisk. When everything is thoroughly coated, drizzle the dressing over the macaroni mixture and toss to combine.
Before serving, put a tight lid on the bowl and place it in the fridge for at least an hour.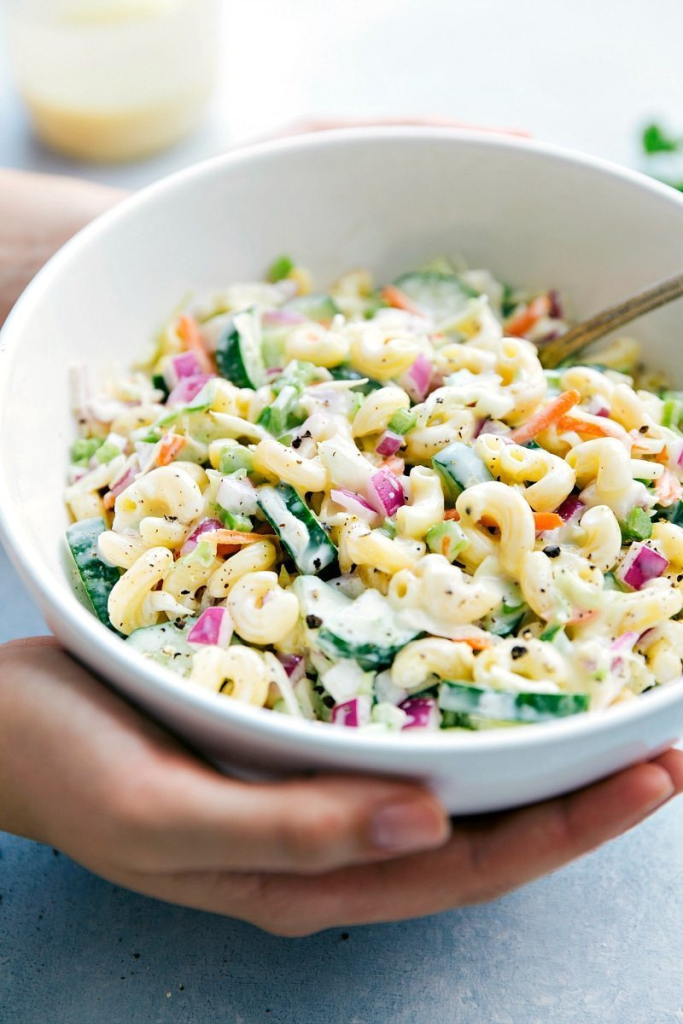 TIPS FOR MACARONI COLESLAW SALAD
The pasta water with salt. The flavors of this pasta tend to become silenced when served cold. Since this is the only opportunity to season the pasta, ensure it is
well-seasoned as it cooks. Learn how to correctly salt pasta water by reading this article. Generally, I usually add one teaspoon of salt for every 4 cups of water.
Don't worry if the dressing appears lumpy initially; the lumps will dissolve when the dressing is stirred with the salad.
Take a 30-minute break. This salad can be served immediately after preparation, but it tastes better cold after the ingredients have had some time to mingle with the dressing.
MACARONI COLESLAW SALAD STORAGE
Put this salad together just before eating. Did we not just say that the salad should be chilled for 30 minutes? That's not the same as keeping it in storage for four or five days. Pasta salads don't keep well with the dressing after a day—the noodles bloat as they soak up dressing juice, giving the salad a disagreeable texture. Additionally, the vegetables become mushy, and the salad gets watery. So kindly chill it for 30 minutes, then take it out and serve.
If making it ahead of time, refrigerate the salad and dressing separately and combine them just before serving. Do not exceed serving sizes for meals.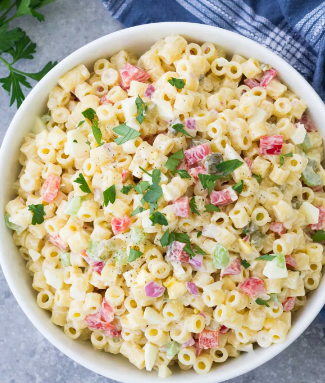 WHY YOU'LL LOVE THIS RECIPE
A creamy pasta salad fit for a summer barbecue or gathering!
Spaghetti with excellent coleslaw! With two traditional salads in one!
A simple evening meal would also be complete with this coleslaw pasta salad!
INGREDIENT NOTES AND SUBSTITUTIONS
Black pepper can be substituted for white pepper, but the flavor won't be the same. Give white pepper a try if you've never used it before! Since white pepper has a much superior flavor, I rarely use black pepper.
Red, green, and carrots can all be swapped out with a package of coleslaw mix in the recipe for cabbage. About 4 cups of coleslaw mix are required.
White vinegar can occasionally be swapped out for apple cider vinegar.
Ditalini pasta is the pasta I use in this macaroni and slaw recipe. If you like, you might use another type of tiny pasta, elbow macaroni.
Miracle whip can be used in place of mayonnaise.
Red onions can be used in place of green onions in this recipe.
Print
Macaroni Coleslaw Salad
---
Author:

Prep Time:

30 minutes

Total Time:

30 minutes

Yield:

1
SALAD
2

 

cups (300g)

 

elbow macaroni,

 

measured when dry

1/2

 

tablespoon

 

apple cider vinegar

2

 

English cucumbers,

 

cut into half moons (2 cups; 260g)

1

 

green bell pepper,

 

finely chopped (1 cup; 135g)

2

 

regular

 

celery ribs,

 

finely chopped (3/4 cup; 93g)

1/2

 

large red onion,

 

finely chopped (1 cup; 135g)

1

 

package (14-16 oz; 454g)

 

coleslaw mix

 

Note 1
DRESSING
1 and 1/2

 

cups (300g)

 

mayonnaise

 

recommended: Best Foods/Hellman's

1/4

 

cup (50g)

 

granulated sugar

 

Note 2

1/4

 

cup (57g)

 

apple cider vinegar

1/2

 

teaspoon

 

fine sea salt

1/4

 

teaspoon

 

pepper

1/2

 

teaspoon

 

garlic powder

1

 

tablespoon (17g)

 

fresh lemon juice
---
Instructions
MACARONI NOODLES: Make the pasta as directed on the package. (Only cook 2 cups; do not cook the entire box.) The salad will taste bland overall if you don't salt the water liberally (I add one teaspoon to every 4 cups). Pasta should be drained, rinsed in cold water, and then put back into the dry pot it was cooked in. After tossing them with apple cider vinegar, let the noodles completely cool.
VEGGIE PREP: In the interim, get the vegetables ready. English cucumbers should have removed about an inch of each end (this part is bitter). Cut each cucumber in half, then into moon-shaped pieces. Red onion and green pepper should be chopped finely.
ASSEMBLY: Add the noodles to a sizable bowl once they have cooled. Stir in the coleslaw dressing. Place the celery, red onion, green pepper, and cucumbers on top.
DRESSING: In the meantime, combine the dressing's components in a small dish. Combine by whisking. If serving the entire batch of salad on the same day (See Note 3), pour over the salad and toss to coat all the components evenly. Before serving, chill the mixture well in the refrigerator for at least 30 minutes and no more than an hour. Just before serving, toss, then check for more seasonings if necessary. Salad is best eaten the same day it is dressed.
Notes
Note 1: Coleslaw mix is simply a prepackaged coleslaw purchased from a store (shredded cabbage and carrots). Most coleslaw mixes can be found in the grocery store's vegetable area next to other pre-packaged salad mixes.
Note 2: Sugar: Start with less and gradually add more to taste if you're concerned about sweetness.
Note 3: This pasta salad does not keep well with the dressing after a day. The noodles will inflate as they continue to absorb dressing liquid, giving the salad an unattractive texture. Additionally, the vegetables become mushy, and the salad gets watery. If making it ahead of time, refrigerate the salad and dressing separately and combine them just before serving. Do not exceed serving sizes for meals.
Category:

Side dish

Method:

mixing

Cuisine:

American
Nutrition
Serving Size:

1

Calories:

326kcal

Sugar:

7g

Sodium:

248 mg

Fat:

2 0g

Saturated Fat:

3g

Unsaturated Fat:

0g

Trans Fat:

1g

Carbohydrates:

32g

Fiber:

2g

Protein:

5g

Cholesterol:

11mg
FAQs
What's in the macaroni coleslaw salad dressing?
Mayo, white vinegar (apple cider vinegar can also be used for a little added sweetness), sugar, dijon mustard (I prefer one with a little more bite to it), salt, pepper, and a tiny bit of sweet pickle relish should all be combined in a bowl.
What ingredients are in Amish slaw?
A traditional mayo-based slaw is heavier and tangier than Amish Vinegar Slaw. They are made from chopped cabbage, diced onion, dry mustard, and apple cider vinegar. You can bring this fast side dish to barbecues, potlucks, and family events.
How can macaroni salad stay moist?
The pasta is crucial in preventing the macaroni salad from drying out. The pasta won't adhere to the dressing if you don't cook it long enough, and it will also dry up. The spaghetti will be soggy and disgusting if you overcook it. Your macaroni salad will remain creamy if the pasta is cooked to perfection.
What ingredients are in slaw dressing?
The main ingredients in coleslaw dressing are mayonnaise, a sweetener (like honey), apple cider vinegar, celery seeds, salt, and pepper. Buttermilk is sometimes used in coleslaw dressings, but I don't think it's necessary and prefer this dairy-free alternative.
How is Amish macaroni salad prepared?
Mix eggs, onion, celery, bell pepper, and relish in a big bowl. Whisk the salad dressing ingredients in a small bowl—sugar, mustard, vinegar, celery seed, and salt. Pour over the vegetables and eggs. Add the macaroni that has cooled on top and mix thoroughly.
More Alternative Salad Recipes to try!
STRAWBERRY SALAD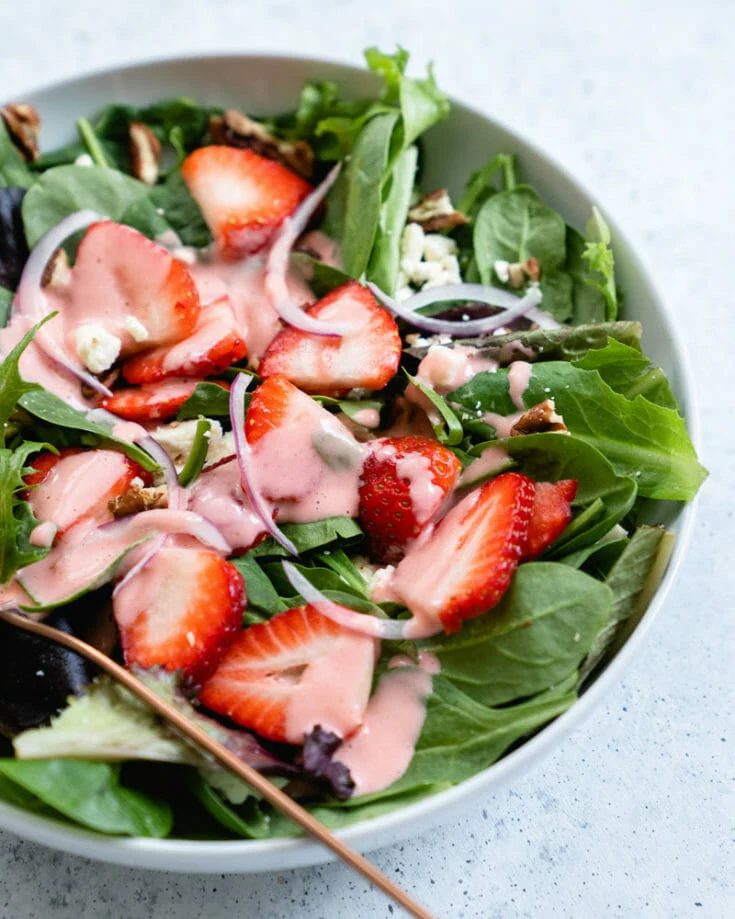 One of our most well-liked salad dishes features luscious strawberries and a delicious strawberry vinaigrette dressing. This green salad is the ideal way to savor seasonal berries because it's paired with crunchy red onions, toasted almonds, feta cheese crumbles, and those lovely sweet berries. For a similar tasty variation, try blackberries or raspberries. Try our equally excellent Strawberry Salad with Balsamic Vinaigrette if you'd like.
VEGAN PASTA SALAD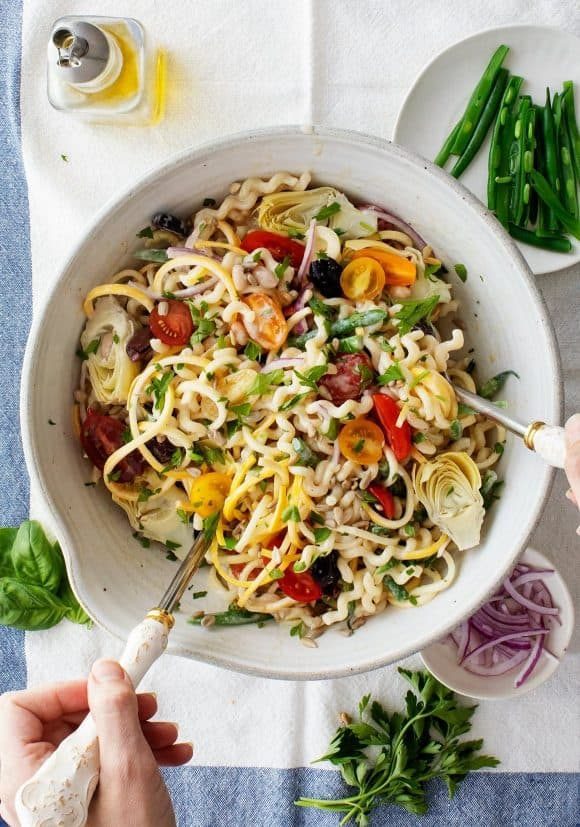 This enormous bowl of joy is vegan pasta salad! Green beans, yellow squash, and cherry tomatoes are just a few of the colorful produce options. Artichokes and olives lend a delightful briny flavor. I prepare a tart, creamy tahini dressing to bring everything together.
This dressing travels well because it is entirely free of mayo. As a result, this vegan pasta salad is ideal as a side dish at a picnic or BBQ. I intend to prepare it for the entire summer because it is energizing, colorful, and enjoyable. You will be once you give it a try!