Crispy Awesome Blossom Petals Recipe (Light and Flaky)
★★★★★ 5 from 1 reviews
Chili's Awesome Blossom Petals are a delicious and crispy appetizer similar to the famous Outback Steak's blooming onion! With our step-by-step instructions, you can easily make Awesome Blossom at home.
The Awesome Blossom Petals from Chili's has taken its place. Awesome Blossom Petals delivers the onion as distinct petals rather than in full bloom.
The breading on the fried onion petals is light and flaky. The sweetness of the onion and a smidgeon of seasoned salt provide a great contrast. The petals come with an Awesome Blossom dipping sauce that tastes like ranch dressing.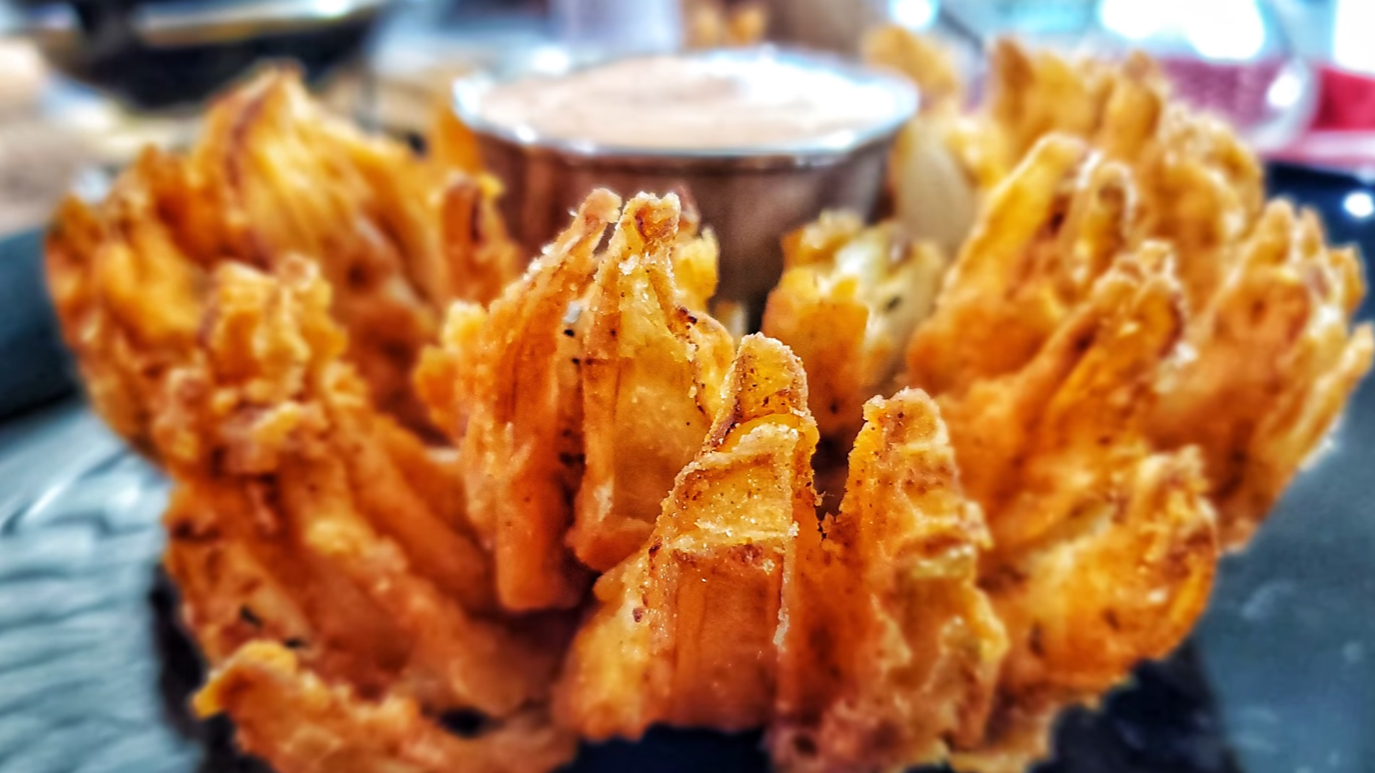 WHAT IS CHILI'S AWESOME BLOSSOM?
This copycat recipe consists of an onion cut into an onion flower, seasoned, battered, and deep-fried to a golden brown perfection. It's also known as bloomin' onion and tastes like onion rings.
This recipe, like Outback's bloomin' onion, can be served as an appetizer. Simply break off pieces with your fingers and dip them in the bloomin' onion sauce.
WHAT MAKES CHILI'S AWESOME BLOSSOM PETALS SO GOOD?
These crispy and crunchy onion petals are perfect for snacking. They're fried crisp, and the bread has just the right amount of spice! They're then topped with a spicy Ranch sauce that you're going to love.
These beautiful blossom petals are simple to make. You'll cut the onions into petal shapes, make a seasoned flour mixture, batter the petals, and fry them until golden brown. Did I mention that this was a lot easier than making a deep-fried onion blossom?
INGREDIENTS YOU'LL NEED: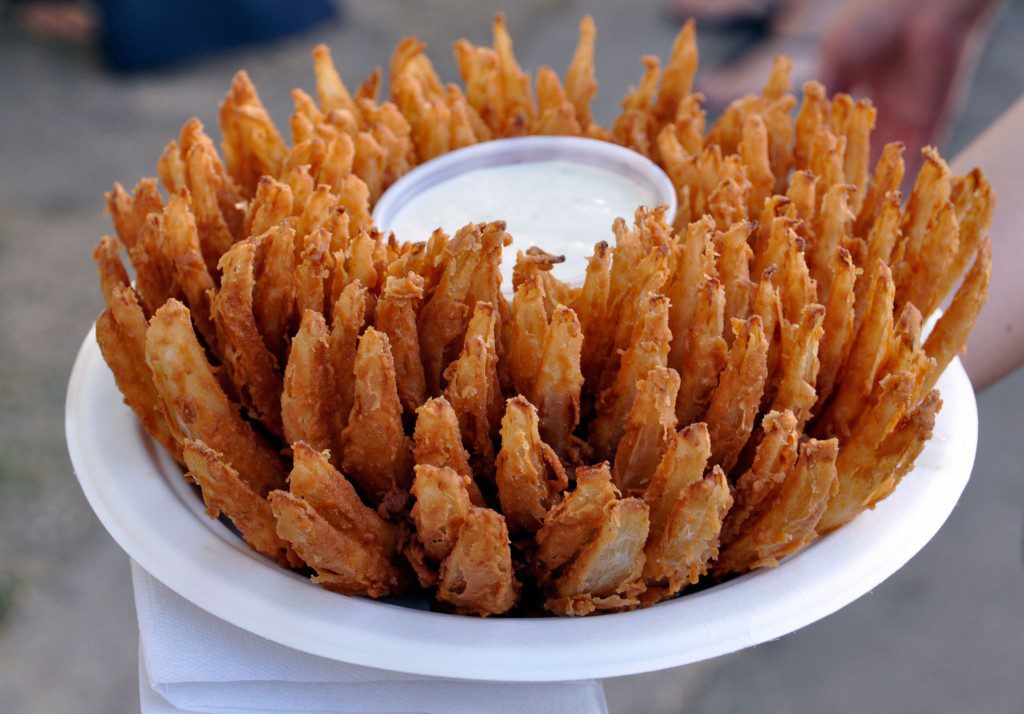 Sweet onion– You can use any type of onion you want. Use a sweet onion, such as a Vidalia, for the original, but red onions are also delicious for a fun variation.
All-purpose flour is preferred. I'm sure you can use a gluten-free substitute; this is for sticking (like glue) rather than baking and providing structure.
Paprika, cayenne pepper, ground cumin, dried thyme, dried oregano, Kosher salt, and white pepper are the seasonings.
Eggs – A component of the glue.
Milk – I prefer whole milk for cooking because it has more body and structure, but skim or 2 percent will suffice.
Vegetable or peanut oil – or any other oil with a high smoke point and a neutral flavor.
Blooming Onion Sauce – make it from scratch (recipe follows) or buy it from the store.
HOW TO CUT ONIONS WITHOUT WEEPING?
The key to avoiding tears is to chop an onion in a way that reduces the production of this irritant and/or prevents the irritant from reaching your eyes. Here are six different ways to stop the dripping:
Sharpen your knife – A sharp knife means less damage to onion cell walls and the release of fewer irritants.
Cuts should be avoided if possible. After halving an onion, turn it upside down and peel the side you're not working on. Place the first half's diced onion in a bowl and move it as far away from you as possible before cutting up the remaining onion.
Imitate a chef. Chefs understand the importance of dicing an onion so that the majority of the exposed cuts are against the cutting board. Here's a video that will show you how.
Make use of chilled onions (refrigerated not frozen). When an onion is chilled, it is less irritating. When frozen raw onions thaw, they become mushy.
Switch on the vent hood. Place your cutting board near the stove and turn on the exhaust fan to draw the irritants away from you and your eyes.
Put on goggles. Purchase a low-cost set of safety goggles from a hardware store or goggles designed specifically for onion-chopping. It's guaranteed to work!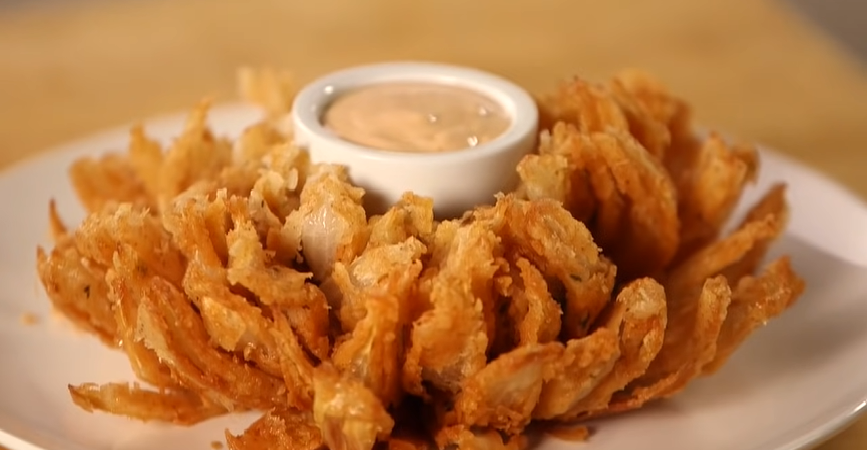 Other Snack Recipes to Try
Homemade Crispy Corn Nuggets Recipe Here
Crunchy Cheese Popcorn Recipe (Best Snack!)
Homemade Air Fryer Sweet Potato Fries (Crispy)
AWESOME BLOSSOM BATTER
Prepare two large mixing bowls for the bloomin' onion batter. Combine flour, garlic powder, oregano, paprika, cayenne pepper, salt, and pepper in a mixing bowl. In a separate bowl, whisk together the eggs and milk.
To begin, add the onion flower to the flour mixture. Shake off the excess onion before dipping it into the egg wash bowl. Ensure that the onion is completely immersed in the batter.
Lift the onion and re-dip it in the flour mixture. This doubling dipping technique ensures a crispy texture.
It's best to freeze your onion for 30-60 minutes before frying it so that the seasoning and batter stay on during the frying process.
HOW TO MAKE ONION PETALS AND DIPPING SAUCE?
Combine the sour cream, ketchup, seasoned salt, cayenne pepper, and horseradish in a small mixing bowl. Refrigerate until ready to serve, covered.
Remove the onion's skin.
Remove the onion stem and place the onion stem side down on a cutting board.
Cut the onion in half diagonally, then horizontally, resulting in four pieces. Slices should be about a half-inch thick.
To make the petals, separate the layers of the onion pieces.
Set up the breeding station.
In a mixing bowl, combine buttermilk and lemon juice.
In a separate bowl, whisk together the flour, seasoned salt, black pepper, garlic powder, onion powder, and paprika.
Bread the onions by first coating them in flour, then dipping them in buttermilk and then back into flour. Place the onions on a wire rack to cool.
Preheat the oil to 350°F. In small batches, add the onions.
Cook for 2 to 3 minutes, or until golden.
Remove the onion petals from the oil and drain them on a wire rack.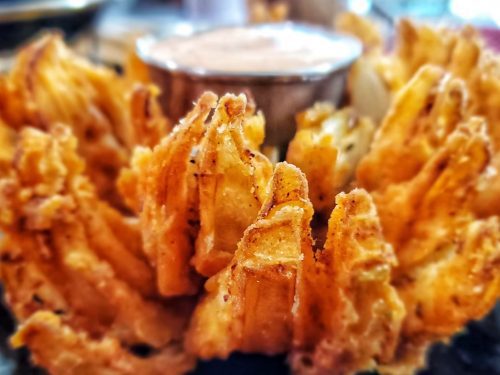 HOW TO STORE ONIONS?
Never store onions with potatoes because the gases they emit cause the potatoes to spoil faster. Learn more about storing fruits and vegetables.
WHAT KIND OF ONION TO USE FOR AWESOME BLOSSOM RECIPE?
Yellow or white onions work best for this recipe because they crisp up and taste better when deep-fried. I usually get the biggest one I can find at the grocery store.
BAKED AWESOME BLOSSOM
If you want a healthier blooming onion recipe, bake the battered onion flower at 400°F for 16-20 minutes, or until golden brown. Skip the freezing step.
Frequently Asked Questions
Where is the Awesome Blossom from?
The dish gained popularity in the United States when it debuted as the "Bloomin' Onion," a signature dish of the Outback Steakhouse when it first opened in 1988. It is typically served with a signature dipping sauce unique to the restaurant.
Who invented the awesome blossom?
The Bloomin' Onion at Outback Steakhouse is one of the most famous chain restaurant dishes ever created. While there are plenty of knockoffs today, including Chili's Awesome Blossom and Lone Star's Texas Rose, the Bloomin' Onion, invented by Outback founder Tim Gannon, is arguably the best.
What is the awesome blossom petals at Chili's?
Awesome Blossom Petals is a very similar (but lighter) version of the full blooming onion, but it is served as individual petals. It has a light, flaky breading, hints of seasoned salt, onion sweetness, and a ranch-style dressing dip.
How is the bloomin onion made?
An onion is sliced in such a way that it opens up, or as some might say, "blooms." The petals are battered, the onion is deep-fried, and the finished product is served with a delicious sauce.
Print
Awesome Blossom Petals Recipe
---
Author:

Prep Time:

20 minutes

Cook Time:

30 minutes

Total Time:

50 minutes

Yield:

6

servings

1

x
Description
Awesome Blossom is a crispy and delectable fried onion blossom served with a delectable bloomin' onion sauce.
---
1

 

large onion

 

white or yellow

2

 

cups

 

all-purpose flour

1

 

tablespoon

 

paprika

1

 

teaspoon

 

cayenne pepper

1

 

teaspoon

 

garlic powder

1

 

teaspoon

 

oregano

salt and pepper to taste

2

 

large eggs

1 1/2

 

cups

 

milk

vegetable oil for frying
Bloomin Onion Sauce
Thousand Island dressing

creamy horseradish sauce
---
Instructions
In a large mixing bowl, combine all of the dried ingredients.
Combine eggs and milk in a separate large mixing dish.
Remove the onion's papery skin and chop off 12 inches from the sharp end.
Place the onion cut-side down on a chopping board and cut vertically downward, 12 inch from the root.
Repeat this process until you have 12-16 parts.
When you turn the onion over, it will resemble an onion blossom. With your fingers, open the onion petals even more.
In a separate bowl, combine the flour and the onion flower. Remove any extra flour by lifting and shaking it off.
Return to the flour mixture after dipping in the egg wash.
Place the onion on a dish after lifting it. 30-60 minutes in the freezer
Preheat the oil to 350°F in a deep fryer or a saucepan.
Place the onion bloom, cut-side down, in the pot. 3–4 minutes in a hot pan. Turn it over and cook for 3-4 minutes more, or until golden brown.
Transfer to a paper towel-lined plate.
To prepare the blossoming onion sauce, combine the thousand island and creamy horseradish sauce.
Enjoy the bloomin onion petals dipped in the dipping sauce.
Notes
During the deep-frying operation, keep the oil temperature around 350°F.
Category:

Appetizer

Method:

None

Cuisine:

American
Nutrition
Serving Size:

6 servings

Calories:

220kcal

Sugar:

3g

Fat:

4g

Saturated Fat:

2g

Trans Fat:

1g

Carbohydrates:

36g

Fiber:

2g

Protein:

9g

Cholesterol:

68mg
Keywords: awesome blossom petals, blossom petals recipe, awesome blossom petals recipe, onion petals recipe
More recipes to try: