Famous Chocolate Raspberry Donut Macarons Recipe
★★★★★ 5 from 1 reviews
It's macaron time again! More specifically, Chocolate Raspberry Donut Macarons.
Dark chocolate and fresh raspberries are one of my favorite flavor combinations! These dark chocolate raspberry donut macarons have a soft French macaron shell and are filled with a tart raspberry compote and a dark chocolate ganache.
Then even more dark chocolate was sprinkled on top! For added raspberry taste, both the ganache and the raspberry compote are flavored with Chambord (raspberry liqueur).
I'll show you how to make homemade French macarons and share all of my success secrets and tricks!
WHAT IS CHOCOLATE RASPBERRY DONUT MACARONS?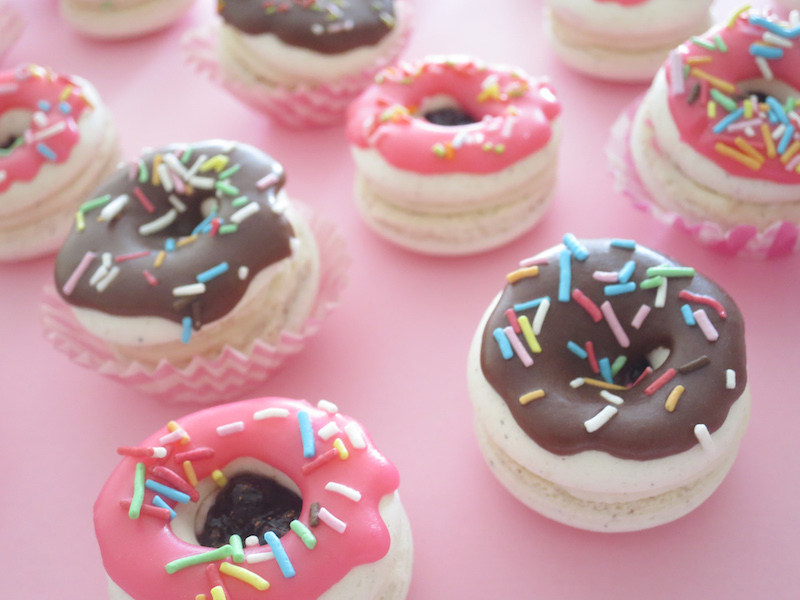 I can't get enough of these adorable donut macarons. They taste as good as they look because they are filled with chocolate buttercream. This dish, topped with royal icing and sprinkles, can give a lovely touch to any party or event!
The royal icing is the key to the cuteness. I piped some royal icing on top to give it that glazed look, and I believe it was the "cherry on top"! Of course, the sprinkles contributed to the "wow" effect. The more I embellished these tiny fellas, the sweeter they were!
Recommended Posts:
INGREDIENT NOTES:
Egg Whites – I've recently begun "aging" my egg whites, and I've discovered that it improves my consistency. This is completely optional, but it's so simple that I recommend giving it a shot. In a small basin, weigh out 100 grams of egg whites. Wrap with plastic wrap and pierce a few holes in the top. Refrigerate for at least 24 hours and up to 3 days. Make sure to remove the egg whites from the fridge at least an hour before baking.
Almond Flour – If you've ever seen lumpy macarons, it's usually because the almond flour wasn't ground finely enough. Because it's so fine, I adore using Bob's Red Mill almond flour. If you have lumpy almond flour, simply pulse it in a food processor for a few seconds to break it up even more. Sifting your dry ingredients is also essential for smooth macarons.
Dark Chocolate – Instead of chocolate chips, use dark chocolate baking bars!! Chips contain emulsifiers that help them hold their structure, but they do not blend as smoothly as chocolate bars. You can substitute milk chocolate if desired.
Chambord – Chambord is a smooth, sweet, and slightly tart black raspberry liqueur. It gives the chocolate ganache and raspberry compote a great depth of flavor, but you may leave it altogether if you like.
Raspberries – I like fresh raspberries for the filling, but frozen work just as well!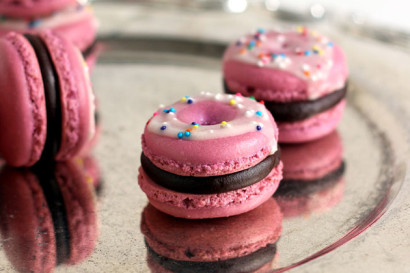 RASPBERRY CHAMBORD FILLING
I prefer to fill these macarons with my own homemade raspberry compote!
There are only a few simple materials required!
Raspberries, fresh or frozen
Sugar granules
Chambord
I recommend cooking the compote the night before you want to make the macarons so it can chill completely. In a large saucepan over medium-low heat, combine all of the compote ingredients. Allow the jam to thicken for 15-20 minutes, stirring often. Allow the raspberry compote to cool to room temperature in a glass jar. Keep in the refrigerator for up to two weeks.
HOW TO MAKE CHOCOLATE GANACHE?
This dark chocolate ganache is quite simple to prepare, however I do have a few of fast tips!
The ganache requires 226 grams (8 ounces) of dark chocolate, which is roughly two chocolate bars. So I set aside 1 square to melt and drizzle on top of the macarons. The small amount of chocolate has no effect on the consistency of the ganache, plus it saves you from having to open a fresh chocolate bar!
To avoid incorporating any air, mix the ganache with a spatula rather than a whisk.
I recommend making the ganache a few hours ahead of time to let it to set.
Place the dark chocolate in a large mixing basin and finely chop it.
Place the dark chocolate in a large mixing basin and finely chop it.
Microwave the heavy cream in a microwave-safe basin for 1-2 minutes, or until warm to the touch but not boiling.
Allow for two minutes after pouring over the chopped chocolate.
Using a spatula, carefully blend and smooth the ganache until the chocolate is completely melted.
Allow it sit at room temperature or in the refrigerator until thick enough to keep its shape.
If your ganache is too solid, microwave for 10 seconds to soften before stirring until the ganache reaches the required consistency.
HOW TO MAKE FRENCH MACARONS?
Set aside the almond flour and powdered sugar in a large mixing dish. Whisk the egg whites in a stand mixer fitted with the whisk attachment on medium speed until frothy, then add the cream of tartar.
Increase the speed of the mixer to medium-high and gradually add the granulated sugar. Once all of the sugar has been added, increase the mixer speed to high and whisk until soft peaks form.
Whisk in 1-2 drops of pink or red gel food coloring until stiff peaks form, then continue to whisk on high until stiff peaks form. Fold in half of the dry ingredient mixture with a spatula until well mixed. Then fold in the remaining dry ingredients gradually.
Gently fold the batter until it achieves the consistency of "flowing lava." Before the batter cracks, you should be able to construct a "figure 8." Stop mixing as soon as you achieve this consistency! The macarons will not rise correctly in the oven if the batter is over-mixed.
Line a large baking sheet with parchment paper or a silicone mat. Fill a big piping bag with batter and a large round tip. Pipe 1 inch rounds while holding the piping bag perpendicular to the silicone pad. Pick up the baking sheet and tap it three or four times on the counter to assist bring any air bubbles to the surface of the macarons. Then, using a toothpick, remove any visible air bubbles from the surface to create a flat surface.
Allow the macarons to cool for 30-40 minutes, or until a skin develops on the surface. You should be able to softly touch the surface without disturbing the batter.
Preheat the oven to 300°F while the macarons are resting. Bake for 13-15 minutes on the center rack of the oven, or until they do not move on their "feet" when touched.
Before removing the macarons from the baking sheet, allow them to cool completely. When completely cool, they should simply peel off. Before filling, line up your shells and flip one side over. Drizzle a small quantity of dark chocolate over the top of the other side.
Then, around the borders, pipe a circle of dark chocolate ganache and fill with homemade raspberry compote.
Place the completed chocolate raspberry macarons in an airtight container and refrigerate for 12-24 hours before eating for the optimum flavor/texture. Alternatively, devour them all at once. You're free to be yourself.
Alternative Video: French Macaron Recipe
MACARON TIPS AND TRICKS:
If you don't already have one, invest in a kitchen scale. Because macarons are so picky, it is critical to weigh all of your components!
Clean your stand mixer's mixing bowl and whisk attachment with lemon juice or white vinegar to remove any trace fats (if you don't, your meringue may not form).
Use a heavy-duty baking sheet that will not warp and will transfer heat evenly! These Cuisinart baking sheets are my absolute favorite for making macarons! I have a total of six of them.
Purchase some silicone macaron mats! They're not expensive, and they'll make your life a lot easier!
Purchase an oven thermometer as well! To produce flawless macarons, we want our oven to be as near to 300 degrees as possible, but just because your oven says it's 300 degrees doesn't mean it is. My oven has a tendency to overheat, so I normally keep it set to around 290 degrees Fahrenheit.
Use gel food coloring at all times! We don't want to add any extra liquid to the macaron batter because it's so delicate. As a result, gel food coloring is the way to go! The color is also more concentrated, so you only need a little.
Print
Chocolate Raspberry Donut Macarons
---
Author:

Prep Time:

1 hour

Cook Time:

16 minutes

Total Time:

1 hour and 16 minutes

Yield:

50

macarons

1

x
Description
French macarons with raspberry jam filling and dark chocolate ganache in the shape of raspberries.
---
FOR THE SHELLS:
110 grams

Blanched Slivered Almonds (or almond meal)

200 grams

Powdered Sugar

90 grams

Egg Whites (at room temperature)

30 grams

Granulated Sugar
Pink & Purple Food Coloring Gel or Powder
FOR THE ROYAL ICING:
½ cup

Sifted Powdered Sugar

2

–

4

teaspoons Milk

1 teaspoon

Light Corn Syrup
FOR THE CHOCOLATE GANACHE FILLING:
8 ounces

Chopped Semi-Sweet or Dark Chocolate

¾ cup

Heavy Cream

2 Tablespoons

Unsalted Butter

1 teaspoon

Raspberry Extract
---
Instructions
FOR THE SHELLS:
Line 2 baking sheets with parchment paper or silicone baking mats (double up sheets if needed).
Process almonds and powdered sugar in a food processor until blended into a fine powder. Sift mixture into a large mixing bowl & set aside.
Combine egg whites & granulated sugar into the bowl of an electric mixer, fitted with the whisk attachment. Whip egg whites & sugar until stiff peaks, adding a few drops of the food coloring during about the last minute of beating the egg whites to make a dark pink color (I used mostly pink, with a dab of purple). My perfect time for beating the egg whites is 2 minutes on speed 4, then 2 minutes on speed 6, & then another 2 minutes on speed 8 – they should stay put if you hold the bowl upside-down.
Add the dry mixture into the egg whites.
Using a spatula, smash dry ingredients into the egg white, flattening mixture (use about 5-10 quick strokes to release the air). Then fold mixture onto itself until it becomes shiny again (another 30-40 strokes). When you lift up the spatula, there should be solid, thick ribbons that run off (this whole macaronage process should take no more than about 50 strokes).
Transfer the batter to a large piping bag (I like to use a #12 round icing tip, but it's optional).
Using circle guides or freehand, pipe about 1¼" circles onto the prepared baking sheets (they will spread), keeping them at least 1-2″ apart to allow for spreading. (If making a donut shape, trace around the circles, but don't fill them in). Do this same method for the second baking sheet.
Holding each end of the baking sheet, give it a good slam on the counter. Rotate the pan & give it another few slams to release any air bubbles that remain. Let the macs sit out for 30 minutes before baking to form a dry shell on the tops to prevent cracking.
Preheat the oven to 300 degrees F.
Bake each sheet, one at a time, for about 16 minutes (depending on size), rotating the pan once halfway through. Once they're ready, carefully test one by attempting to lift it off the baking sheet (keeping the pan in the oven). If the top half starts to come off from the feet, it could use a few more minutes.
Remove the baking sheet from the oven and slide parchment paper (with the cookies) onto the counter, allowing the cookies to completely cool before removing them from the paper. Once they are room temperature, match up macarons in pairs that are about the same size, one face down & one up.
FOR THE ROYAL ICING:
In a small bowl (I use a 2-cup measuring cup with a pouring spout) combine the powdered sugar, 2 teaspoons milk and light corn syrup. Mix well until combined and smooth. If the mixture is too thick, just add more milk, about a ½ teaspoon at a time. It should be a smooth, pourable consistency, but not too runny and thin (a little thicker than a molasses or syrup).
Transfer icing to a squeeze tube (or just freehand it with a spoon). Squeeze out a small amount of the icing to the top of HALF of the shells, concentrating on the highest point to resemble a glazed donut. Top each glazed shell with a few sprinkles. Allow them to dry for about 2 hours before stacking them.
FOR THE CHOCOLATE GANACHE FILLING:
Place chocolate pieces in a heatproof bowl and set aside. In a small saucepan, over medium-high heat, carefully bring cream to a simmer/ light boil. Remove cream from heat and pour over the chocolate. Allow it to sit for about 2-3 minutes. Whisk the mixture in small circles to combine until fully melted and mixed well. Add butter and continue whisking. Stir in extract and mix to combine.
Let ganache stand at room temperature, mixing every so often, until it thickens enough for you to pipe (Or speed up this process by placing it in the refrigerator).
Once ganache is thickened up, transfer mixture into a piping bag, fitted with a decorating tip. Pipe a few teaspoons of the ganache onto the cookie that's facing up. Sandwich the halves together, pushing the filling to the edges.
Notes
If using parchment paper (as opposed to a silicone mat) using small magnets help keep the paper flat, just be sure to remove before baking.
Store in an airtight container in the refrigerator for up to 5 days (or freeze them for up to one month), allow them to come to room temperature before eating.
The shells only can also be frozen before adding any filling; allow them to come to room temperature before filling.
Macarons are best eaten 24-48 hours after assembly.
Category:

Snacks

Method:

Bake

Cuisine:

American
Nutrition
Serving Size:

1 serving

Calories:

81kcal

Sugar:

9g

Sodium:

84mg

Fat:

13g

Saturated Fat:

6g

Unsaturated Fat:

0g

Trans Fat:

0g

Carbohydrates:

12g

Fiber:

2g

Protein:

6g

Cholesterol:

31mg
Keywords: Donut Macarons, donut, macarons, snacks, desssert
Frequently Asked Questions
What flavor are pink macarons?
Watermelon macarons can be made by coloring the shells a vibrant pink color. Watermelon macarons are filled with a cream cream frosting that has watermelon flavoring added to it. The outside of the macarons can be painted with a black edible marker to create the look of seeds on your pink macarons.
What type of filling is best for macarons?
The best type of filling for macarons is buttercream icing. Buttercream icing holds its shape well, and can easily be flavored with spices, extracts, zest, or cocoa powder to create flavorful fillings for macarons.
What do you put in the middle of macarons?
There are many different types of macaron fillings as mentioned above (buttercreams, curds, chocolate, jam, cream cheese, jelly). Depending on the filling, macaron fillings are usually made from sugar, eggs, chocolate, egg whites, real fruit, extracts, cream cheese and more.
What flavor is a blue Macaron?
A beautiful, tiffany blue macaron, our vanilla bean macarons are centered with homemade buttercream mixed with real Madagascar vanilla bean flavor – you can even see the vanilla in each macaron!
More alternative macaron recipes to try:
White Chocolate Raspberry Macarons
Raspberry extract is used to make these macarons, which are sandwiched together with a white chocolate raspberry ganache. The ideal delicious treat for any event or gathering. Do you enjoy bite-sized sweet treats? Give these a try!
View Recipe
Dark Chocolate and Raspberry Ganache Macarons
Dark Chocolate Raspberry Ganache Macarons are the ideal bite-sized treat for showers, parties, and other special events! The creamy chocolate ganache is infused with raspberry liqueur and served between two crisp macaron shells. What could possibly be better?
See Recipe
MORE RELATED POSTS: