Easy Crispy Oven Baked Fish Recipe (20 min recipe)
This crispy oven baked fish is topped with a delicious golden brown panko coating for a quick and easy midweek dinner. If you don't like fish, this is the recipe for you. For those who do as well.
Choose your favorite mild white fish with a sauce or seasoning.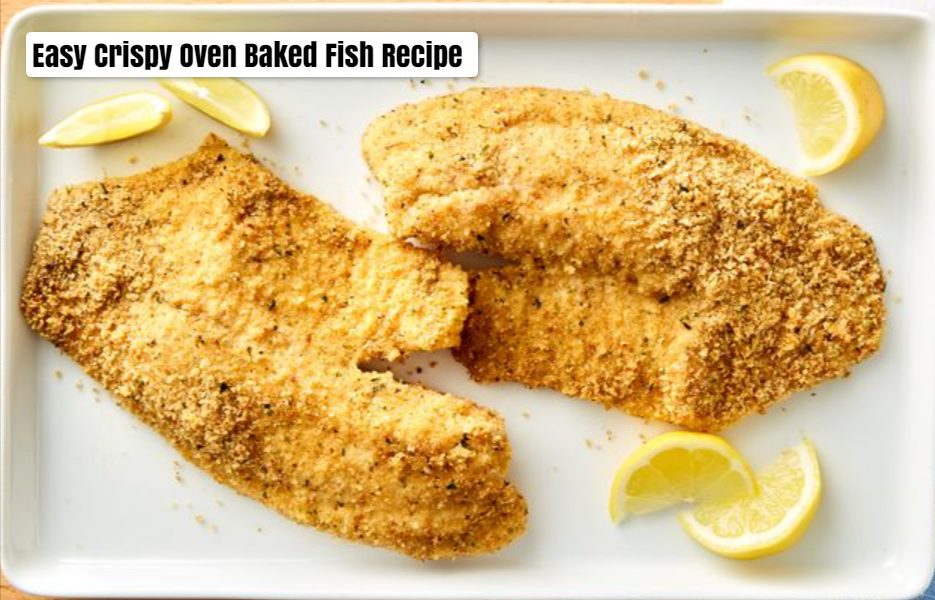 Panko crumbs are extremely crispy, which makes them an excellent choice for breaded baked fish. However, there is one flaw. Even after baking, they stay pale. This is due to the fact that baking fish takes such little time.
The first trick in this recipe is to toast the bread crumbs before applying the coating to the fish. I like to toast them in a stovetop pan. The method of toasting in the oven is also acceptable. Both will aid in the creation of a golden brown crispy fish topping.
The second trick is the thin layer of mayonnaise mixture that seals is moisture, adds flavor and helps the panko crumbs stick to the fish.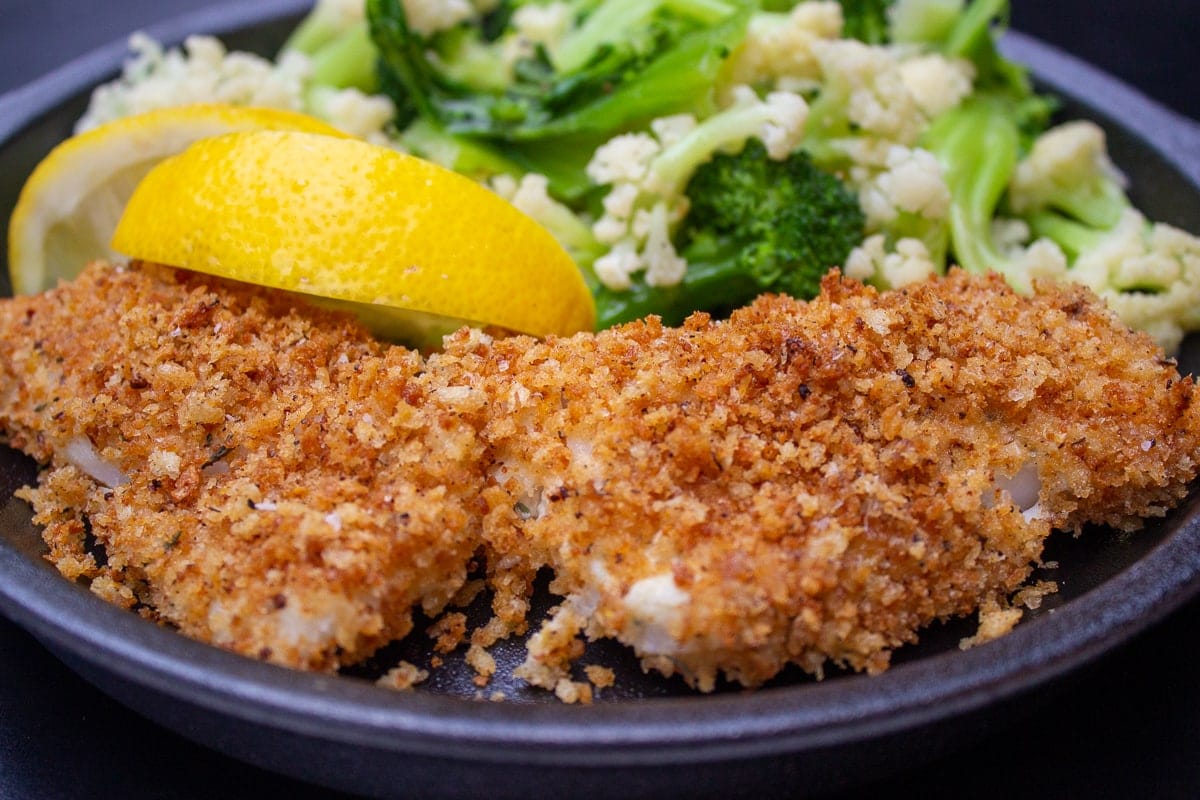 The recipe is super easy to make
In a pan with a little butter and pepper, toast the bread crumbs.
Using a pastry brush, apply a thin layer of seasoned mayonnaise to the fish fillets.
Toss the toasted crumbs with the fish.
Preheat the oven to 350°F and bake the fish for 7-10 minutes. Serve with lemon wedges or a dipping sauce of your choice.
Alternative Video Recipes: Homemade Oven Baked Fish Sticks
Suggested Posts
What to serve with the crispy oven baked fish
For a more traditional fish and chips supper, serve the fish with fries and coleslaw. But, to be honest, practically everything is OK. Here are a few possibilities.
Tips on fish recipes for people who don't like fish
Some people will never change their minds about fish. Don't give up, though. This is a fantastic recipe to start with if you've never tried fish before. Here are some pointers to assist non-fish eaters become fish eaters.
Using breading to disguise the fish is a good idea. Try frying fish, or even better, oven-fried fish (like this recipe)
Purchase a fish that does not have a fishy flavor, such as tilapia, artic char, haddock, flounder, sole, halibut, or walleye.
Remove any fishy odors: All fish have a distinct odor shortly after being caught. Squeeze lemon juice on the fish immediately before cooking to remove the odor. Alternatively, soak the fillets for 15 minutes in milk. Continue with the recipe after patting dry.
Buy fresh fish or nice frozen fish: Frozen fish is often frozen shortly after it is caught, so it can be just as tasty as fresh. Simply check for freezer burn or ice crystals (signs of thawing and refreezing) and look for frozen fish that has been vacuum sealed in a bag.
Spices can be added at any time because fish absorbs them readily.
Don't over cook the fish: This is my biggest pet peeve. It's yucky to put dry fish on top of cooked fish. Using an instant read thermometer, aim for 130-135F/57C. It might be the difference between life and death.
Use a delicious dipping sauce: You've probably heard of those who only eat shrimp because of the cocktail sauce. The concept is the same. In reality, don't dismiss cocktail sauce as a complement to the crispy baked fish. Alternatively, see the list of alternatives below.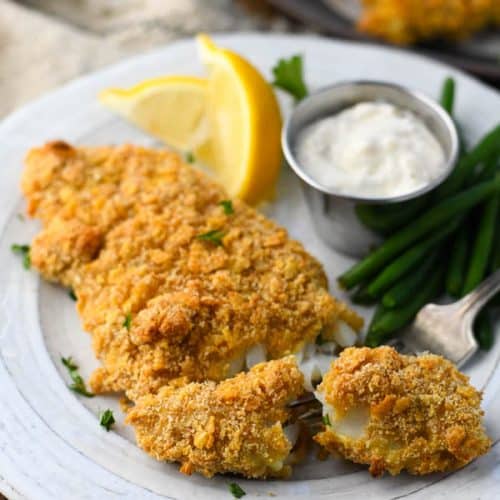 Fish Dipping Sauce Suggestions
Tartar sauce from the store is a quick and easy choice that is also Ben's favorite.
Malt vinegar is another traditional found in British and Irish pubs. It's fantastic!
Yogurt Dijon Sauce Try Greek yogurt with a splash of Dijon mustard for something unusual and nutritious. It's delectable and not at all traditional, but neither is this dish! Dip as desired.
Basil Yogurt Sauce The recipe for Zucchini Fries may be found in this post.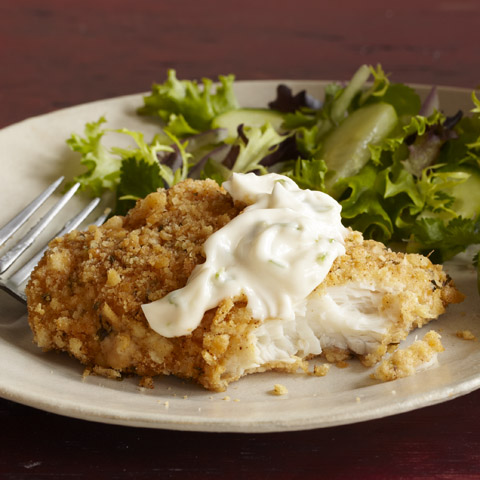 Tailor To Your Taste – Variations & Substitutes
What seasoning can I use with the panko crumbs?
I season with cajun or old bay. If you don't have them, combine onion powder, garlic powder, smoked paprika, and oregano or thyme in a small bowl. To the crumb mixture, you can also add some Parmesan cheese.
What dipping sauces would go well with the breaded baked fish?
Tarter sauce, shrimp cocktail sauce, Thai sweet chili sauce, honey mustard, mayonnaise with lemon and garlic, fresh herb sauce, dill sauce, plum sauce, or red pepper sauce are just a few of the options.
I don't have Panko crumbs. What can I use instead?
Ritz crackers or corn flakes, finely crushed, can be used instead.
Is there a way to lower the calories for this baked fish recipe?
Yes. Use half of the panko mixture (including half of the butter – or don't use any butter at all). Coat the fish on one side only with Panko, then set it on a parchment-lined baking sheet. Light mayonnaise might also be used.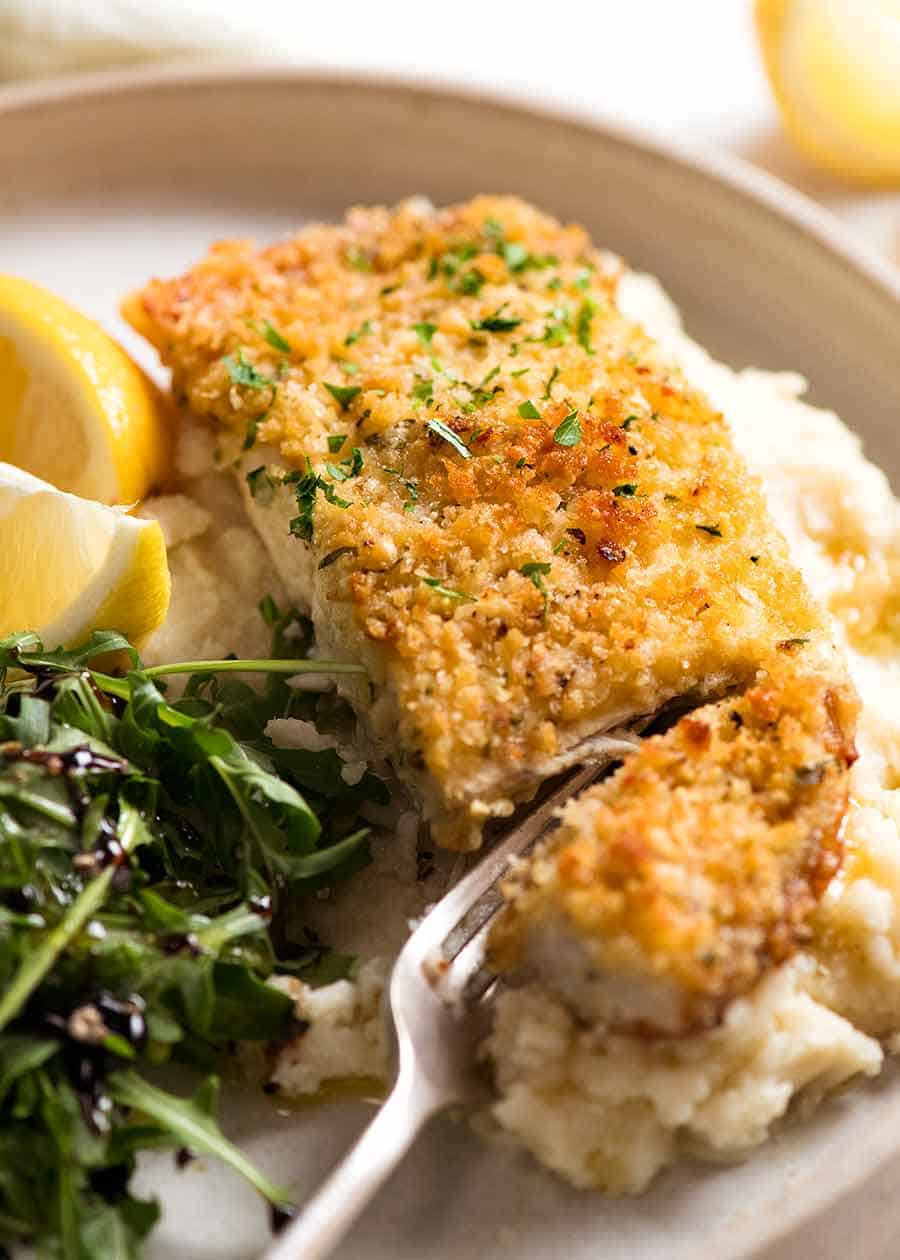 Make Ahead
If you want, you can make the toasted bread crumbs ahead of time. Keep them in an airtight jar at room temperature. I wouldn't recommend making the entire dish ahead of time. Reheating the fish will almost certainly overcook it
Storage Suggestions
To store: While this recipe is best served the day it is prepared, leftovers can be stored in the refrigerator for up to 1 day.
To reheat: Allow the fish to come to room temperature before placing it and the chips, uncovered, on a baking sheet in a 350°F oven for a few minutes, just until warmed through. Because the chips may take longer to reheat, I like to start them ahead of time
Print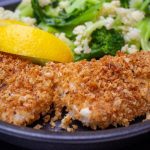 Crispy Oven Baked Fish (20 min recipe)
---
Author:

Prep Time:

5 minutes

Cook Time:

15 minutes

Total Time:

20 minutes

Yield:

2 servings
Description
This crispy baked fish is crowned with a buttery golden brown panko coating for a quick and easy midweek dinner. A great fish recipe for those who dislike fish. And for those who do as well. Choose your favorite mild white fish with a sauce or seasoning (we have lots of suggestions).
---
Fish
1 pound (450g) white fish, skinned, cut in even(ish) pieces, Note 1

salt and pepper to taste
Panko breadcrumb coating
1 cup (119g) Panko breadcrumbs (or finely crushed Ritz cracker/cornflakes)

1 tablespoon butter use 1 1/2 tbsp for extra buttery crumbs

1 tablespoon Cajun seasoning, Note 2 or Old Bay

zest of 1 lemon
Mayonnaise coating
3 tablespoon mayonnaise light is fine

1 tablespoon Dijon mustard

1 teaspoon lemon juice

1 teaspoon thyme
Garnish and dipping sauce
lemon wedges

dipping sauce options, Note 3
---
Instructions
HEAT OVEN

 

TO 425F/217C

Fahrenheit/217 degrees Celsius, then line a rimmed baking sheet with parchment paper and a grill/rack on top. To make cleanup easier, spray the rack with cooking spray.

TOAST BREADCRUMBS:

In a large skillet, toast Panko crumbs with butter, lemon zest, and Cajun seasoning for about 5 minutes, or until golden brown, turning regularly. Make sure you don't burn them. Instead, toast the crumbs in the oven: spread the crumbs on a baking sheet and bake for 5-7 minutes, shaking halfway through, until golden brown.

COAT FISH WITH MAYO, THEN PANKO

:

In a shallow dish, combine the ingredients for the mayo mixture and brush a thin layer on both sides of the fish. Season one side with a pinch of salt and pepper (skip if cajun seasoning is salty). Then immerse the fish pieces in the crumbs, patting them down to help the crumbs stick to the fish. Place the fish in a single layer on the rack on top of the baking sheet. Any remaining crumbs should be sprinkled over the fish.

BAKE

: Depending on the thickness of the fish, bake for 7-10 minutes in the middle rack of the oven. It will take around 10 minutes to cook a fish that is one inch (2.5cm) thick. 7-8 minutes for a half inch. The temperature will be 135 degrees Fahrenheit (57 degrees Celsius) on an instant thermometer. The fish should flake readily and be transparent in appearance (not dry). Serve with lemon wedges
Notes
Haddock (shown), sole, cod, tilapia, flounder, grouper, snapper, artic char, halibut, and walleye are among the fish available.

If you don't have Cajun seasoning on hand, substitute Old Bay or Jerk seasoning. 1 teaspoon smoked/regular paprika, 1/2 teaspoon salt, 1/4 teaspoon garlic powder, thyme, and cayenne pepper

Optional dipping sauces (1/4 cup/60ml):

1/4 cup/60ml mayonnaise, 1/2 tbsp minced capers, 1 tsp Dijon, 1 tsp lemon juice (traditional tartar sauce).

1/4 cup/60ml ketchup, 1 tbsp prepared horseradish for the seafood cocktail sauce a squeeze of lemon juice and a sprinkle of Worcestershire sauce are optional.

sauce with plums

Mustard with honey

2 tsp sriracha + 1/4 cup mayo = Sriracha mayo

1/4 cup/60ml mayonnaise + 1/2 tsp minced garlic + 2 tsp lemon juice = lemon garlic mayo
Category:

Main

Method:

Baked

Cuisine:

American
Nutrition
Serving Size:

2

Calories:

395kcal

Sugar:

3g

Sodium:

2114mg

Fat:

13g

Saturated Fat:

5g

Unsaturated Fat:

0g

Trans Fat:

1g

Carbohydrates:

26g

Fiber:

3g

Protein:

42g

Cholesterol:

140mg
Keywords: fish, oven baked, crispy fish
Frequently Asked Questions
Should I cover my fish when I bake it?

Many people prefer to bake their fish wrapped in foil. This method is particularly effective because it reduces the amount of time spent cleaning the oven and utensils. Wrapping the fish in foil has a similar effect to steaming in that moisture is trapped within the foil rather than escaping into the oven.
What is the best temperature to bake fish at?
Baking fish fillets and steaks at 450 degrees Fahrenheit is a typical recommendation.
Why is my fried fish not crispy?
The consistency of the batter is the key to success. … If your fish batter does not crisp up sufficiently when cooked, thin it out with a bit additional liquid. It is also critical to pre-heat the oil to the right temperature, or the fish will absorb too much of the oil while frying.
What kind of fish is good for baking?
Use a flaky white fish, such as tilapia, halibut, cod, bass, grouper, haddock, catfish, or snapper, for this fish recipe. The term "white fish" does not refer to the color of the fish; rather, it refers to a mild-flavored fish that cooks rapidly and seasonings well.
More Oven Baked Fish Recipes to try
Crispy Baked Fish With Tartar Sauce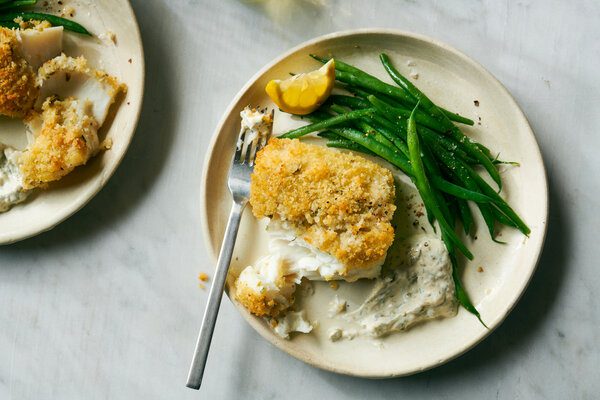 Most of us don't have access to charming fish shacks and salty sea air on a weeknight, but happily, this recipe does. It employs a smart technique devised by recipe developer Molly Kreuger: creamy tartar sauce is placed on the fish to add taste, keep the fillets moist during cooking, and aid in the adhesion of the bread crumbs to the fish. (Feel free to substitute your favorite tartar sauce for the one listed below.)
The fish is baked until nearly done, then broiled to toast the breadcrumb coating. The finished product is crispy, creamy, tangy, and moist, all without having to deal with a large pot of oil. Serve with additional tartar sauce and a squeeze of lemon.
Baked Panko-Crusted Fish Fillets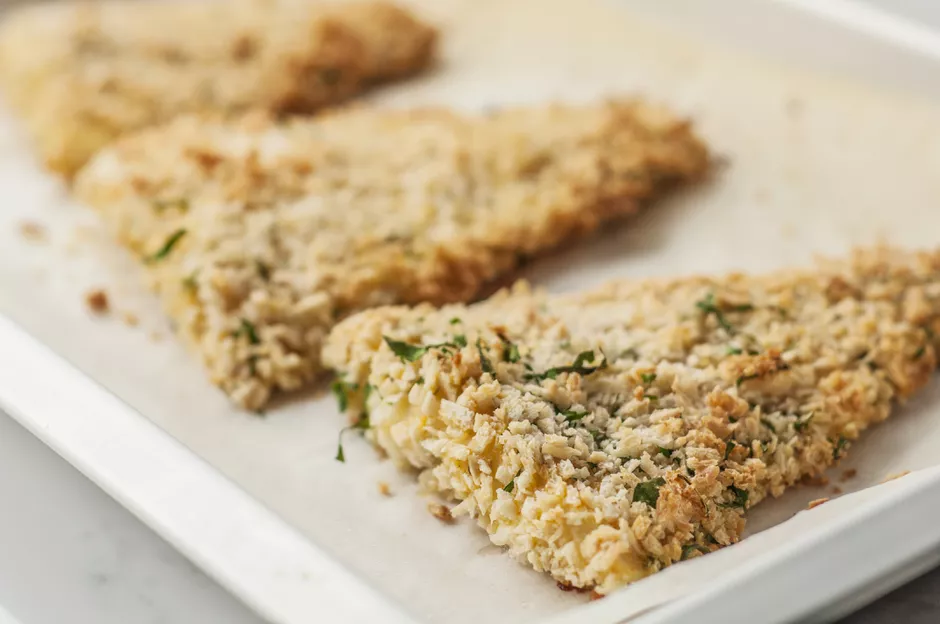 When baked in the oven, panko-crusted fish is wonderful, and the beauty of this recipe is its adaptability. It can be used with any mild fish fillet, such as catfish, cod, flounder, haddock, pollock, and tilapia.
In this light and delectable alternative to fried fish, the panko crumb coating keeps the fish fillets crisp, and the oven makes cooking a breeze. It takes just 30 minutes from start to finish, making it ideal for a quick weekday meal.