Hibachi Chicken Recipe! [So Yummy!]
Hibachi Chicken is a simple and tasty Japanese dish consisting of chicken stir-fried with garlic, vegetables, soy sauce, salt, and pepper. If you have all the ingredients, you can prepare this flavorful chicken dish in just 15 minutes.
Hibachi is a type of Japanese grill used for cooking. It has a similar open-grate design to a charcoal grill, but is made of cast iron. Contemporary hibachi grills resemble large iron griddles.
In North America, "hibachi" is also used to refer to a style of cooking in which the food is prepared in front of the guests.
Hibachi chicken is simply a dish consisting of chopped chicken cooked using this technique. Typically, it is prepared with sautéed vegetables and served with fried rice.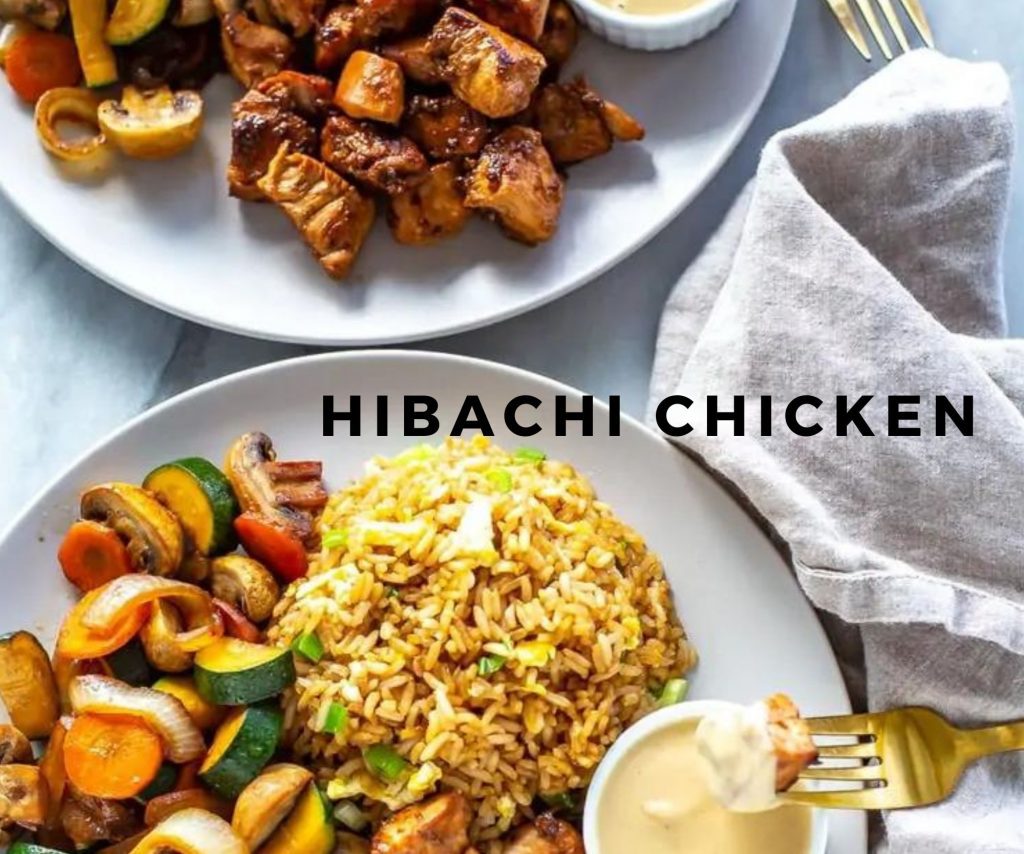 Related Posts:
18 Amazing Hibachi Recipes Ideas
Hibachi Noodles (Japanese Steakhouse Noodles)
Hibachi Steak and Shrimp [So Yummy!]
While you probably won't prepare this dish on a large griddle in front of dinner guests, the flavors are identical to those of a hibachi restaurant!
WHAT IS HIBACHI CHICKEN?
Hibachi is a type of grill found in Japanese restaurants and refers to the cooking method (a metal cooking plate where food is cooked over a very high heat). It's similar to teppanyaki. For the at-home version of this recipe, a hot skillet is used. The chicken is quickly seared in butter and soy sauce before being served.
Alternative Video Recipe: Hibachi At Home on the Grill
Suggested Posts:
THE HISTORY OF HIBACHI
I believe it's important to recognize the origins of food, especially if it's not a type of food from your own culture (hibachi-style chicken is certainly not in my cultural wheelhouse). However, the history is quite fascinating.
After World War II, affluent Americans reintroduced this casual style of cooking to their patios and backyards, bringing it to the United States from Japan. These affluent Americans lacked the outdoor space required for the Japanese's large outdoor grills, so backyard grills shrunk in the 1980s and 1990s before growing in size as their popularity increased.
When you visit a Japanese steakhouse that prepares food in front of you on a large griddle, this is technically teppanyaki cooking, which is made even more confusing by the fact that the majority of these fast-casual Japanese-American restaurants have "hibachi" in their name.
WHAT EXACTLY IS YUM YUM SAUCE?
Yum yum sauce is typically served with Hibachi chicken in Japanese steakhouses. It is quick and simple to prepare at home with basic ingredients. You can use Japanese mayonnaise or regular mayonnaise, whichever you have on hand.
YUM YUM SAUCE MADE AT HOME (OR SAKURA SAUCE)
If you've been following my recipes, you're aware that I don't use mayonnaise (except in my husband's crab cakes). However, I adore the sauce served at hibachi-style restaurants (or "yellow sauce" if you grew up eating Inoko Express in Athens).
These sauces, which are more yellow than this one, are made with Japanese mayonnaise, which uses only egg yolks as opposed to the entire egg in Hellman's or Duke's. However, you can purchase Japanese mayonnaise online if you're interested.
In a small bowl, combine the following ingredients to make yum yum sauce:
1 cup mayonnaise
2 Tbsp ketchup
2 teaspoons paprika (regular, not smoked)
2 teaspoons Japanese rice vinegar (or apple cider vinegar)
1 teaspoon powdered garlic
1 teaspoon of water
HOW MANY CALORIES ARE IN CHICKEN HIBACHI?
This meal contains 499 calories per serving and serves four people. It consists of chicken, fried rice, side vegetables, and mustard sauce.
Comparatively, if you dined at Benihana or a similar Teppanyaki restaurant, you'd be looking at approximately 1,000 calories for everything in this recipe!
WHAT DISTINGUISHES HIBACHI CHICKEN FROM TERIYAKI CHICKEN?
Both hibachi chicken and teriyaki chicken are prepared similarly, with the meat cut into bite-sized pieces and cooked in a sauce over high heat.
The primary distinction between the two is the sauce employed. Teriyaki chicken is cooked with a sweet glaze made from soy sauce and other ingredients.
Typically, teriyaki chicken is marinated prior to cooking, whereas hibachi chicken is not.
PUTTING AWAY AND REHEATING
Refrigerate everything stored in airtight containers. The cooked chicken should be consumed within four to five days, while the fried rice can be stored for up to a week.
Hibachi chicken is best reheated in a hot pan on the stove so that the chicken and vegetables retain their moisture and crispness. You will want to ensure that the chicken is heated thoroughly.
This dish can also be reheated in the microwave. Sprinkle water over the chicken beforehand to prevent it from drying out.
THE FREEZING OF THIS DISH
Fried rice is very freezer-friendly. Store for up to six months in an airtight container or freezer-safe plastic bags. Allow to thaw overnight in the refrigerator or place frozen into the pan to reheat.
The chicken and vegetables can be frozen as well. Once frozen, they should be consumed within three months. Defrost the chicken overnight in the refrigerator, then prepare additional hibachi sauce to add to the pan when reheating.
WHAT YOU'LL NEED
It only requires a few ingredients to prepare a delicious hibachi chicken dinner!
We want to cook at a fairly high temperature, so it is crucial to use oil that can withstand this heat. Choose an oil with a high smoke point, or use the safflower oil recommended by Benihana!
Chicken – For this simple recipe, use boneless, skinless chicken breast meat. Cut the chicken breast into bite-sized cubes.
Mushrooms – Just a handful of white button mushrooms (I also like baby bella or cremini mushrooms).
Butter – Add butter at the end to finish off your hibachi chicken dish to perfection.
Lemon Juice – Another flavor enhancer that is added to chicken at the end of cooking and just before serving. It would be ideal to have an additional lemon wedge served with your chicken dinner.
Sesame Seeds are the finishing touch to this chicken. A little goes a long way, but it adds wonderful texture and flavor!
HOW TO PREPARE ORIGINAL BENIHANA CHICKEN
Start by heating your nonstick skillet, frying pan, or flat top griddle to medium-high heat (or 400 degrees Fahrenheit / 204 degrees Celsius if using an electric skillet). Add the cooking oil, followed by the chicken and mushrooms.
Cook the chicken and mushrooms for six to eight minutes, or until the chicken no longer appears raw or slightly pink. Stir the chicken and mushrooms occasionally throughout the cooking process to ensure even cooking. The mushrooms may be added subsequently. If you prefer your mushrooms to be slightly undercooked, add them in the last few minutes of cooking.
When the chicken is fully cooked, stir in the butter, freshly squeezed lemon juice, and sesame seeds. Stir the ingredients to combine and melt the butter. If desired, the sesame seeds can be toasted before the chicken and mushrooms are prepared. They can also be used as a garnish during service.
If desired, season with salt and pepper to taste. Immediately remove from heat and serve.
SIMPLE HIBACHI CHICKEN WITH VEGGIES
If you crave hibachi chicken but do not have the time or funds to visit a Japanese restaurant, you can make this incredible recipe at home. Making your own hibachi chicken at home is an ideal way to save time and money.
This tender chicken is paired with sauteed rice and fried rice. It is perfectly flavored and has the best mustard sauce.
WHAT DISTINGUISHES HIBACHI CHICKEN FROM TERIYAKI CHICKEN?
Hibachi and teriyaki chicken share many similarities. Differentiating them is the sauce. Hibachi chicken is served with a soy sauce-based sauce and a mustard sauce, whereas teriyaki sauce is a soy sauce-base
WHICH VARIETY OF CHICKEN IS USED IN HIBACHI?
Hibachi chicken is typically prepared with chicken breasts, but technically, any type of chicken can be used.
CAN I USE DARK CHICKEN MEAT?
I'm using chicken breast because it's my personal preference. You may also use deboned chicken legs or chicken thighs. You may also use a mixture of white and dark chicken meat.
Print
Hibachi Chicken Recipe!
---
Author:

Prep Time:

5 Minutes

Cook Time:

10 minutes

Total Time:

15 Minutes

Yield:

1

1

x
Description
Hibachi Chicken is a simple and tasty Japanese dish consisting of chicken stir-fried with garlic, vegetables, soy sauce, salt, and pepper. If you have all the ingredients, you can prepare this flavorful chicken dish in just 15 minutes.
---
1 teaspoon

cooking oil (Benihana's recipe suggests Safflower oil)

7 ounces

chicken breast (boneless, skinless – cut into bite size pieces)

2

mushrooms (cut or sliced into

8

pieces)

1 tablespoon

butter

½ tablespoon

lemon juice

½ tablespoon

sesame seeds
---
Instructions
Add the cooking oil to a nonstick skillet or frying pan heated over medium-high heat *400 degrees Fahrenheit (204 degrees Celsius) if using an electric skillet.
Place chicken and mushrooms in the hot skillet and cook for 6 to 8 minutes, or until the chicken is cooked through and no pink remains. Occasionally stir the chicken and mushrooms while cooking. If you prefer your mushrooms to be less cooked, the mushrooms can be added in the final few minutes.
Add the butter, lemon juice, and sesame seeds once the chicken is cooked through. To combine ingredients, stir them. If desired, season with salt and pepper. Immediately remove from heat and serve.
Category:

main course, Dinner

Method:

Pan Fry

Cuisine:

Japanese
Nutrition
Serving Size:

1

Calories:

400 kcal

Sugar:

1g

Sodium:

334mg

Fat:

23g

Saturated Fat:

9g

Unsaturated Fat:

0g

Trans Fat:

0g

Carbohydrates:

3g

Fiber:

1g

Protein:

44g

Cholesterol:

158mg
Keywords: Chicken, Dinner, Hibachi Chicken, Japanese steakhouse recipe
FAQs About Hibachi Chicken
Which variety of chicken is used in hibachi?
Turkey breast
Ingredients for Chicken Hibachi:
Cut chicken breasts into small pieces for rapid cooking. If you prefer, chicken thighs may be substituted; however, they must be cooked to 165F. Sesame oil is used to sear the chicken, add flavor, and prevent the butter from burning. Make certain not to utilize toasted sesame oil
What is squirted on the chicken at a hibachi restaurant?
Salt, pepper, sesame seeds, and garlic powder or garlic salt are contained in the shakers. The squeeze bottles contain sesame oil, soy sauce, and Japanese barbecue sauce (such as Mr. Yoshido or "Japanese Barbecue Sauce") brands.
What type of meat is utilized in hibachi?
Hibachi can be prepared using chicken, seafood, or steak, and is served with sautéed vegetables, fried rice, and a tasty dipping sauce.
What condiment is used with hibachi?
Hibachi restaurants offer a variety of dipping sauces to pair with the meat and vegetables. Ginger, sesame, miso, fruit, and white are the most common sauces. Ginger sauce, which is typically brown and watery, consists of ginger, garlic, soy sauce, white vinegar or sake, sugar, and occasionally onion, oil, or lemon juice.
More Alternative Recipes to try!
PESTO CHICKEN BRUSCHETTA
This pesto chicken is cooked to perfection and topped with fresh mozzarella and fresh, juicy, garlicky chopped tomatoes. It's like bruschetta without the bread.
The chicken breasts are simply baked until they are done, then topped with fresh mozzarella and fresh chopped tomatoes that are juicy and have a hint of garlic. It's like bruschetta, but without the bread.
GREEN CHICKEN ENCHILADAS
Creamy, cheesy, and so very easy—these comforting chicken enchiladas are slathered in tangy green enchilada sauce and are everything you're craving today (and, let's be honest, every day).
Gooey, melty mozzarella and Jack cheese, taco-seasoned shredded chicken, sour cream and corn tortillas, all smothered in moderately tart green enchilada sauce and baked until your house smells like your favorite Mexican restaurant (in the very best way) (in the very best way). This is the chicken enchilada recipe you've been searching for.
Cheese, tortillas, cilantro, and sour cream are required for Green Chicken Enchiladas.