Classic Piña Colada [Easy Drinks]
★★★★★ 5 from 1 reviews
The piña colada ("strained pineapple") cocktail was invented in 1954 in Puerto Rico by Ramón "Monchito" Marrero, a local bartender at a prominent Hilton hotel. It's a terrific summery drink with the excellent flavor combination of pineapple and coconut, backed by your preferred rum, whether blended or shaken.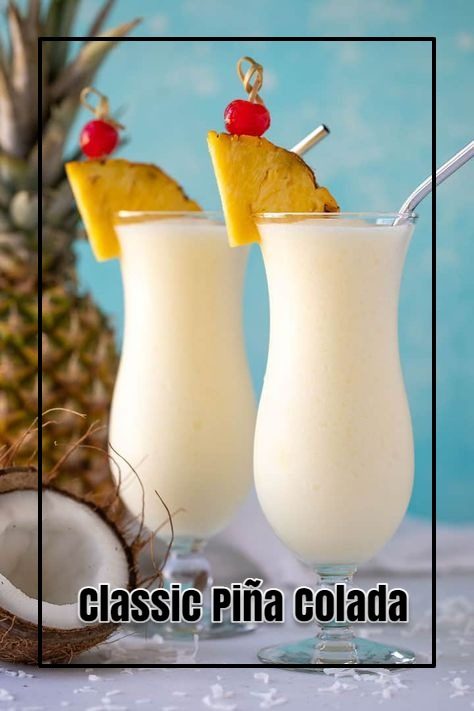 Don't Miss
23 Best Fruity Drink Ideas (Sweet Alcoholic Drinks & Non-Alcoholic Fruity Mixed Drinks)
Classic Mudslide [Kahlua Recipe]
Perfect Cosmopolitan Cocktail Recipe!
Because this drink is thick, lush, and flavorful, the rum used isn't as important as it is in other drinks. Choose a good white rum that you enjoy straight for the best pia colada. You don't have to spend a bunch to find a new favorite with so many reasonably priced selections accessible.
The frozen Piña Colada recipe is really easy to make and only requires a few common ingredients. Toss everything in the blender, give it a good swirl, and you'll have the freshest pina colada ever. Once you've discovered the magic of a frozen pia colada, there are plenty of other coladas to try, including the super-easy shaken version.
It's one of the best tropical cocktails out there, and it's even better when made from scratch. After the first taste, you'll be kicking yourself for buying a pina colada mix. Many bottled pia colada mixes available at liquor stores contain artificial components, but our formula tastes as fresh as can be, free of preservatives. You also get to prepare a less expensive drink that is personalized to your specific preferences, picking the amounts and having greater control over the flavor. Furthermore, if you purchase cream of coconut and pineapple juice individually, you will have access to an entirely new set of cocktails.
WHO IS RESPONSIBLE FOR THE PIA COLADA?
The Pia Colada's history is one of the few well-documented cocktail histories. Ramón "Monchito" Marrero, a bartender at the Beachcomber Bar in the Caribe Hilton in San Juan, Puerto Rico, invented the cocktail in 1954. The original recipe was shaken and nonalcoholic. His intention was to greet guests with a taste of the tropics in a glass. After Monchito added a local rum a few years later, the drink found a new home in the blender. The Pina Colada was designated as Puerto Rico's official drink in 1978.
The beverage was appreciated by Caribbean vacationers who brought tales of it home throughout the ensuing decades. The drink did not become popular until Rupert Holmes' 1979 hit song "Escape" was released. Don't know what the title means? It is also known as "The Pia Colada Song," which is rather suitable. If you need a reminder, go to a karaoke bar and you'll almost certainly he
THE ORIGINS OF THE PIA COLADA
Over the years, many bartenders and bars have claimed to have invented the now-famous pia colada, but the drink's exact roots are a little fuzzy. There is even evidence that traders in the nineteenth century blended rum with coconut water and mashed pineapple to create a kind of proto-pia!
In the end, I suppose it doesn't really matter. Because a pia colada is incredible.
Alternative Video Recipe: How to Make a Piña Colada
Suggested Posts:
PIÑA COLADAS: BLENDED OR SHAKEN?
By the way, there is a common misperception that a blended pia colada is a more contemporary, modernized form of the cocktail. The blended drink is the original, while the shaken pia colada is the modern rendition.
If you want to make your own shaken pia colada, combine 1 1/2 ounces golden or aejo rum with 1 ounce coconut cream and 1 ounce pineapple juice and serve over ice. A spritz of lime peel on top of the cocktail is the ideal finishing touch.
A pia colada, whether blended or shaken, is unrivaled for its tropical flavor and effectiveness in delivering rum into your tongue.
PIA COLADA MIXING INGREDIENTS
The ease with which pia coladas can be made contributes to their allure:
RUM: The base alcohol is rum. For this cocktail, use white rum rather than the stronger-flavored aged rums. Mount Gay is a simple and inexpensive choice.
COCONUT: Use cream of coconut for the coconut component. Coconut milk and cream should be avoided; "cream of coconut" is a separate product. It's usually near the liquor section with the other mixers. Coco Lopez is my favorite brand.
PINEAPPLE: Pineapple juice and pineapple chunks are added to the mix. The chunks contribute to the thickening and frothiness of this blended drink. If you cut your own pineapple, freeze the chunks on a baking sheet in a single layer before using.
(Optional) FLOAT: Last but not least, just before serving, I like to add a splash of golden or aejo rum to the top of each glass. This rum floats on top of the drink, adding a more nuanced flavor.
WHAT IS THE BEST RUM FOR A PINA COLADA?
A mild rum is the finest to use. Choose one that you enjoy drinking! Dark rum should be avoided since the flavor is too caramel-y and thick for a pina colada. Because the focus of this drink is on fresh and fruity flavors, the light rum works best.
MAKING A PINA COLADA
This pia colada recipe is incredibly simple! In a blender, combine all of the ingredients. Blend with some broken ice until everything is well blended and mushy.
Pour into glasses and garnish with fresh pineapple if you're feeling particularly beachy.
CREATE A PIA COLADA MOCKTAIL!
You could easily omit the rum and make a non-alcoholic pia colada. Simply create the cocktail as recommended, but leave out the alcohol. My daughter enjoys drinking a fancy cocktail that is safe for her.
When I have friends over, I'll combine the juice, coconut cream, and ice and serve the virgin ones to those who want one. Then I'll add the booze, mix once more, and serve the regulars. Alternatively, pour the rum directly into the serving glass, like they do at posh resorts.
IS IT POSSIBLE TO DOUBLE OR TRIPLE THIS DRINK?
If you want to prepare these for a crowd, double or treble the recipe! Because it's a frozen, slushy drink, make a big batch and serve it straight immediately. It doesn't last long because the ice melts quickly.
I see a lot of these pina coladas in my summertime future! I know I can bring a little bit of the tropics to my own backyard until we can schedule that vacation. You should absolutely try it if you need a small tropical getaway!
HOW DO YOU GARNISH A PINA COLADA?
Pineapple Wedges: Slice the pineapple into slices, then cut each slice into four pieces. Serve with the wedge as a garnish.
Maraschino cherries offer a wonderful pop of color.
COCONUT CREAM VS. CREAM OF COCONUT
Here's an essential point about the components in a pina colada. If you only remember one thing, make it this. Purchase cream rather than coconut cream. What's the distinction between these seemingly identical products? A lot. What you should know about cream of coconut vs coconut cream:
Chilling coconut milk and then skimming off the layer of cream that floats to the top yields coconut cream. It is very thick and has a coconut flavor, but it is not sweetened. It's usually offered in cans alongside coconut milk.
Cream of coconut is coconut cream that has been heavily sweetened. It is used to sweeten tropical beverages such as a traditional pia colada. Because it is used in drinks, it is available in convenient squeeze bottles. Cream of coconut is widely available, either online or in your local liquor store. Coco Real is a well-known brand.
SUBSTITUTIONS AND FLAVORFUL ADDITIONS
The original Pia Colada recipe from the Caribe Hilton is heavy on the pineapple and uses Bacardi rum and Coco Lopez: In a blender, combine 2 ounces of light rum, 1 ounce each of coconut cream and heavy cream, and 6 ounces pineapple juice. Mix in 1/2 cup crushed ice for 15 seconds before pouring into a 12-ounce glass and garnishing with a pineapple and cherry.
Instead of juice, use 5-6 ripe pineapple chunks, cut into 1 inch × 1 inch pieces. It will result in a more vibrant, fresh cocktail.
14-12 ounces overproof Jamaican rum, such as Smith and Cross, to lend a kick and a layer of complexity.
Use flavored rum to add a bit of background flavor. Apricot, banana, grapefruit, kiwi, kumquat, orange, passion fruit, and vanilla complement both the coconut and pineapple flavors. Make your own rum infusions if you can't locate a specific rum taste at the shop.
Replace the rum with brandy to make a kappa colada.
Make a mocktail using the coco colada or a large quantity of virgin pia colada.
For a thicker cocktail, add more ice, or more pineapple juice (or less ice) for a thinner version.
For a lighter alternative, replace the cream of coconut with full-fat or low-fat coconut milk.
CAN YOU MAKE A PINA COLADA WITH CANNED PINEAPPLE?
If you wish to replace ice with frozen pineapple for a more fresh flavor, freeze canned pineapple. However, don't drink it straight from the can because the ice is what makes it icy.
IS IT OKAY TO ADD PINEAPPLE IN THIS RECIPE?
If you want genuine pineapple, simply replace the ice with frozen pineapple chunks. It works perfectly!
IS PINA COLADA GENERALLY SERVED COLD?
This drink can be mixed or served on the rocks! If you like a pia colada over ice, simply combine the coconut, juice, and rum in a shaker and strain over ice in a glass.
Print
Classic Piña Colada
---
Author:

Prep Time:

5 Minutes

Cook Time:

0 minutes

Total Time:

5 minutes

Yield:

1

1

x
Description
The pina colada ("strained pineapple") cocktail was invented in 1954 in Puerto Rico by Ramón "Monchito" Marrero, a local bartender at a prominent Hilton hotel. It's a terrific summery drink with the excellent flavor combination of pineapple and coconut, backed by your preferred rum, whether blended or shaken.
---
2

 

ounces

 

light rum

1

 

ounce

 

pineapple juice

1

 

ounce

 ​​

cream of coconut

1/4

 

ounce

 freshly squeezed ​​

lime juice

1 1/2

 

cups

 

ice

Pineapple

 

wedge

, for garnish

Maraschino cherry

, for garnish
---
Instructions
In a blender, combine all of the ingredients and blend until smooth. Pour into a glass and garnish with a pineapple slice and a cherry.
Category:

Drinks

Method:

Mixing

Cuisine:

American
Nutrition
Serving Size:

1

Calories:

691 kcal

Sugar:

0g

Sodium:

0g

Fat:

35g

Saturated Fat:

0g

Unsaturated Fat:

0g

Trans Fat:

0g

Carbohydrates:

64g

Fiber:

0g

Protein:

4g

Cholesterol:

0g
Keywords: Beverage, Pineapple, cocktail, coconut, crumble,
FAQs About Classic Piña Colada
Is Piña Colada extremely alcoholic?
The CDC advises that you inform your doctor. How powerful is that pina colada? It could contain as much alcohol as two glasses of wine, depending on how it's created.
Is Piña Colada good for you?
If you enjoy Pia Coladas, I'm sorry to break the bad news: This drink is high in calories, sugar, and fat because it is created with rum, coconut cream, coconut milk, and pineapple juice. Coconut cream, that delicious ingredient that transports your problems and thoughts to the beach, is high in saturated fat
What is the flavor of Piña Colada?
The pia colada is a popular classic cocktail from Puerto Rico that is created with pineapple juice, rum, and coconut and is served blended or with crushed ice. In Spanish, the word means "strained pineapple."
What percentage of alcohol is in a Piña Colada?
The only alcoholic ingredient in most pina coladas is 3 ounces of mild rum (about 80 percent). The remaining two ingredients, totaling 9 ounces, are coconut cream and pineapple juice. Pina coladas have a 13% ABV due to the 70-80% proof rum.
Alternative Fruity Drinks Recipe to try!
WATERMELON SPARKLER
Watermelon Sparkler is a simple fruity drink that is as delightful as a slice of watermelon but made with vodka.
Your bartender will combine vodka, watermelon juice, and freshly squeezed lime juice in a cocktail shaker, then add ice. Before serving, pour it into a cocktail glass and top with club soda and mint leaves.
Watermelon Sparkler is a simple, refreshing cocktail that is perfect for any occasion, from backyard barbecues to wedding celebrations. It's insanely simple to make and goes with everything!
STRAWBERRY MARGARITA
This simple Strawberry Margarita requires only 5 ingredients and a blender. Serve on the rocks or frozen with a salted rim. It's great either way!