33 Amazingly Good Breakfast Bagel Ideas You Should Try!
★★★★★ 5 from 1 reviews
Do you know what to do with bagels? Here are 33 of the Best Breakfast Bagel Ideas that are ideal for busy mornings.
There's something for everyone, from breakfast bagel sandwiches to healthy bagel toppings!
WHAT IS GOOD ON A BAGEL FOR BREAKFAST?
If you eat a bagel for breakfast, keep in mind that it is your fuel for the morning, if not the entire day.
Consider toppings such as fresh fruit, cinnamon, eggs, or even cream cheese. Consider salmon, steak, or chicken for a heartier option. Don't forget to include the vegetables!
BREAKFAST BAGEL IDEAS WITH CREAM CHEESE
SALMON CREAM CHEESE BAGELS make an excellent grab-and-go breakfast, as well as a tasty addition to a relaxed weekend brunch or weekday snack.
This salmon cream cheese is a great spread for the bagel bar, but it's also great for mini bagels and quick weekday breakfasts or a quick cure for afternoon hangries.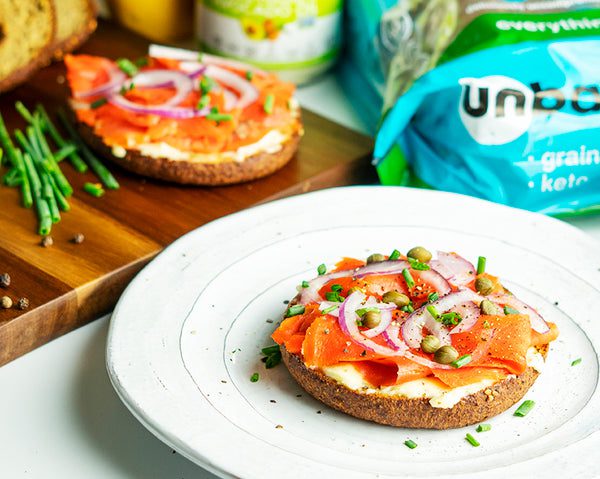 We've taken that and added bagels and smoked salmon to create something truly unique. Excellent for breakfast, brunch, or lunch, or as a cheeky little snack.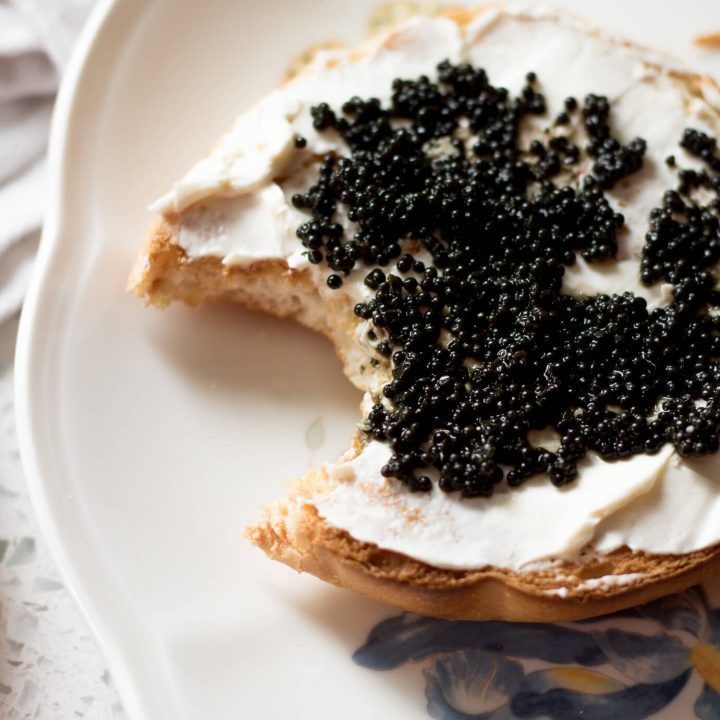 This CAVIAR CREAM CHEESE BAGEL recipe is a unique and elegant take on the classic breakfast or snack bagel. It consists of a toasted bagel topped with regular cream cheese and store-bought caviar.
Alternative Video: 8 Easy Breakfast Bagel Recipes
Recommended Posts:
The CINNAMON CRUNCH BAGEL BAKE WITH CREAM CHEESE GLAZE is the ideal no-fuss holiday breakfast or brunch.
This casserole's soft, sweet bites burst with buttery, cinnamon-sugar flavor from cubed Cinnamon Crunch Bagels soaked in creamy custard.
It is not necessary for every sandwich to contain meat in order for it to be delicious. This recipe for SUN-DRIED TOMATO, SPROUTS, AND CREAM CHEESE exemplifies this point admirably.
If you're looking for a quick and hearty sandwich that will satisfy your hunger without the use of meat, this veggie sandwich is the way to go!
BREAKFAST BAGEL SANDWICH
Look no further than this easy breakfast bagel for low-carb breakfast bagel ideas. The recipe uses almond flour dough to make a nice, chewy bagel with only 5 ingredients!
Air fryer bagel bites are a quick snack that the whole family will enjoy. You'll love how much better these turn out than in the microwave, and they're ready in about 5 minutes.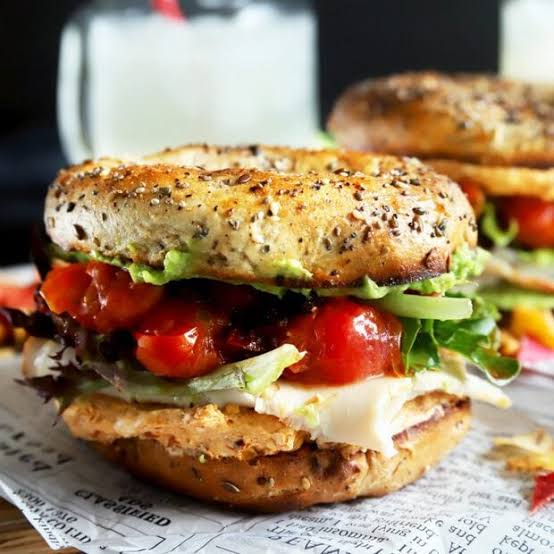 Avocados are among the healthiest superfoods available. If you like avocados, you'll enjoy this Everything Avocado Turkey Bagel Sandwich. Can you imagine a quick and easy lunch bagel sandwich? You can now because this recipe fits that description.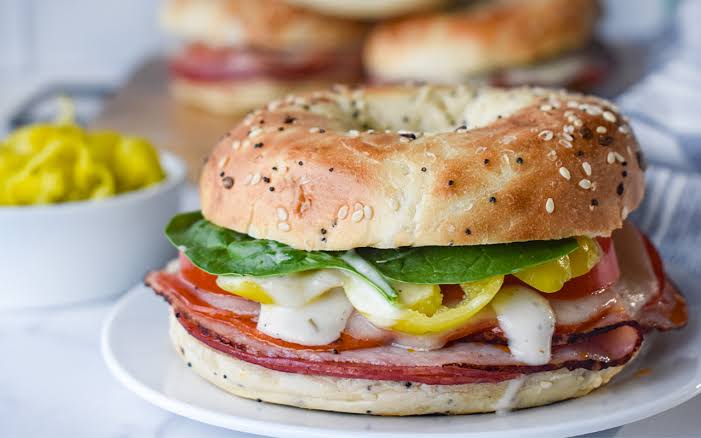 Do you need a quick recipe for a bagel sandwich for lunch? This Italian Salami Bagel Sandwich will satisfy your hunger. Because it's loaded with cheese, meat, and peppers, this sandwich will keep you full until dinner.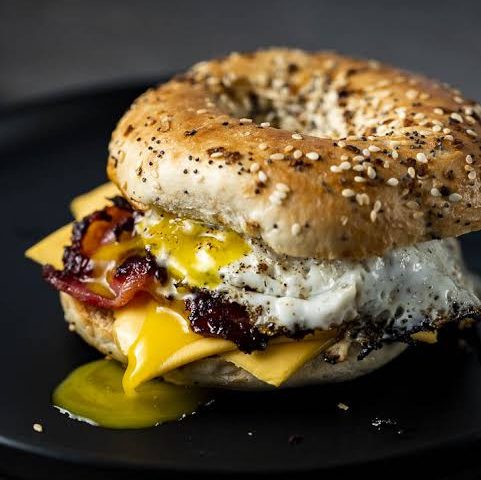 Bagels are widely recognized as one of the best breakfast foods. These can be quick and easy, or you can take your time and top them with eggs and other breakfast foods. This Ultimate Bagel Breakfast Sandwich will be a welcome change from the usual egg and bacon bagel.
VEGETARIAN BREAKFAST BAGEL IDEAS
Sometimes the best bagel sandwich ideas are the most straightforward. And while this simple Avocado Tomato Basil Bagelwich doesn't have a lot of "bells and whistles," it more than makes up for it in flavor.
Vegans do not have to feel excluded from the bagel sandwich revolution. While most breakfast sandwiches include eggs as one of the main ingredients, we've found one that doesn't.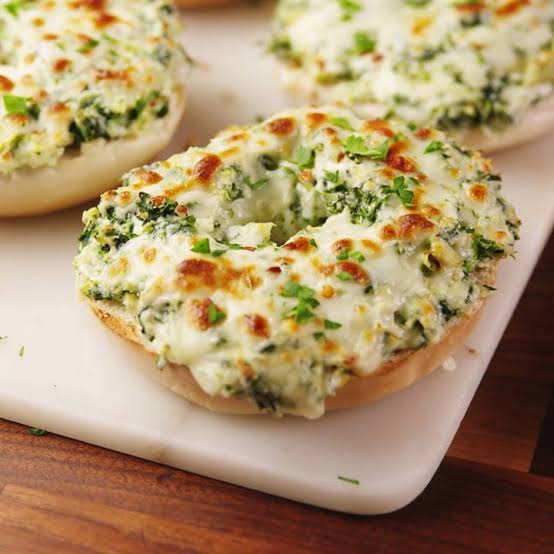 This Spinach Artichoke Bagel Melts recipe packs a punch of flavor! Cream cheese is combined with artichoke hearts, spinach, shredded mozzarella, grated parmesan, minced garlic, red pepper flakes, salt, freshly ground pepper, and chopped parsley in this sandwich.
If you like turkey and cream cheese, you'll love this recipe for a Veggie and Cream Cheese Turkey Bagel Sandwich. This recipe is a tasty way to enjoy something different for lunch.
BAGEL BREAKFAST IDEAS NO EGG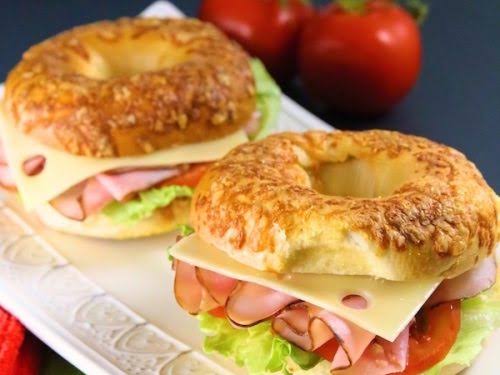 Do you want something different in a bagel sandwich? For a change, try this ASIAGO CHEESE BAGEL SANDWICH recipe. In my opinion, this is one of the best bagel sandwich recipes on the list.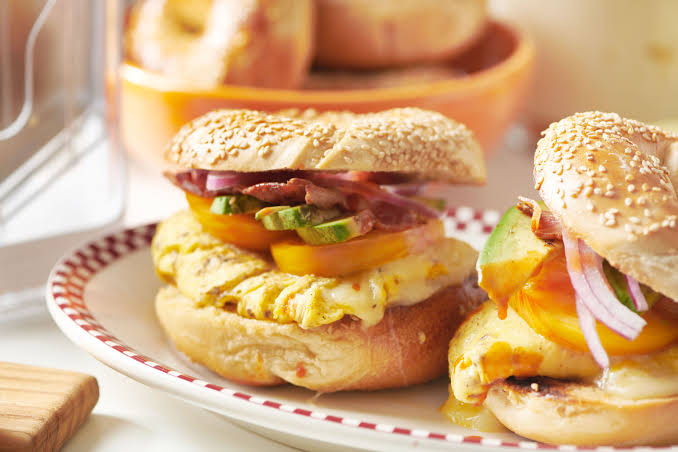 Following that, we have a recipe for FREEZER BAGEL BREAKFAST SANDWICHES for you. Are you a person who is always on the go and has little time for breakfast? This is a recipe that you can prepare ahead of time so that it is ready to eat when you are.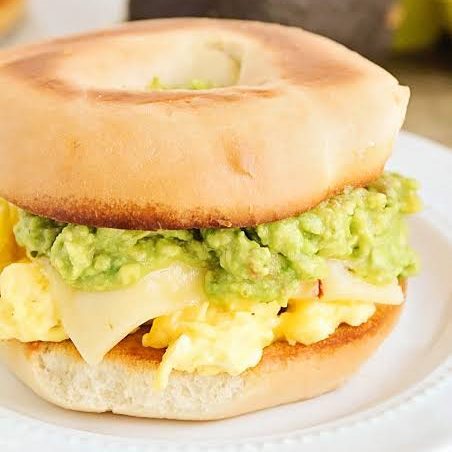 Is pepper jack cheese a favorite of yours? This recipe for GUACAMOLE AND PEPPER JACK BREAKFAST BAGELS will satisfy your cheesy craving. Avocado, pico de gallo or salsa, salt and pepper, lime juice, eggs, sriracha, shredded cheddar cheese, and pepper jack cheese are all required ingredients for this savory sandwich. Tillamook is my favorite brand.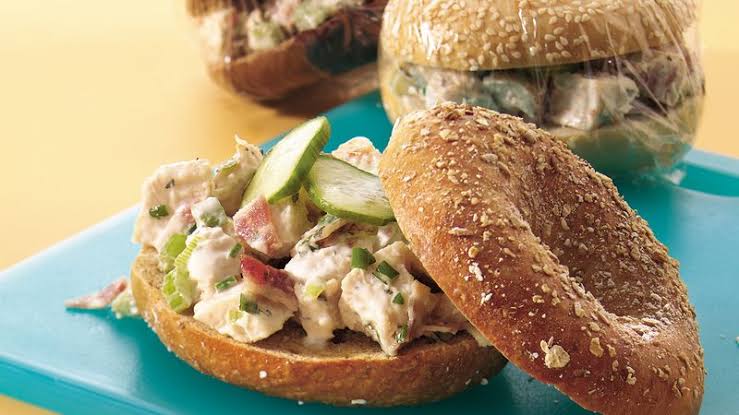 Do you overspend at sub shops and sandwich shops? If you are, this CHICKEN SALAD BAGEL SANDWICH recipe can help you change that. Make this bagel sandwich and pack it in your lunch box for a cheap and nutritious meal.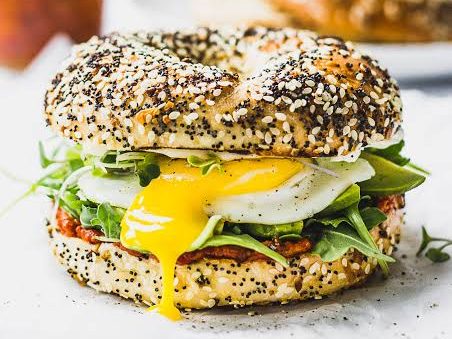 Have you ever heard of the Italian dish Romesco? Romesco sauce is made from roasted red peppers, charred tomatoes, toasted almonds, and bread. Imagine this delectable sauce on a bagel with cream cheese, sliced avocado, arugula, microgreens, and eggs.
BAGEL SANDWICH IDEAS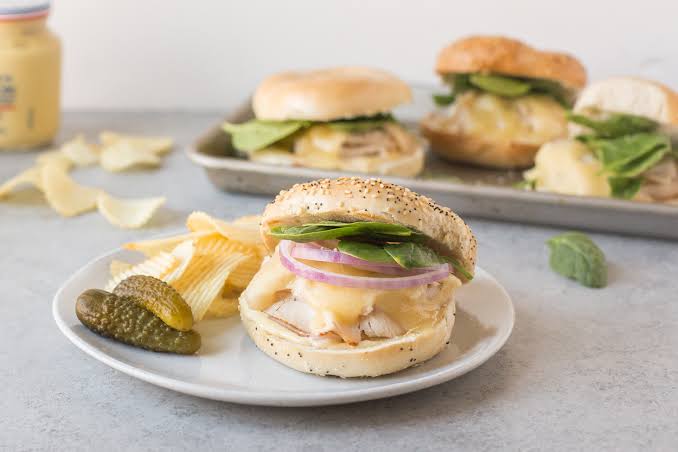 You can join in the fun if you have mini wheat bagels. This recipe for TURKEY CRANBERRY-WEE BAGEL SANDWICHES is ideal for entertaining guests during the holidays or for a quick and healthy lunch.
One of the best things about bagels is that they come in a variety of flavors, including cinnamon, chocolate chip, garlic and herb, and raisin. While not all bagel flavors lend themselves well to sandwiches, there are a few, such as raisin, that may surprise you.
It's hard to believe that only a few restaurants served breakfast sandwiches. They can now be found everywhere, from fast food restaurants to gas stations. However, among the sea of mediocre breakfast sandwiches, this BACON, EGG, AND CHEESE BAGEL SANDWICH stands out.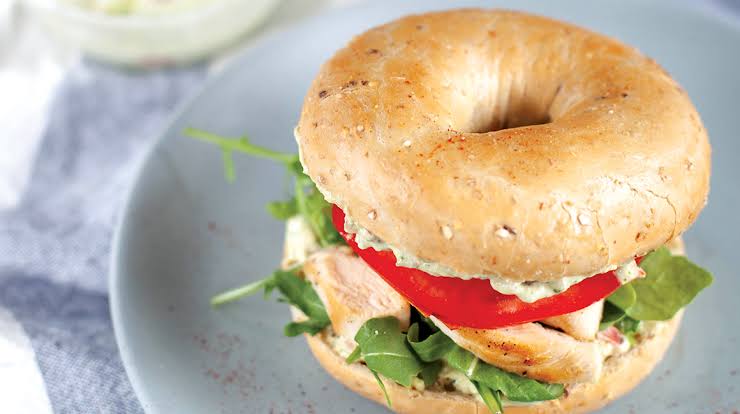 Wow. It's difficult to write about this sandwich while looking at the photo. This recipe for ROASTED RED PEPPER PESTO CHICKEN BAGEL SANDWICHES will have you daydreaming about your lunch break at work!
Have you had a cucumber sandwich before? That pales in comparison to this CREAMY CUCUMBER BAGEL SANDWICHES RECIPE. Cucumbers, softened cream cheese, chopped onions, mini Everything Bagels, and Worcestershire sauce are all required.
BREAKFAST BAGEL WITH EGGS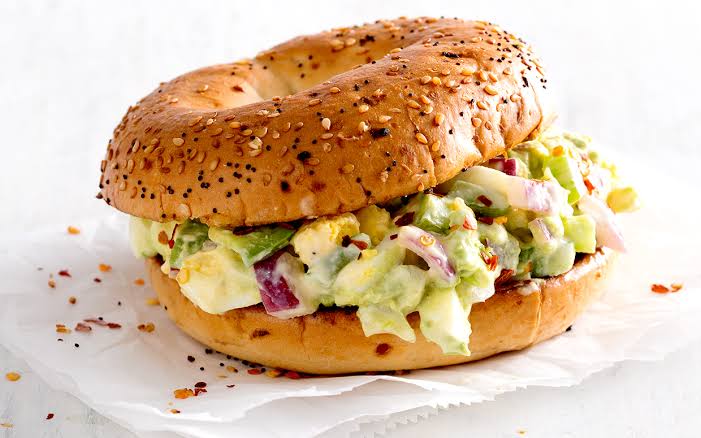 Stop eating those monotonous old egg salad sandwiches on sliced bread. Here's a great example of a rhetorical question. Why settle for the same old when you can have this AVOCADO EGG SALAD BAGEL SANDWICH?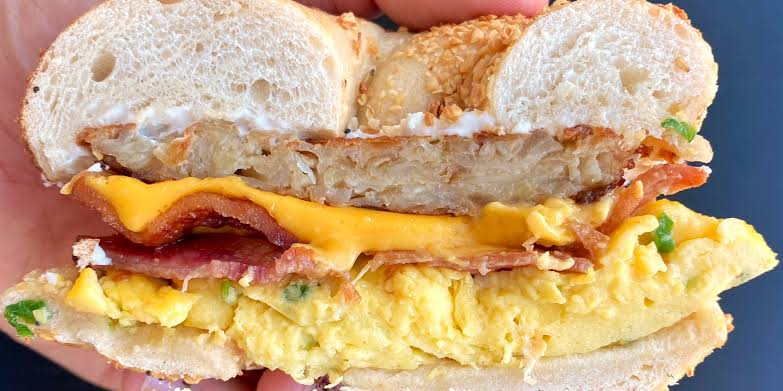 Feeling peckish and unsure what to make for breakfast? Make a bacon, egg, and cheese bagel sandwich. You'll be able to make enough for several servings for yourself or your guests. The fun part is that your eggs can be baked in muffin tins.
Do you reach for a bagel for breakfast when it's time to get up and go? If not, you will if you make this RISE AND SHINE BREAKFAST BAGEL SANDWICH.
This recipe is a delicious twist on the classic egg bagel. Eggs, smoked deli ham, cream cheese, American cheese, salt and pepper, and a bagel are required.
The breakfast sandwich that took New York by storm. No true New Yorker begins their day without a delicious and gooey B.E.C (Bacon Egg and Cheese)!
BREAKFAST BAGEL PIZZA
Make these Easy Breakfast Pizza Bagels with a classic ingredient for a quick on-the-go breakfast! When topped with eggs, bacon, and cheese, bagels have never looked better. This recipe is ideal for getting the day started right!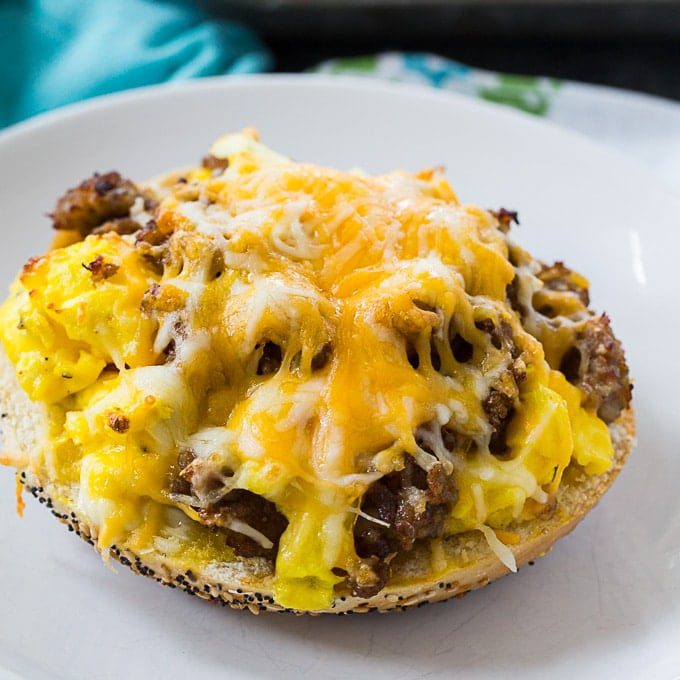 The Sausage, Egg, and Cheese Bagel Pizzas are a fantastic way to start the day. Chewy Everything Bagel halves are toasted in the oven with scrambled eggs, crumbled breakfast sausage, and cheese. These breakfast pizzas will be a hit with your kids!
The everything bagel breakfast pizza is a show-stopper. The ultimate meal is crispy, quick pizza dough topped with caramelized onions, eggs, prosciutto, mozzarella, and finished with a little cream and green onions.
Bagel Fruit Pizzas are a simple and enjoyable hands-on breakfast that your chilbacon egg and cheese bagel sandwiches, bagel brunchdren will enjoy making! At our house, we enjoy bagels plain, toasted, or in the form of , and, of course, salmon lox and bagels.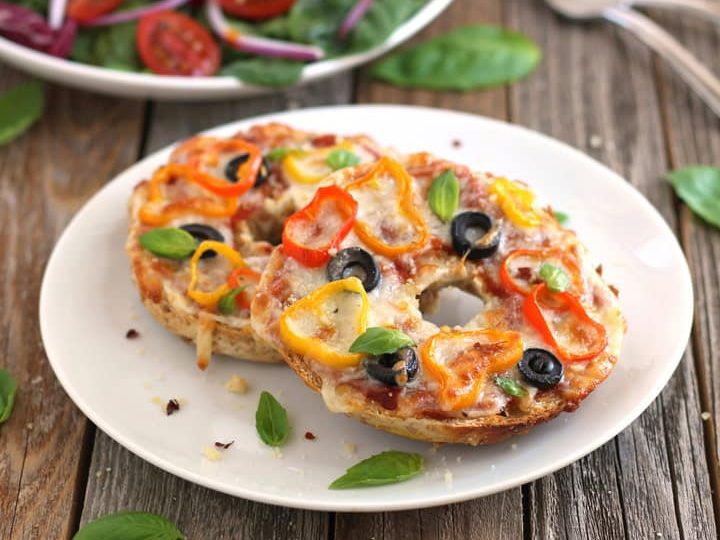 Looking for a healthy way to satisfy your pizza cravings? Look no further. This Healthy Veggie Pizza Bagel recipe is the ideal way to satisfy that craving while also enjoying vegetables.
Print
Breakfast Bagel Ideas (Fruit Bagel)
---
Author:

Prep Time:

10 minutes

Cook Time:

10 minutes

Total Time:

20 minutes

Yield:

8

pizzas

1

x
Description
Easy Bagel Fruit Pizza is a delightful breakfast for kids. They can even assist you in making them.
---
4

 

Lender's® Plain Bagels

 

room temperature

1/2

 

cup

 

Smart Balance® Buttery Spread

2

 

tablespoons

 

apricot jam

8

 

fresh strawberries

2

 

kiwis

1/2

 

cup

 

fresh blueberries

8

 

raspberries
---
Instructions
Bagels should be cut in half. If desired, lightly toast the bread and set aside to cool.
In a small mixing bowl, combine the buttery spread and jam. If it's too cold, you can warm it up in the microwave for 10 seconds.
Spread each bagel half with 1 tablespoon of the butter spread and jam mixture.
Strawberries and kiwis, sliced Insert a kiwi slice into the center of each bagel half. Form a flower by wrapping strawberry slices around the edges. Place a raspberry in the center of each bloom. Finish with blueberries around the borders. Serve right away.
Category:

Breakfast

Method:

None

Cuisine:

American
Nutrition
Serving Size:

8 servings

Calories:

228kcal

Sugar:

6g

Sodium:

365mg

Fat:

6g

Saturated Fat:

2g

Unsaturated Fat:
Trans Fat:

1g

Carbohydrates:

37g

Fiber:

2g

Protein:

6g

Cholesterol:
Keywords: bagel pizza recipe, bagel fruit pizza, breakfast bagel, breakfast bagel ideas, bagel fruit pizza recipe
Frequently Asked Questions
What goes with a bagel for breakfast?
butter.
a selection of cream cheeses (plain, scallion, lox, etc)
a selection of jams
salmon smoked (I prefer Nova Lox)
fried bacon
Salad with tuna
Salad with eggs
eggs scrambled
What is good to go on a bagel?
We prefer mozzarella in our eggs, but cheddar or Monterey Jack would also be delicious. I absolutely love topping the savory egg bagels with hot sauce and strongly advise you to do the same! If you don't like peanut butter, you can use almond butter or cashew butter instead.
What is the most popular thing to put on a bagel?
Cream cheese is most likely the most popular bagel schmear. It's quick, tasty, and healthy – the ideal topping for the perennial hole-in-the-roll. To make it even more interesting, you can flavor the cream cheese with a variety of ingredients.
How do you serve breakfast bagels?
Add fried or scrambled eggs, breakfast sausage, cheese, and tomato to your bagel. Make any sandwich with your bagel as the bread. If you're craving a sandwich, make a bagel sandwich by layering ingredients between sliced bagel halves. Feel free to experiment with different toppings and condiments!
Are bagels healthier than bread?
In terms of carbs and calories, the average plain bagel contains approximately 3.15 slices of bread (a bagel contains 245 calories, a slice of bread has 79 calories). Okay, so bagels are more dense, caloric, and potentially less healthy than bread, but would you bet your happiness on that?
Are bagels good to eat for breakfast?
If you choose and prepare bagels wisely, they can fit well into a healthy breakfast. The popular bread, which is often a good source of complex carbohydrates, can provide both energy and a variety of micronutrients such as calcium, potassium, and B vitamins.
Why is it called an egg bagel?
Normally, no eggs are used in the preparation of bagel dough. The addition of eggs to the mix before baking gives egg bagels their unique name! Bagels were first baked as a street food by Eastern and Central Europeans, and relatively expensive ingredients such as egg or sugar were not used.
What should I put on my everything bagel?
Here are some suggestions:
Toast with avocado.
Potatoes baked.
Popcorn.
Sliced tomatoes
Scrambled eggs or hard boiled eggs
Pita chips made from scratch.
Chicken.
Vegetables roasted.
Should you toast a bagel?
A bagel should be eaten warm and, ideally, no more than four or five hours old at the time of consumption. A buttered bagel, on the other hand, should almost always be toasted to get that great, rich melted butter flavor. Even better, if you buy your bagels fresh, still warm from the oven, you can achieve the same effect.
Does cream cheese go on bagels?
The cream cheese bagel is traditionally and most commonly served open-faced, sliced horizontally, and topped with cream cheese and other toppings in the center.