Earthquake Cake Recipe [So Yummy!]
★★★★★ 5 from 1 reviews
This earthquake cake is a chocolate cake with coconut, pecans, cream cheese, and chocolate chips. A super-gooey and scrumptious cake that is ALWAYS praised.
See also in: 35 Super Fun Baking Recipe Ideas for you to Try!
Looking for an alternative dish to present at your next gathering? This chocolate earthquake cake begins with a cake mix, making it extremely simple to prepare.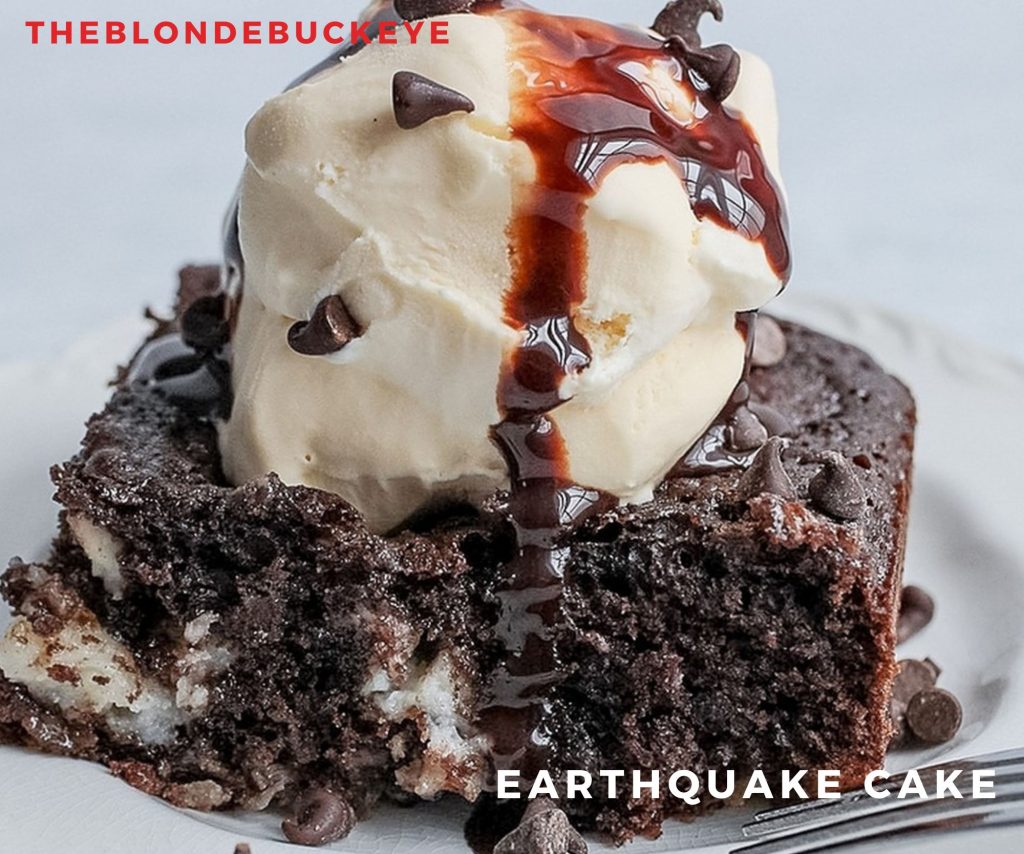 A EARTHQUAKE CAKE IS WHAT?
A box of German cake mix is the first ingredient of a traditional earthquake cake. Shredded coconut and pecans are put on top of the cake mix, which is then swirled with a rich cream cheese sauce and topped with a sprinkle of chocolate chips. It has a flavor that is a cross between chocolate chip cheesecake, almond joy bars, and German chocolate cake.
With lumps, bumps, cracks, and crevices on top, it's hardly the prettiest cake you've ever seen, but it definitely is delicious. As the chocolate cake batter puffs up around the cream cheese as it bakes, the cake looks like it "cracks open"—hence the name "Earthquake Cake" (and easy). Since the ooey cream cheese layer acts as a cream cheese icing throughout, you don't need to ice the top. But feel free to add a dollop of vanilla ice cream to each piece!
THE BEST CHOCOLATE COCONUT CAKE EVER
Things are changing around here! In more than one manner. First of all, we are baking an earthquake cake, so pun intended. Second, I've brought this amazing chocolate coconut cake recipe from my mother's recipe box into the twenty-first century.
This cake is chocolaty and coconut-flavored. There is an abundance of melting chocolate and a luscious cream cheese layer that pours out when the cake is warm. There isn't anything to dislike about this delicious, moist, lovely earthquake cake, unless you dislike chocolate (who are you?) and delectable desserts.
INGREDIENTS YOU'LL NEED
For a nutty, toasted flavor that pairs incredibly well with chocolate cake, use flakes of coconut.
Chopped pecans – They add a crunch that perfectly pairs with the tender and moist cake.
The foundation of the cake is a German chocolate cake mix. It combines all the ingredients to create a beautiful cake, although one that appears to be a mess.
Together, butter and cream cheese make a rich, creamy, and tangy layer that goes nicely with the chocolate cake.
To make the cream cheese sweeter, use powdered sugar. Although the recipe calls for 4 cups of powdered sugar, you can adjust the amount to your liking.
Enhance the tastes of the butter, cream cheese, and sugar with vanilla extract.
ALTERNATIVE VIDEO: Earthquake Cake
Suggested Posts
TIPS FOR THE BEST CAKE
Don't cover the entire pan with the cream cheese layer when adding it. To avoid it filling to the brim, leave an inch of space on both sides.
When butter, cream cheese, and powdered sugar are combined, a highly thick substance that is tough to pour results. Melt the butter and cream cheese in a double boiler in the microwave before incorporating the sugar if you prefer a thinner consistency.
Other cake mixes, such strawberry and vanilla, can be used in addition to German chocolate cake. Lemon is my preferred flavor.
Many people will advise you to make devil's food cake from a mix, but don't.
The cream cheese will sunk to the bottom of the cake because the cake batter is too thin. Although your dessert won't have the lovely cream cheese layer in the middle, it will still taste wonderful.
Peanut butter lover? When preparing the cream cheese mixture, substitute peanut butter for the butter. Add peanut butter chips or crumbled peanut butter cups to the cake's frosting.
To moisten and soften coconut flakes that are too dry, mix them with 2 tablespoons of butter.
Use an ice cream scoop instead of pouring the cake mix if it is too thick. Spread the scoops with a spoon or an offset spatula after doling them over the coconut and pecans.
Once all the layers have been added, you can use a knife to swirl the batter for a more attractive cake.
Toast the coconut for a few minutes before sprinkling it over the pan for a nuttier, more delicious result.
Add extra pecans and toasted coconut to the cake's top when it is finished baking.
WHAT'S THE ORIGIN OF THE NAME?
German chocolate upside-down cake, hurricane cake, and earthquake cake are some of the other names for this dessert.
Despite the mystery surrounding the cake's name's origin, its reasoning is readily apparent after just a quick glance.
The cake appears to have been hit by an earthquake with all those crannies and fractures!
CAN I CHOOSE A DIFFERENT KIND OF NUT? HOW ABOUT TAKING OUT THE NUTS?
Pecans and coconut are used in traditional earthquake cakes to provide a great texture and flavor contrast. But it shouldn't prevent you from giving it your own unique spin!
So yes, other nuts also work if you don't like pecans. Try other nuts, including macadamia, cashew, walnut, and almond.
Nut allergies? Instead, use little chocolate chips. Your cake will become even more rich and chocolaty while maintaining that crunch factor.
Add however much you'd like. You can never have too much chocolate!
Here's a piece of advice: don't add them before baking. They will merely get sunk and the cream cheese mixture will get brown as a result.
Instead, add the chocolate chips right after baking. They'll not only add flavor, but they'll also fill in cracks and craters with in cake.
DIRECTIONS
Set the oven's temperature to 350 degrees Fahrenheit. A 9×13-inch baking pan should be greased on the bottom and the sides.
In the bottom of the baking dish, evenly distribute the coconut and pecans.
Follow the directions on the chocolate cake mix's packaging to prepare it. Over the coconut and pecans, pour the batter.
Beat the butter and cream cheese until they are light and frothy in a large bowl.
When the mixture is smooth, add the vanilla and powdered sugar. Spoon the mixture over the cake batter in a thin layer.
The cake needs 50 minutes of baking. Before serving, let the cake cool fully. Enjoy!
DUE DATE FOR A CHOCOLATE EARTHQUAKE CAKE
An Earthquake Cake should still be a little gooey inside when it is taken out of the oven, unlike other cakes. I enjoy using my fingers to gently press down on the cake's top. I take away the chocolate cake portion if it springs back and feels "set." Even so, the cake could still jiggle a little bit. A toothpick test is ineffective since it will not yield a clean result (even when the cake is ready). Avoid overbaking the cake because it will result in an interior that is dry and "cake like" rather than melting and delicious. As it cools, the cake will start to solidify.
Print
Earthquake Cake
---
Author:

Prep Time:

20minutes

Cook Time:

50minutes

Total Time:

1hr 10miutes

Yield:

24

1

x
Description
This earthquake cake is a chocolate cake with coconut, pecans, cream cheese, and chocolate chips. A super-gooey and scrumptious cake that is ALWAYS praised.
Looking for an alternative dish to present at your next gathering? This chocolate earthquake cake begins with a cake mix, making it extremely simple to prepare.
---
1 cup

flaked coconut, toasted

1 cup

chopped pecans

1

(18.25-ounce) package German chocolate cake mix

1/2 cup

butter, softened

1

(8-ounce) package cream cheese, softened

4 cups

powdered sugar

1 teaspoon

vanilla extract
---
Instructions
Set the oven temperature to 350 degrees Fahrenheit. Coat the bottom and sides of a 9-by-13-inch baking pan with butter.
Spread the coconut and pecans in the baking dish's bottom.
Prepare the chocolate cake mix according the instructions on the package. The batter is poured over the coconut and pecans.
In a large bowl, mix the butter and cream cheese together until light and fluffy.
Beat in the powdered sugar and vanilla until the mixture is smooth. Spoon the mixture onto the cake batter in spoonfuls.
Cook the cake for fifty minutes. Before serving, let the cake to totally cool down. Enjoy!
Category:

Dessert

Method:

Baking

Cuisine:

American
Nutrition
Serving Size:

24

Calories:

274kcal

Sugar:

48g

Sodium:

457mg

Fat:

31g

Saturated Fat:

16g

Unsaturated Fat:

0g

Trans Fat:

0g

Carbohydrates:

65g

Fiber:

3g

Protein:

4g

Cholesterol:

42mg
Keywords: Earthquake Cake
What cake was Elvis' favorite?
folks asked for an image of an earthquake cake
According to legend, Elvis Presley's grandmother used to bake him a pineapple and pecan cake that was his favorite because it was so tasty and moist every time he visited.
What should you do with a cake disaster?
folks asked for an image of an earthquake cake
To tile the bottom of your selected vessel, cut the cake into pieces that are nearly the same size. Add a layer of whipped cream, mousse, curd, custard, or cooked, cooled fruit on top of it (fresh berries or a few dollops of jam work too).
What dessert is favored by Elvis?
Elvis loved pound cake, which he preferred thick, rich, and simply flavored with vanilla (and butter!).
Which cake is delicious?
Vanilla cake is in high demand because it is suitable for nearly all occasions. Its color and flavor have long been admired and appreciated by customers. Therefore, get your vanilla cake from Floraindia and delight and surprise your loved ones with this thoughtful gift.
More alternative Cakes recipes to try:
PINEAPPLE UPSIDE DOWN CAKE
The Pineapple Upside Down Cake is an additional classic. You will like the tropical pineapple flavor coupled with the sweet caramelized edges. Imagine how delighted you would be to see this cake upside down.
From the 1960s through the 1980s, pineapple upside-down cakes were extremely popular. However, as far as Australians are concerned, they have never been out of style. Rarely would a summer pass without one making an appearance at a barbecue! (That's a BBQ for those of you not from Australia!)
DARK CHOCOLATE MOUSSE CAKE
If you enjoy chocolate, this Dark Chocolate Mousse Cake is perfect for you! The flavorful crumb is made with unsweetened natural cocoa powder and dark cocoa powder. It is composed of layers of chocolate mousse and semisweet chocolate ganache. This will satisfy the most intense desire for chocolate!
This ultra-moist dark chocolate mousse cake is flavored with unsweetened natural cocoa powder and dark cocoa powder. The cake is filled with a simplified chocolate mousse and covered with a semisweet chocolate ganache. If necessary, the ganache and mousse can be prepared in advance.