Delicious Bisquick Apple Cobbler Recipe [2023](Surprisingly Simple!)
A delightful classic comfort dish, Bisquick apple cobbler mixes spiced apples with a simple Bisquick baking mix recipe! It comes up quickly and easily with only a few ingredients and little effort, but it's sure to please everyone!
When you use Bisquick baking mix, you can make a delicious apple cobbler in no time!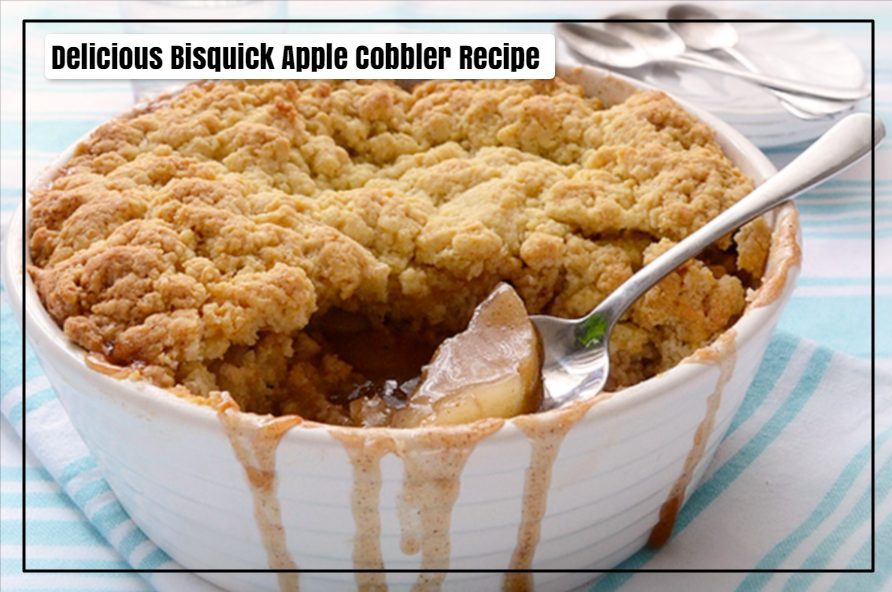 This deceptively easy fall dessert will have you swooning and wanting more (and more)!
Nothing is more comforting and pleasant than a warm bowl of cobbler for dessert as the temps drop and the leaves begin to turn color. This apple cobbler dish will bring on all of the comfort food fall emotions while also warming you up on a chilly night.
This simple Bisquick apple cobbler should be in everyone's recipe box! It's bursting with fall tastes like apples, nutmeg, and brown sugar. And don't worry, even inexperienced bakers will have no trouble putting this delectable, comforting dessert together.
How's Apple Cobbler different from Apple Crisp?
Apple crisp and apple cobbler are two different things. Apple crisp features an oat-based crisp crumble topping, as the name suggests. This apple cobbler's topping is a smooth batter that is put on top of the apple filling and bakes into a cake-like texture.
Bisquick Apple Cobbler Video Recipe you must try!
Suggested Posts
To peel or not to peel?
Yes, peeling apples making apple cobbler is one of my favorite things to do! The skin does not degrade during baking, which can result in a harder texture. (You may leave the peel on and chop the apples into smaller cubes if you like!) I use my Johnny Apple Peeler for this because it does all the work for me. It simultaneously PEELS, CORES, and SLICES the apple!
WHY YOU'LL LOVE THIS RECIPE!
Surprisingly simple! A cobbler may appear and sound difficult, but this recipe makes it simple.
There are only six items needed! Desserts with a long list of ingredients are out. The goal of this recipe is to generate great flavors without utilizing everything in the kitchen.
This is the ideal fall dessert! Nothing says "Autumn" quite like a freshly baked apple pie in the fall.
INGREDIENTS
You won't have to hurry to the store to get the materials you need because there are just six. It's also a fantastic way to use up that box of Bisquick that's been gathering dust in your pantry.
Bisquick – This baking mix is ideal for anyone who wants to bake tasty sweets without having to mix and prepare the "basic" ingredients (flour, salt, fat, and leavening).
Milk – Without a liquid, stirring the ingredients will be impossible. Because it boosts flavor and color, milk is the finest option.
Butter – A creamy and delectable cobbler is made with butter. Butter is responsible for the burst of rich flavor and delicacy. To make this recipe work, make sure it's melted and cooled.
Apples – You'll need apples to add a hint of "autumn" to this cobbler recipe. If you want a sweet flavor, use red apples; if you want an acidic, sour flavor, use green apples.
Light brown sugar – Light brown sugar is a crucial ingredient in apple cobblers because it has exactly the proper balance of sweetness and nuttiness.
Nutmeg – Nutmeg has an unmistakable flavor. It's got just the proper amount of spiciness to make this apple cobbler come alive. Keep in mind that a little goes a long way!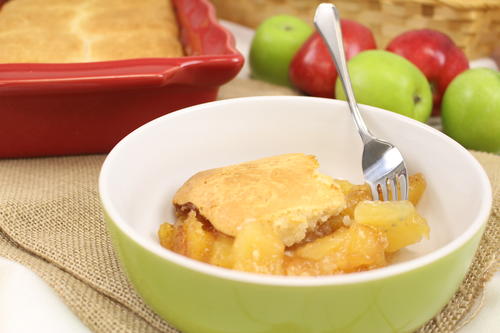 STEP-BY-STEP INSTRUCTIONS
One of the things you'll appreciate about this apple cobbler recipe is that it's not only delicious but also simple to make. You'll be successful whether you're a rookie or a seasoned baker. Let's get baking!
Prep. First and foremost, preheat your oven to 375 degrees Fahrenheit (190 degrees Celsius) and make sure your pan is ready to go. To coat your pan, you can use butter, a little coating of oil, or a non-stick frying spray.

Apples should be sliced and seasoned. Cut three red or green apples into small pieces that are easy to eat . 1 cup light brown sugar and 12 teaspoon nutmeg in a mixing bowl. Toss the apple slices in the mixture to coat them.

(Optional) Microwave the apples to warm them up. In a microwave-safe bowl, place the apples. Heat for two minutes on high power in 30-second increments. *This step aids in the beginning of the apple cooking process, although it is completely optional.

The remaining components should be mixed together. 12 cup Bisquick, 12 cup milk, and 12 cup butter should be combined in a separate basin. Stir everything together completely.

Ingredients should be poured out and layered. Fill your pan with the batter. After that, equally distribute the apples on the batter. This will ensure an even and complete cooking.

Bake at 375°F (190°C) for 55 minutes to an hour in a preheated oven. When the cobbler is done, it should have a golden brown top and a toothpick inserted in the center should come out clean.

Serve after let to cool slightly. When the Bisquick apple cobbler is finished baking, set it aside to cool for 10-15 minutes on a wire cooling rack before serving.
This apple cobbler does not require complete cooling before serving. In fact, most people prefer a slightly warm cobbler. Serve with a scoop of vanilla ice cream or whipped cream for a classic autumn dessert that will please everyone!
TIPS & RECIPE NOTES
Don't worry if you don't have nutmeg on hand or don't like the flavor. You may use cinnamon instead of nutmeg and still get great results.
Add a teaspoon of vanilla extract to the Bisquick batter for an even more complex flavor. When coupled with a scoop of vanilla ice cream, this will bring out the sweetness and depth of the overall flavor.
Cover your cobbler with a sheet of aluminum foil if the top is going golden brown but the cobbler isn't done baking. This will keep the top from burning while the rest of the ingredients finish baking.
Other apples that make excellent cobbler. Honeycrisp, Granny Smith, Gala, and Braeburn are some of the greatest semi-sweet types, but Jonagold, Golden Delicious, and Pink Lady variants are all excellent!
STORING & REHEATING
Allowing the apple cobbler to get to room temperature (throughout) before wrapping it in parchment paper, wax paper, or aluminum foil is the best way to keep it. It will keep for two days at room temperature.
You can keep it in the fridge for up to five days or freeze it for up to two months for longer storage. Make sure your apple cobbler is cool and tightly wrapped before using either of these methods.
Remember to let the apple cobbler cool completely before storing it, whether on the counter or in the refrigerator. Wrapping a warm cobbler in plastic will retain moisture and turn your apple cobbler into a soggy mess.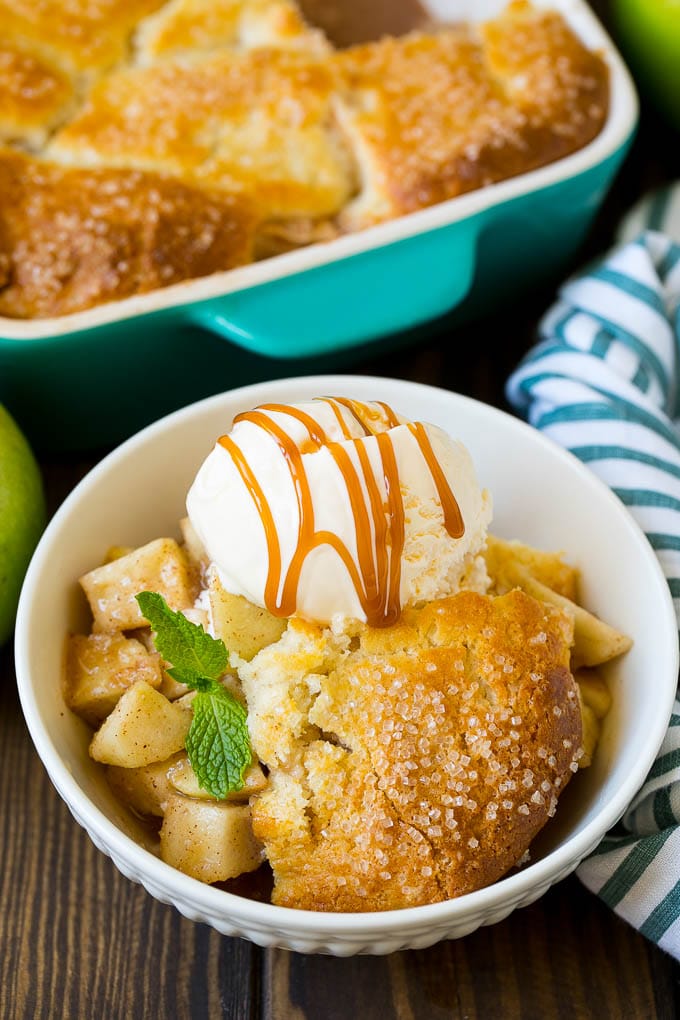 REHEATING
Even when it's chilly, apple cobbler is excellent. However, if you want a warm and comforting dessert on a crisp fall night, simply microwave it for ten to thirty seconds or cook it in a preheated 350°F (175°C) oven.
Print
Yummy Bisquick Apple Cobbler (A must have recipe!)
---
Author:

Prep Time:

10 minutes

Cook Time:

55 minutes

Total Time:

1 hour 5 minuts

Yield:

8

Servings

1

x
Description
Bisquick apple cobbler is a delightful classic comfort food made with spiced apples and a simple Bisquick baking mix recipe! It bakes to perfection with only a few ingredients and little bother, yet it is sure to please everyone!
---
1 ½

 

cups

 

Bisquick

1 ½

 

cups

 

milk

½

 

cup

 

butter

 

(1 stick or 8 tablespoons butter, melted and cooled)

3

 

large

 

apples

 

(peeled and cut into chunks)

1

 

cup

 light brown sugar 

(packed)

½

 

teaspoon

 

ground nutmeg
---
Instructions
Preheat the oven to 375°F (190°C) and butter or spray a 9×13 or 9×9 baking dish with nonstick cooking spray.
In a microwave-safe bowl, combine the sliced and chunked apples with the brown sugar and nutmeg (for more tender pieces of apple). Heat in 30-second increments on high power for a total of 2 minutes. *If you omit this step, the apples will still bake wonderfully! 1 cup light brown sugar,

3 large apples

Blend the Bisquick baking mix, milk, and melted butter in a medium-sized mixing basin, stir to combine, and then transfer to a baking dish. 1 ½ cups Bisquick,

½ teaspoon ground nutmeg,

1 ½ cups milk,

½ cup butter

Evenly distribute the apple mixture over the batter.
Bake at 375°F (190°C) for 55 minutes to an hour, or until brown on top and a toothpick inserted into the center comes out clean. Allow to cool slightly before serving after removing from the oven.
Notes
Use a  ¼ teaspoon of cinnamon and nutmeg each.
For the finest flavor, add 1 teaspoon of vanilla extract to the Bisquick batter.
If the top is browned and you need to continue baking the cobbler, cover with aluminum foil to prevent burning.
Category:

Dessert

Method:

baked

Cuisine:

American
Keywords: apple, cobblers, fruit desserts
Frequently Asked Questions
What is the difference between apple crisp and apple cobbler?
A cobbler is a baked fruit dessert with a thick biscuit or pie crust covering baked in a deep dish. … Crisp: A crisp is a baked fruit dish with a layer of crisp and crunchy components on top.
What kind of apples are good for cobbler?
Any baked apple will suffice. Granny Smith apples are my favorite, but I also enjoy Gala apples, Honeycrisp apples, Golden Delicious apples, and any other tart apple.
What is the difference between pie crust and cobbler crust?
It all comes down to the crust in a pie (or lack thereof). A bottom crust is always present in a pie, whether sweet or savory, whereas a cobbler does not. A cobbler is a baked fruit dish that lacks a bottom crust and has a top crust made of biscuit dough rather than pastry or pie dough.
What apples are not good for baking?
Avoid McIntosh, Gala, Fuji, and Red Delicious apples. These apples are either too soft or don't have enough taste to withstand the long baking time required for pies and tarts.
More Apple Cobbler Recipes to try
EASY BISQUICK APPLE COBBLER RECIPE
This Bisquick Apple Cobbler Recipe is ridiculously quick and simple. With only 5 ingredients and a few simple procedures, you can have a genuine, homemade dessert ready in a matter of minutes. This is an excellent recipe for the holidays, especially Thanksgiving. I like to top mine with Vanilla Ice Cream or Whipped Cream.
SLOW COOKER OATMEAL APPLE COBBLER
Do you want to learn how to prepare apple cobbler? With this simple slow cooker recipe, you'll fall in love with apple cobbler all over again. Load apple slices into the slow cooker to absorb the cinnamon and brown sugar, resulting in a warm, tender filling.
To make an exquisite cobbler topping, combine baking mix, oats, sugar, cinnamon, and butter. This emphasis on peak-of-season fruit is as wonderful as, if not better than, its oven-baked counterpart.