Glassy Candied Strawberries Recipe [2022] (So Sweet!)
★★★★★ 5 from 2 reviews
Have you had candied strawberries before? They're even more delicious than chocolate-covered strawberries.
They have a clear crunchy candy coating on the outside and a soft, juicy strawberry on the inside. These strawberries are the ideal Valentine's Day treat. If you're looking for more candy, try my rock candy recipe.
This candied strawberries recipe will turn anyone into a strawberry fan. My son, who has never been a fan of strawberries, devoured these. It's covered in candy. What kid wouldn't appreciate that?
I also tried to make candied blood orange slices. I dried them because I knew the hot sugar would likely roll off a damp orange slice. I poked it with a skewer and dipped it. It was a colossal flop. The sugar was still not sticking.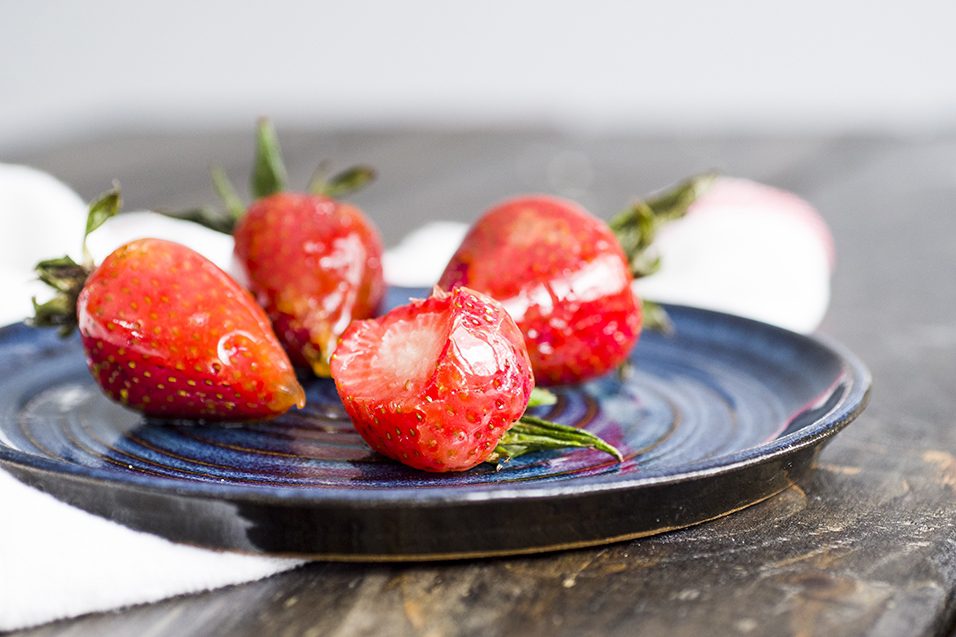 WHAT YOU NEED FOR CANDY COATED STRAWBERRIES?
Are you ready to learn how to make candied strawberries? First, let's go over the ingredients. Corn syrup is used in almost all recipes. This method is ideal for making whole berries.
However, we prefer to use a simple syrup made of only water and sugar. It provides the same delectable candy coating as before, but with one less step in the process.
Strawberries- Ripe is best, but because they will be coated in sugar, it is fine if they are slightly less sweet.
Sugar
Water
Alternative Video: How to make Candied Strawberry
HOW TO MAKE CANDIED STRAWBERRIES?
Begin by washing and drying your strawberries, as well as setting up your workspace. Prepare the skewers, parchment paper/wax paper, and whatever else you need to have ready before you begin.
Next, combine the sugar, corn syrup, and water in a large saucepan over medium heat. Make sure the sugar reaches 300 degrees using an accurate candy thermometer.
I knew that orange slices could be candyed by simmering them in sugar water until the rinds are translucent, but I wanted an actual candy coating that made the blood orange slices glisten.
Turn off the heat. To keep the hot sugar from cooling faster than it already will, I usually leave it on the same burner that I cooked it on.
Working quickly, insert a skewer into the strawberry's top, hold the skewer and the hull together, and carefully dip in the sugar. Tap the wrist of the hand holding the strawberries a few times before quickly placing it on the parchment paper/wax paper.
I did notice that some of the strawberries had extra sugar on the bottoms where the hard candy hadn't had time to drop all the way off, but I didn't want to waste time trying to get the extra sugar off the strawberry and risk my sugar hardening in the pan.
If you want to cut the recipe in half and work in small batches, you could probably wait a little longer for the sugar to dissolve.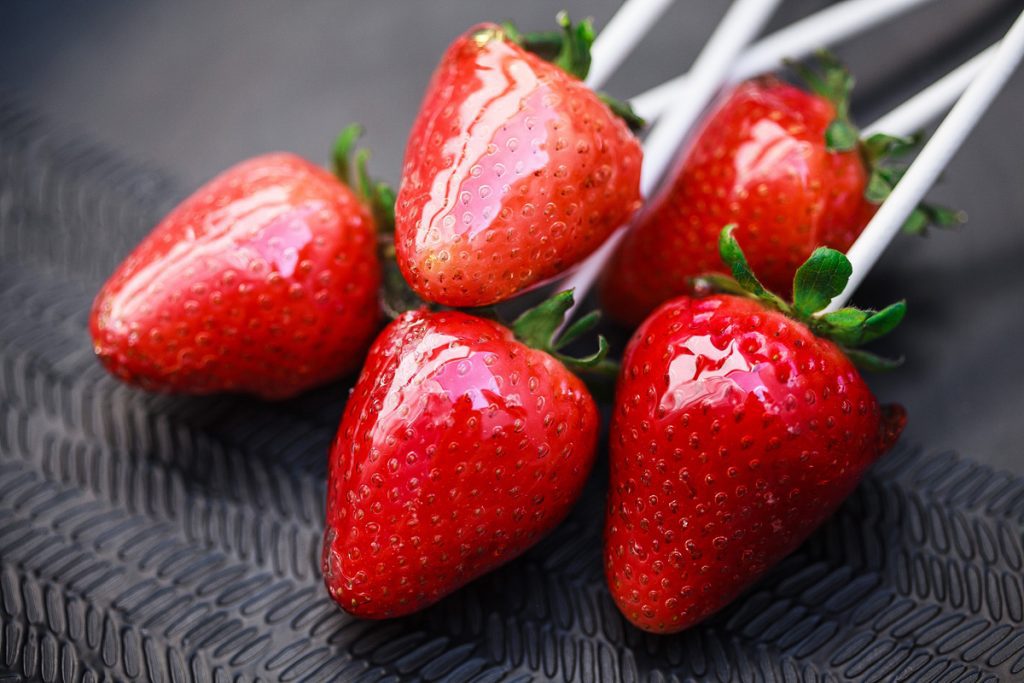 HOW DO YOU USE CANDIED STRAWBERRIES?
Candy-covered strawberries and candied strawberry slices are perfect for decorating cakes, cupcakes, brownies, pies, and other desserts. They add an elegant touch that elevates your dessert to new heights!
You could even eat them right off the tray if you wanted. We keep ours in an airtight container lined with parchment paper and treat it as if it were a candy jar. This treat is commonly referred to as "strawberry oven candy."
HOW LONG DO CANDIED STRAWBERRIES LAST?
This recipe isn't going to last long. The candied berries should be consumed within one or two days, but I doubt they'll last that long. On the first day, we always eat them. Always keep the berries in the refrigerator in an airtight container.
WHY AREN'T MY CANDIED STRAWBERRIES HARDENING?
If your candied coating isn't hardening, the candying mixture was not heated sufficiently. Allow your candying mixture to bubble, thicken, and turn a rich golden color, similar to caramel. Then, quickly remove from the heat so that it does not burn.
Using a candy thermometer makes it simple to keep an eye on the temperature. Otherwise, just look for that golden color and thickness.
CAN I MAKE THESE CANDIED STRAWBERRIES WITHOUT A CANDY THERMOMETER?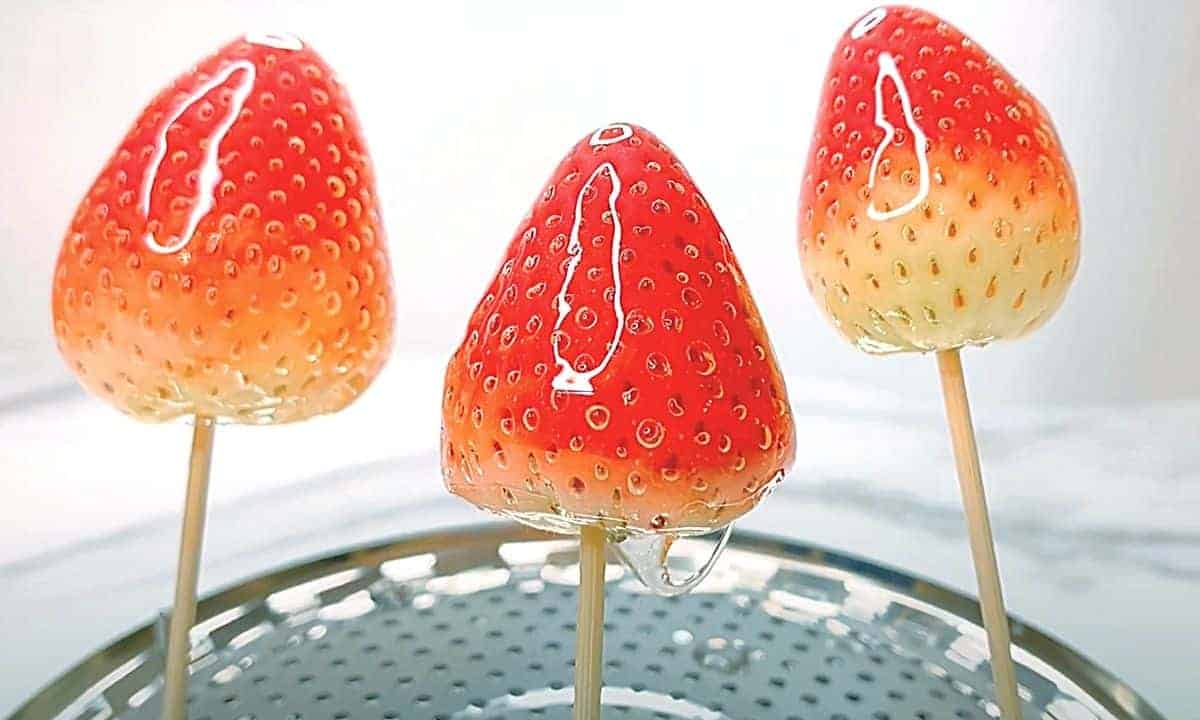 This isn't the most accurate way to test the sugar, but my mother always used to put a little hot sugar mixture in a mug of very cold water.
Once the sugar has reached the hard crack stage, dropping hot sugar into cold water will cause it to harden in a matter of seconds. Even if it isn't quite done, the sugar will be chewy like taffy.
HOW TO STORE CANDIED STRAWBERRIES?
The short answer is that you don't. Consume them immediately or within the next few hours. After about 4 or 5 hours in the fridge in an airtight container lined with wax paper, the candy will soften and leave puddles around the strawberries.
HOW DO I WASH THE PAN AFTER MAKING CANDIED STRAWBERRIES?
Soak your pan in hot water immediately after you've finished making the candy to prevent it from hardening. Unless your candy burned (and trust me, you'll know if it did! ), it should wash out easily.
HOW LONG ARE CANDIED STRAWBERRIES GOOD FOR?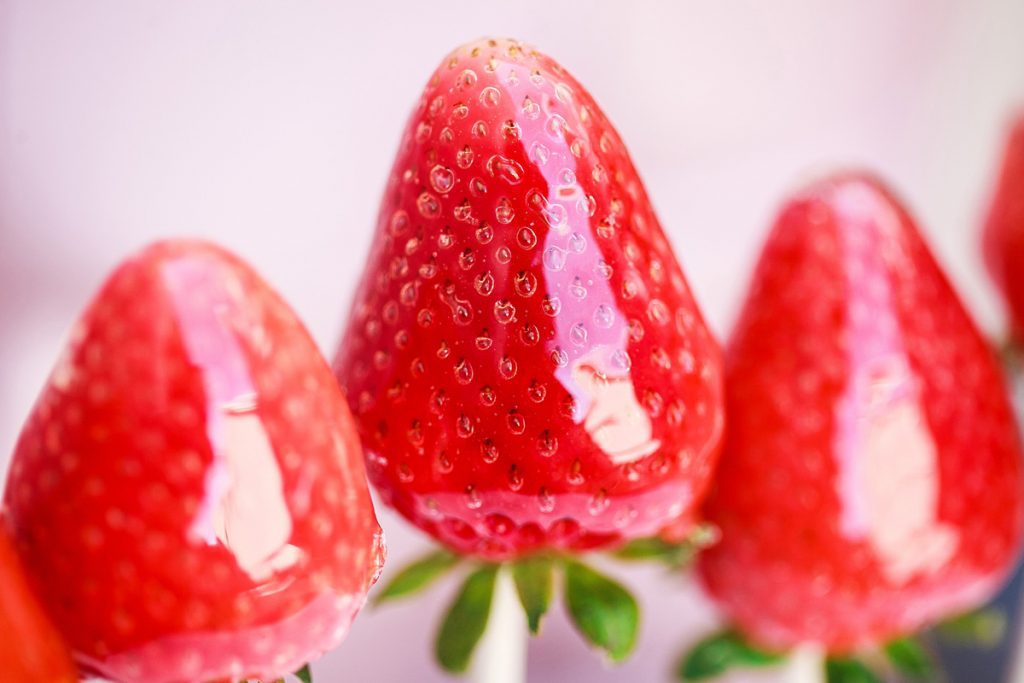 This strawberry candy recipe should be eaten the same day it is made, not the next day. Candied strawberries do not keep well and become too juicy to eat after the first day.
If you want to make this strawberry candy recipe for a special occasion, make it no more than a few hours before the event so it stays fresh. If you plan to take candied strawberries anywhere as a treat, keep them in an airtight container.
TIPS FOR MAKING CANDIED STRAWBERRIES
Before beginning your hard candy recipe, thoroughly wash and dry the strawberries.
Place a skewer on top of the strawberry and dip it in the hard candy mixture to avoid burning your fingers. – The disadvantage of this method is that the hull or green leafy top tips are also coated in the hard candy mixture.
Pull the hull back while holding the skewer or very carefully hold the hull to dip it to avoid it getting dipped in sugar. – Keep in mind that I managed to candy coat my fingernail a few times while doing this, and hot sugar is no joke.
Before beginning the hard candy recipe, lay out parchment or wax paper.
Make a spot for the hot pan next to the parchment paper, or place the parchment paper next to the stove where the hot sugar is cooking. -This will ensure that things move as quickly and safely as possible.
Print
Candied Strawberries Recipe
---
Author:

Prep Time:

10 minutes

Cook Time:

10 minutes

Total Time:

20 minutes

Yield:

21

strawberries

1

x
Description
These strawberries, like candied apples, are attractive and enjoyable to eat! a thin sugar shell encircling these fresh and delectable strawberries
---
2

 

C

 

granulated sugar

2/3

 

C

 

water

1/2

 

C

 

light corn syrup

Strawberries
---
Instructions
In a saucepan over medium heat, combine all of the ingredients.
When the sugar has been dissolved, increase the heat to a simmer.
Using a candy thermometer, heat the candy to 300-310° and then reduce to a low heat (I actually turn it down at 290°).
Immediately dip the strawberries in the coating and shake it off before placing them on a cooling rack, parchment paper, or silpat surface to solidify (it wont take long)
You can't make them ahead of time for events because they're only good the day of.
Category:

Dessert

Cuisine:

Korean
Nutrition
Serving Size:

1 serving

Calories:

96kcal

Sugar:

25g

Sodium:

5mg

Fat:

0g

Protein:

0g

Cholesterol:

0mg
Keywords: candied strawberries, strawberry candy, candied strawberry recipe, strawberry, easy candied strawberry
Frequently Asked Questions
Can you soak strawberries in sugar water?
Strawberries, washed, hulled, and sliced, should be placed in a large glass bowl. Stir in the sugar and set aside for 30 minutes to allow the strawberries to release their natural juices, but not so long that they become mushy.
How long does candied fruit take?
Cooking sugar syrup to this stage yields syrup, not candy, which you could use to top ice cream. Place a small amount of fruit in the liquid. Cook for 20-30 minutes on low heat, or until the fruit or rind is transparent.
Do I need to refrigerate candied fruit?
Bush recommends storing it in the refrigerator if you plan to keep it for a year or more. Keep in mind that the sugar may crystallize and cause the fruit to become extremely hard. To counteract crystallization and soften the fruit, soak it overnight in a cooked sugar syrup.
Can dogs eat strawberries?
Yes, strawberries can be eaten by dogs. Strawberries are a good source of fiber and vitamin C. They also contain an enzyme that can help whiten your dog's teeth as he or she consumes them. Because they contain sugar, they should be consumed in moderation.
More of Candied Strawberry recipes to try:
How To Make Candied Strawberries Without Corn Syrup
Can you make candied strawberries without using corn syrup, which is an ingredient in almost every food wrapped in plastic? The solution is related to what you are attempting to accomplish by not using corn syrup in your recipe. Corn syrup is sweet, but it's not particularly flavorful, which is why it's usually always combined with extra sugar.
Read Here
Over Dried Candied Strawberries
Oven dried strawberries are a delectable way to experience the strong flavor of freshly picked strawberries all year. My boys enjoy finding these in their school lunches and snacks, which I like to add to trail mix.
View Here
OTHER RELATED POSTS: