Delectable Philadelphia Roll Recipe
Philadelphia rolls are made by rolling sushi rice and nori seaweed sheet around smoked salmon, cream cheese, and cucumber filling. This recipe teaches you how to make rice, roll sushi, and create delectable and creamy Philly roll sushi.
A PHILADELPHIA ROLL IS WHAT?
Smoked salmon, cream cheese, and cucumber are rolled in nori seaweed sheets, and seasoned rice to create the Philadelphia roll sushi, a type of maki sushi or rolled sushi. It's an inside-out sushi roll (Uramaki), also known as a Philly roll or Japanese bagel roll, where the nori wraps the filling and the rice is on the outside.
The Philadelphia cream cheese brand inspired the creation of the Philadelphia roll sushi in the 1980s in North America. As smoked salmon and cream cheese are frequently used together on bagels, Philly roll sushi is also known as Japanese bagel roll. It is suitable for dinner, lunch, or brunch.
A PHILADELPHIA ROLL OF SUSHI CONTAINS WHAT?
A Philadelphia sushi roll typically has smoked salmon, cream cheese, and cucumber as its fillings.
Sesame seeds can be uniformly sprinkled on the rice after the sushi is folded up in seaweed sheets and rice to give the additional roll flavor.
DIRECTIONS FOR MAKING SUSHI RICE
You'll need to use less water while cooking sushi rice than regular rice. The ideal rice-to-water ratio is 1:1. (or use 1.2 to 1 if you prefer softer rice). For this recipe, use premium short-grain sushi rice.
After it has finished cooking, pour the hot rice into a big bowl and allow it to cool somewhat. Then, add the sushi vinegar—a concoction of rice vinegar, sugar, and salt—while the rice is still hot to season.
HOW TO MAKE PHILLY ROLL
In this dish, the nori and contents are covered by the rice, which is on the outside. So, for one roll, you'll need half a nori sheet.
Lay down your bamboo mat first, covering it with plastic wrap. This will prevent the rice from clinging to the mat and keep it clean.
With the bright side facing down, place half the nori sheet on top of the mat.
Over the nori, evenly distribute the cooked sushi rice (approximately 3/4 cup).
After flipping the nori sheet, add the fillings in the center.
Using your thumbs, raise the edge of the bamboo mat up and over the filling. Once the rice and stuffing are pressed together, roll the bamboo mat away from you. Roll on until the ends converge.
To add more flavor, sprinkle toasted sesame seeds on top of the roll.
Try these other Sushi Rolls:
Volcano Roll Sushi Recipe [So Yummy!]
ROLL OF PHILADELPHIA CALORIE
As they contain smoked salmon and cream cheese, Philadelphia rolls have more calories than regular sushi rolls. About 320 calories are in one roll, and 40 calories are in one piece.
WHERE DO I CHOOSE NORI SHEETS?
The best nori sheets are black with a faint green tint. Without any holes, they should all be the same thickness. The fresh ones are snappy and straightforward to break when folded in half.
WHAT TYPE OF SALMON SHOULD BE SMOKED?
Quality smoked salmon has a vibrant color and a rich flavor. If the color is quite dense, it hasn't adequately thawed and may have an unpleasant, mushy texture. Before using them as fillings, cut them into thin strips or roll them up.
CREAM CHEESE: HOW DO I CHOOSE IT?
This recipe usually calls for Philadelphia brand cream cheese, but any cream cheese will do. Use low-fat or non-fat cream cheese to cut back on calories.
Alternative Video Recipe: Philadelphia Rolls
Suggested Posts:
INGREDIENTS YOU'LL NEED:
For this simple Philadelphia Roll recipe, you will need the following:
Rice for sushi The tender, unifying substrate of almost all sushi is made of freshly cooked short-grain rice seasoned with a sweetened rice vinegar mixture.
Nori. The most fabulous nori seaweed sheets are roasted, which gives sushi rolls an interior flavor that is salty and even saline. It is conveniently available in most international markets and the Asian cuisine section of the majority of larger supermarkets.
Whipped cheese. To make strips out of cream cheese, a block is required. Avoid using spreadable or tub cream cheese because filling and rolling the sushi with them will be more challenging.
Salmon. Salmon can be hot- or cold-smoked, but cold-smoked salmon typically produces the most remarkable results. (You can even discover how to produce your homemade smoked salmon!)
Cucumber. Seedless and cut into somewhat even matchsticks with a mandolin. The cucumber will release too much water if the seeds are present, changing the sushi roll's consistency.
THE PHILADELPHIA ROLL METHOD
The procedures for making this Philadelphia Roll recipe are as follows. For more specific ingredient amounts, please read the recipe card below.
RICE AND FILLING PREPARE
Prepare approximately 4 cups of cooked sushi rice seasoned with a sushi vinegar mixture that has been sweetened. Applying the vinegar mixture while it is still hot will allow it to absorb completely, but you shouldn't build your Philadelphia Roll until it has cooled to room temperature.
Cut the cream cheese and your smoked salmon on a cutting board into long, thin strips of roughly similar thickness using a sharp knife. Place the soft cheese in the freezer for 20 to 30 minutes before slicing to help cut.
You'll also need to understand how to julienne for this recipe. For the stuffing, slice a cucumber. The cucumber needs to be julienned to a thickness of about 1/8 inch and a length of about 3 inches if you want it to have the appropriate delicate texture.
SPREAD THE RICE
Place a single sheet of toasted nori seaweed onto the bamboo mat when the sushi rice has completely cooled to room temperature. The nori should be held with the rough side facing up.
Use a rice paddle or silicone spatula to gently spread the nori on top of the cup of rice. If you can't spread the rice evenly to the edges using the spoon, lightly wet your fingertips and use them.
SPRINKLE AND FLIP
Add some toasted black sesame seeds to the rice, if preferred. Sesame seeds embellish the outside of the Philadelphia Roll and give it a little nutty flavor.
Place a sheet of plastic wrap on top of the rice to make rolling easier and prevent it from sticking to the mat. Flip the nori and rice carefully, so the plastic is sandwiched between the nori and mat.
Once the nori is facing up, you may start stuffing your roll!
ROLL UP AND FILL
Lay a few horizontal strips of cream cheese, a little over an ounce of smoked salmon, and a few julienned cucumber pieces on the nori towards the edge closest to you.
When the sushi is wrapped, the fillings should be concentrated in one area; therefore, the ingredients should be arranged closely together.
If desired, add a little salt to your toppings.
Lift the mat once again, starting at the end closest to you, and curl the nori and rice edge over the fillings. Then, start rolling while gently pressing and carefully repositioning the filling.
As you work, watch that the plastic wrap doesn't end up rolled inside the rice; pull it back as necessary.
Repeat this procedure with the remaining ingredients and nori sheets to make four Philadelphia rolls. Set your completed roll aside.
CUT INTO PIECES
Before cutting, the remaining plastic wrap covering the sushi can either be left in or taken off. Both approaches will work while leaving the wrap on, making it more straightforward to keep the roll together and the rice from sticking.
In either case, moisten the blade of a sharp chef's knife with chilly water to keep rice from adhering to it. Next, carefully slice each roll into 8–10 pieces, depending on the desired thickness.
Every two to three pieces, rewet the knife to avoid sticking.
It would be best if you kept cutting the rolls until you prepared enough to serve everyone at once. If at all possible, keep the roll entire and wrap it in plastic while it's being stored in the refrigerator.
Serve the cut Philadelphia bread pieces on a dish after removing any remaining plastic wrap. Serve the sushi with a side of soy sauce, wasabi, or pickled ginger, and top with a final scattering of toasted sesame seeds as a garnish.
PREPARE MEALS AND STORE THEM
Planning: Philadelphia Roll is best when consumed within a few hours of preparation, although it can be made up to 24 hours in advance with proper storage.
Keep the leftovers whole and well-wrapped in plastic wrap when storing them. They can stay this way for up to two days before the rice hardens and the avocado turns.
The freezing of the Philadelphia Roll is not advised.
Print
Philadelphia Roll Recipe
---
Author:

Prep Time:

10 minutes

Cook Time:

1 hour

Total Time:

1hr and 10 minutes

Yield:

4

1

x
Description
Philadelphia rolls are made by rolling sushi rice and nori seaweed sheet around smoked salmon, cream cheese, and cucumber filling. This recipe teaches you how to make rice, roll sushi, and create delectable and creamy Philly roll sushi.
---
For Sushi Rice
1 cup

sushi rice (short grain sushi rice works the best)

1 cup

water

1 ½ tablespoons

optional sushi vinegar (or mixing

1 tablespoons

rice vinegar,

1/2 tablespoon

sugar, and

1/2 teaspoon

salt)
For Philadelphia Roll
4 oz

smoked salmon

4 oz

cream cheese (cut into ½-inch strips)

1/2

cucumber (cut into

½

-inch strips)

2

sheets nori (seaweed sheet)

1 tablespoon

sesame seeds (you can toast it in a hot skillet for a few minutes for extra flavor)
---
Instructions
Rinse the rice, then add it to the rice cooker with some water to make sushi rice. Transfer the cooked food to a sizable bowl and allow it to cool somewhat. Stir in the sushi vinegar while it's still very heated (or the mixture of rice vinegar, sugar and salt).
Prepare the Philadelphia Sushi Roll by spreading the bamboo mat out and covering it with plastic wrap (this will prevent rice from sticking to the bamboo).
On top of the mat, place half of the nori sheet.
Take around 3/4 cup of the cooked rice and dip your hands in vinegar water (this will stop the rice from sticking to your hands). distributed evenly over nori.
The rice should now be face down.
Strips of smoked salmon should be 1/2 inch wide.
On top of the nori, arrange the smoked salmon, cream cheese, and cucumber.
Lift the edge of the bamboo mat up and over the filling by placing the thumbs underneath.
Apply pressure to the bamboo mat to tighten it up as you roll it away from you. Roll on until the ends converge.
After removing the bamboo mat, sprinkle sesame seeds over the roll.
Divide each roll into eight pieces. Dispense and savor!
Category:

main course, Dinner

Method:

Baked

Cuisine:

Japanese
Nutrition
Serving Size:

32

Calories:

318kcal

Sugar:

1g

Sodium:

321mg

Fat:

12g

Saturated Fat:

6g

Unsaturated Fat:

0g

Trans Fat:

0g

Carbohydrates:

40g

Fiber:

2g

Protein:

11g

Cholesterol:

38mg
Keywords: Philadelphia Roll, Philadelphia Roll Sushi, Philly Roll
FAQs About Philadelphia Roll
What makes up a Philly hand roll?
The ingredients for a Philadelphia roll, makizushi (also known as kawarizushi), typically include smoked salmon, cream cheese, and cucumber. Although imitation crab is frequently used in place of salmon in this dish, additional components can also be found, including other kinds of fish, avocados, scallions, and sesame seeds.
What distinguishes California Roll from Philadelphia, Boston, and Roll?
Salmon, cream cheese, and cucumber are typically found in a Philadelphia roll, cooked shrimp, avocado, and cucumber are found in a Boston roll, and imitation crab, avocado, and cucumber are found in a California roll. Other than that, these three delicious techniques for making sushi rolls are incredibly similar!
Do Philadelphia rolls come cooked or uncooked?
When the salmon has been hot-smoked at 165°F or is in shelf-stable form, it is deemed "cooked" when used in Philadelphia rolls. As a result, it is devoid of raw fish and suitable for intake by pregnant women, kids, and those with compromised immune systems.
What makes it a "Philadelphia roll"?
Philadelphia cream cheese, the distinctive component of the roll, is where the name "Philadelphia Roll" comes from. In the 1980s, the proprietor of the Japanese restaurant Tokio HeadHouse created the role.
What distinguishes the Philadelphia roll from the California roll?
Salmon, cream cheese, and cucumber are typically found in a Philadelphia roll, cooked shrimp, avocado, and cucumber are found in a Boston roll, and imitation crab, avocado, and cucumber are found in a California roll.
More Alternatives Recipe to try!
SPICY TUNA SUSHI ROLL
A delicious spicy sushi roll for people who enjoy a little more zip. You can use cooked or raw tuna to create delicious flavors depending on your desire. Excellent for a hearty Japanese lunch. With a wasabi soy dip, it tastes fantastic.
PHILADELPHIA ROLL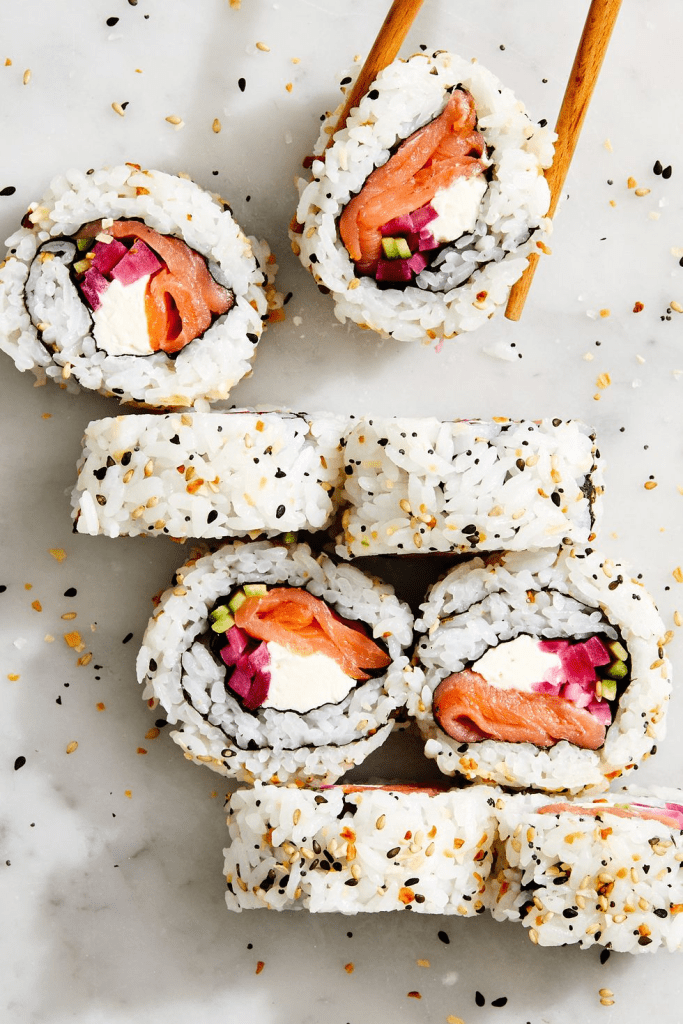 We're all about the Philadelphia roll, which is essentially a bagel and lox converted into epically excellent sushi. Crunchy cucumber and pickled red onions add a special touch to the traditional pairing of smoked salmon and cream cheese. Although it wasn't customary, we also sprinkled everything bagel seasoning on top of the bread; it was great anyway.