EASY GRIDDLE CLOUD EGGS RECIPE (So fluffy!)
★★★★★ 5 from 1 reviews
Move over, poached and so long over-easy: there's a new way to eat eggs. Say hello to these puffy whipped egg white nests with a sunny yolk core. Serve them on toast for a delicious way to start the day.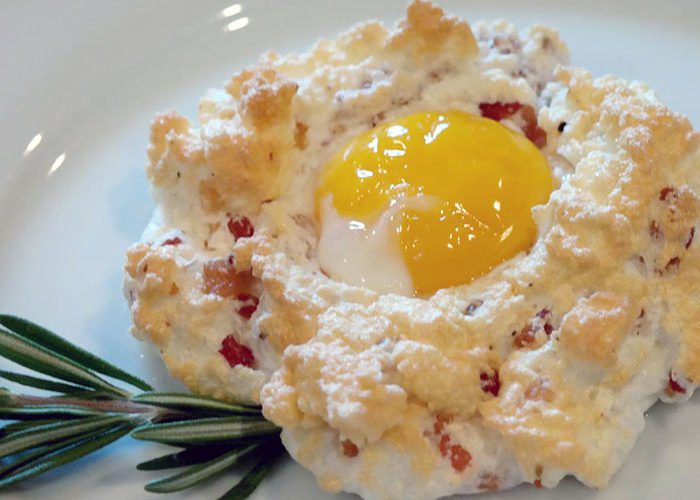 Griddle Cloud Eggs have a runny egg yolk and fluffy egg whites. The egg clouds are egg whites whipped to a stiff peak, seasoned to perfection, dusted with parmesan cheese, fried somewhat, then topped with the yolk and cooked a bit longer.
You've just created a cloud egg!! There are only three ingredients in this cloud egg recipe: an egg, cheese, and a seasoning of your choice.
With its fluffy, whipped egg whites with a hint of cheese and runny yolks, cloud eggs are like a small slice of heaven.
What Are Cloud Eggs?
Whip the egg whites into fluffy clouds after separating the whites from the yolk. To make a delicious, healthy egg, use the specific cooking process!!
Suggested Posts
Alternative Video Recipe: How to make Cloud Eggs (Eggs on a Cloud)
Griddle Temp for Eggs
Use the lowest setting on your gas griddle to make cloud eggs. Cook your eggs on a griddle that has been preheated for 3-5 minutes.
When frying these griddle cloud eggs, don't use any wind shields because the flat top will get too hot. Set the burners to medium if you're cooking different sorts of eggs on the griddle.
How to cook Eggs on a Blackstone Griddle
Three differences when cooking cloud eggs and regular eggs on a Blackstone Griddle.
When making the egg clouds, use parchment paper. This prevents the bottoms of the fluffy egg whites from sticking and overcooking.
Another distinction between cloud eggs and ordinary eggs is the temperature at which they are cooked. Egg clouds are cooked at a low temperature but covered with a dome to create an oven effect, whereas regular eggs are cooked at a medium temperature.
Regular eggs should be fried on a griddle with a fat such as oil or butter on the flat top, but fluffy eggs should be cooked on parchment paper with no oil or butter.
Whipping Egg Whites
Because you're only whipping two eggs, this is a good recipe for beginners. A smaller amount of egg whites whips up quicker.
Whipping egg whites does not require the use of an electric mixer. If you must beat it by hand, use a large balloon whisk if you have one.
Whipping egg whites may be challenging! Begin with a big, nonreactive (glass or metal) bowl that has been thoroughly cleaned.
Make certain that the eggs are thoroughly separated. Even a trace of yolk can prevent your whites from whipping correctly.
It's worth noting that chilly eggs are simpler to separate, whilst room temperature whites are easier to whip.
A pinch of salt and/or cream of tartar added to the egg whites will assist give them structure as they whisk. If you've already tried that and it hasn't worked, increase the pinch size.
Finally, fresh eggs are the greatest.
"If your egg whites are still too loose or watery, place them in greased custard cups or ramekins instead of straight on the baking sheet," reader Alicia suggests.
Do you prefer your yolks to be more done?
Rather than adding the yolks to the whites afterward, place the yolks on top of the whipped whites right away. Then bake for the amount of time specified for thoroughly cooked yolks.
What to Serve With Cloud Eggs
For a fantastic breakfast or brunch, serve your cloud eggs with bacon, breakfast sausage, and hash browns. Cloud eggs with a simple green salad can make a light dinner if you're a breakfast-anytime type like me.
They're delicious with smoked salmon hash. Corned beef hash or basic home fries. Make some cinnamon toast to go with the cloud eggs and pair it with a Spicy Bloody Maria Cocktail.
How to make Cloud Eggs
Gather your ingredients. Preheat the griddle on the lowest setting.
Separate the egg white from the yolk.
With a hand whip, beat the egg white for about 90 seconds to a stiff peak. Do not over mix!
On a preheated griddle place a sheet of parchment paper to flat top. Scoop all the fluffy egg white onto the parchment paper in a mound.
Next, make a slight hole in the center of the whites to make a nest shape.
Sprinkle the parmesan cheese and seasoning to the top of the white.
Cover with a dome and cook for 2 minutes.
Uncover and place the egg yolk into the center of the fluffy egg white. Replace the dome cover and cook for 2 more minutes.
With a spatula, remove the cloud egg to a serving platter.
TIPS FOR FLUFFY CLOUD EGGS
Many of the finest strategies for making cloud eggs are the same ones I recommend for making cloud bread…
ADEQUATELY BEAT THE EGG WHITES.
It is critical that the egg whites develop firm peaks to avoid collapsing. Here are some pointers to help you do it properly every time:
A clean bowl is important. If there are any traces of oils or fats in your mixing bowl, the whites will not whip correctly. Because plastics tend to retain more oil, it's preferable to use a glass, stainless steel, or stoneware bowl.

Cleanly separate the eggs. Before you turn on your mixer, ensure sure there are no little bits of yolk in the whites for the same reason as stated above. If there is even a trace of yolk in the whites, they will not whip.

Room temperature eggs will form stiff peaks more easily and quickly than cold ones. Try bringing your eggs to room temperature before you start.

Cream of tartar can be useful. If you're in a hurry to make cloud eggs but your eggs are chilly and refusing to form stiff peaks, consider adding a pinch of cream of tartar to the whites to help stabilize them.

When the stiff peaks are ready, tipping the bowl almost upside down does not dislodge them, and the peaks "stand up" from the mixer beaters.

GENTLY FOLD IN ADDITIONS.
If you stir or move your whites around too much after they have formed firm peaks, they can still break down. To avoid deflating the whites, employ a gently folding motion when adding salt, pepper, meats, cheeses, or herbs.

REMEMBER NOT TO OVERBAKE.
Cloud eggs often have a runny yolk and cook in 3 minutes. You can adjust the cooking time to make the yolks to your desire, but keep an eye on them because they only require a few minutes!
STORAGE INSTRUCTIONS
Eggs in a cloud are best eaten fresh — and they're easy enough to make from scratch, since they only take 15 minutes to make.
That being said, if you have leftover cloud eggs, store them in the refrigerator for 1-2 days.
Can you Freeze Cloud Eggs?
No, cooked eggs should not be frozen. Safety-wise they are fine, but the texture will get tough and rubbery — no, thanks!
How to Reheat Egg Clouds:
Reheat egg clouds in a 350 degree F oven for best results. The yolks might get a little more done, but they'll still be delicious!
Print
EASY GRIDDLE CLOUD EGGS RECIPE (So fluffy!)
---
Author:

Prep Time:

5 minutes

Cook Time:

4 minutes

Total Time:

9 minutes

Yield:

1

servings

1

x
Description
Griddle Cloud Eggs are made with fluffy egg whites and a runny egg yolk. The egg clouds are egg whites that have been whipped to a stiff peak, seasoned to perfection, dusted with parmesan cheese, fried somewhat, then topped with the yolk and cooked a bit longer.
---
Egg, large 1 each

Parmesan Cheese

1/2 teaspoon
---
Instructions
Reduce the heat to the lowest setting on the griddle. There are no wind guards to be used.

Separate the egg whites from the yolks in separate basins.

Whip the egg whites for about 90 seconds with a hand mixer until stiff peaks form. Please don't overmix!!

Place a sheet of parchment paper on the flat top of a warm griddle.

Scoop the fluffy egg white into a mound on the parchment paper.

To construct a nest shape, make a small hole in the center of the whites.

On top of the white, sprinkle the parmesan cheese and seasonings.

Cook for 2 minutes with a dome on top.

Uncover the egg yolk and place it in the center of the fluffy egg white.

Replace the lid and cook for a further 2 minutes, or until the whites are golden brown and the yolk is set.

Transfer the cloud egg to a serving plate using a spatula.
Notes
Do not overbeat the egg white.
Do not over cook the egg white.
Category:

Breakfast

Method:

Bake

Cuisine:

American
Nutrition
Serving Size:

1

Calories:

75kcal

Sugar:

0g

Sodium:

88mg

Fat:

5g

Saturated Fat:

2g

Unsaturated Fat:

3g

Trans Fat:

0g

Carbohydrates:

0g

Fiber:

0g

Protein:

7g

Cholesterol:

187mg
Keywords: eggs, griddle, breakfast
Frequently Asked Questions
What Do Cloud Eggs Taste Like?
Cloud eggs have a velvety texture thanks to the fluffy whites and creamy yolks. These eggs have their own distinct flavor and are something you must try. This Blackstone griddle egg is described as light and airy.
Are cloudy eggs OK to eat?
Cloudy egg white – Cloudiness indicates that your egg is very fresh. When the egg is laid, high amounts of carbon dioxide produce cloudiness. The cloudiness dissipates with time. These eggs are safe to eat.
Can you make cloud eggs without a whisk?
Spoon one-third of the egg whites onto a baking sheet coated with parchment paper or a silicone mat. To hold the egg yolk, make an indent in the center of the egg white "cloud" with the back of the spoon. Continue with the remaining egg whites. Gently drop one egg yolk into each "cloud" of egg whites.
What temp do you cook eggs on a griddle?
Cooking temperature for eggs
You should cook your eggs on the griddle over low-medium heat. If you're using a stovetop, we recommend setting the burner to a temperature slightly lower than medium. The griddle temperature for eggs should be between 250°F and 325°F to allow for easy monitoring of doneness while reducing the risk of overcooking.
Why is my egg slimy?
Eggs with cracked or slimy shells may have become infected with germs, whilst a powdery residue on the shell may indicate mold. … A runnier egg white or yolk might also indicate that an egg has passed its prime.
More Cloud Eggs Recipes to try
Italian Cloud Eggs
Drop egg yolks on nests of whipped Italian-seasoned egg whites, then bake in a cast-iron skillet. Dreamy!
Delicious Cloud Eggs Recipe
We enjoy a good baked egg recipe, but clouds eggs were the online craze that forever altered our daily routine. Consider genuine clouds of heaven above a runny yolk. They're a lot of fun to make, and everyone thinks they're the prettiest things ever. Brunch has never looked better on Instagram.