Easy 15 Minutes Crab Stuffed Salmon (Yummy!)
★★★★★ 5 from 1 reviews
Enjoy this exquisite Crab Stuffed Salmon supper with soft baked salmon fillets stuffed with delicious crab meat and a creamy filling! As you'd expect from a great seafood restaurant, the salmon comes out nicely with a crunchy Panko covering and a creamy, savory stuffing! Crab stuffed salmon is the kind of dish that seafood enthusiasts aspire to have for supper!
3 Secrets to Ease Your Cooking
Frustrations.
This simple salmon meal resembles a gourmet seafood restaurant in appearance and taste! With this flaky salmon stuffed with delectable and creamy crab filling, your family and friends will believe you're treating them.
This double dosage of seafood, prepared with deliciously savory ingredients that are likely already in your cupboards, will thrill fish fans. You can have this incredibly healthy supper on the table in 20 minutes if you prepare the crab filling ahead of time!
How to Choose Salmon Like a Pro
Look for fillets with a vibrant, rich color when buying fresh salmon. Fish that is dull or pallid is no longer fresh. As a bonus, gently press into the fillet; does the indentation reappear over time or does it remain? Salmon that does not reappear is old and should be avoided at all costs.
Can I Use Frozen Salmon?
Definitely! In general, frozen seafood is as fresh, if not fresher than most salmon behind the glass at the fish counter, however I recommend finding a frozen salmon brand that you trust!
Alternative Video Recipe: How to make Crab Stuffed Salmon
Suggested Posts
25 Easy and Cheap Dinner Ideas (Save Penny and Enjoy!) Must Try!
35 Best and Easy Sunday Dinner Ideas (For Family Recipes To Enjoy) See here
Juicy Air Fryer Turkey Burgers –(easy recipe)
Crab Stuffed Salmon
Enjoy this exquisite Crab Packed Salmon supper with soft baked salmon fillets stuffed with delicious crab meat and a creamy filling! As you'd expect from a great seafood restaurant, the salmon comes out nicely with a crunchy Panko covering and a creamy, savory stuffing!
THE INGREDIENTS YOU'LL NEED:
This light and elegant crab-stuffed salmon is both quick and gorgeous thanks to easy-to-find and fresh ingredients!
Salmon Fillets – It's easier to "pack" thin slices of salmon if you get the thick, center chops. Look for fillets that are 4-6 ounces in weight, either skinless or skin-on.
Crab meat – I like to use lump crab meat, but the less expensive claw meat works just as well
Cream Cheese – If you're cooking or baking with cream cheese, use the variety that comes in a block rather than whipped cream cheese because it holds together better in the oven
Egg – Adds richness and helps hold everything together for a great presentation.
Mayonnaise — Enhances the creamy texture of the crab stuffing.
Parmesan Cheese – This nutty, salty taste is a great complement to the crab meat.
Panko Breadcrumbs – Compared to conventional breadcrumbs, Panko breadcrumbs have a lighter texture and a crunchier crunch. Plain breadcrumbs or seasoned breadcrumbs, on the other hand, will work.
Parsley – It adds color and taste to the richness of the stuffing by adding parsley. Parsley can be fresh, frozen, or dried.
Green Onion – A bit milder than regular onions and adds bright color. Fresh chives would be a great substitution for the scallions.
Lemon Pepper – Great on any seafood! Add a pinch of Old Bay seasoning if desired as well.
Paprika – A little bit sweet and peppery, plus the deep red color is gorgeous on salmon.
Salt & Pepper – Start with a small amount of each to heighten all of the delicious flavors in this easy recipe. Then add more to taste when serving.
STEP-BY-STEP INSTRUCTIONS
This sophisticated, family favorite salmon meal will be ready to eat in 15-20 minutes if you choose to make the crab stuffing ahead of time! It's really good and fresh!

Seasoning and wet ingredients should be combined. In a mixing bowl, combine the following ingredients: egg, cream cheese, mayonnaise, lemon pepper, paprika, salt, and pepper. Mix well with a spoon or a whisk.
Add the crab meat to the mixture and fold it into the cheese. The crab, green onion, panko, and parsley should be added next. Gently fold these into the stuffing mixture until they're evenly distributed.
Chill after adding the Parmesan. Finally, toss in the Parmesan cheese. Refrigerate the bowl for about 30 minutes after wrapping it with cling film.
Preheat. Preheat the oven to 350 degrees Fahrenheit (175 degrees Celsius) and carefully coat a baking sheet with oil or non-stick cooking spray before preparing the salmon.
Salmon should be prepared. Place the salmon fillets on the prepared baking sheet after rinsing them and patting them dry with paper towels.
Each fillet should be sliced in the middle. Use a sharp knife to cut a half-way through the opening in the center of each fillet to create room for the stuffing.
Fill the fillets to the brim with the fillet Mix everything together well, then pour the crab filling into each of the fillets, sprinkling a little more on top. If desired, add a little extra paprika for a little more color.
Broil and bake. Bake the fish for 15-18 minutes at 350 degrees Fahrenheit (175 degrees Celsius). To give the crisped topping a bit more color, place them under the broiler for a few minutes at the conclusion of the cooking process.
Serve right away after garnishing. Before serving, remove the pan from the oven and sprinkle with parsley or a little more Parmesan cheese.
This delectable, yet healthy, seafood feast looks stunning on the plate and is extremely nutritious. Antioxidants, protein, and omega-3 fatty acids are all abundant!
For a complete, fresh supper that looks like it took hours to prepare, serve it with sautéed asparagus and cherry tomatoes or garlic green beans and vermicelli rice. Remember that this crab stuffing goes well with any type of fish!
TIPS FOR THE BEST STUFFED SALMON
I'd like to add a few more recommendations to this crab packed salmon recipe that I'd like to share. Good luck, and I hope you enjoy it as much as I do!
Salmon fillets should not be overcooked, like with any other fish, or they will be harsh, dry, and unsatisfying.
It's okay if you don't cut through the skin on these fillets because they're more "topped" than "filled." If you try to carve too deep a pocket into the fillets, you risk cutting through the skin and letting the fluids and filling escape while cooking.
You can thicken the stuffing by adding a tablespoon or two of extra breadcrumbs if it seems too runny.
Instead of Old Bay, you may easily make Cajun stuffed salmon by substituting Cajun seasoning for Old Bay in the stuffing.
STORING & REHEATING
REFRIGERATING
Any leftover salmon should be placed into an airtight container and refrigerated within one hour of cooking. Your cooked salmon can be refrigerated for up to 1-2 days.

Because of the stuffing, this salmon entree is best reheated and enjoyed within 1 day after cooking it.
REHEATING
Reheating this dish is very easy and best done in the oven, in the same way as you first prepared it. Preheat the oven to 275°F (135°C) and use a prepared baking sheet.
Heat the salmon for about 15 minutes or until the internal temp is at least 130°F (55°C). Serve and enjoy the last bit, but discard anything remaining (do not re-refrigerate).
Print
 CRAB STUFFED SALMON
---
Author:

Prep Time:

10 minutes

Cook Time:

15 minutes

Total Time:

25 minutes

Yield:

6

1

x
Description
Enjoy this elegant Crab Stuffed Salmon dinner that features tasty crab meat in a creamy filling, all stuffed into tender baked salmon fillets! The salmon turns out beautifully with a crunchy Panko topping and rich, flavorful stuffing like you'd expect at a fine seafood restaurant!
---
24 oz

salmon fillets (6 skinless salmon fillets, 4 ounces each)

4 oz cream cheese (softened to room temperature, half of an 8-ounce block)

1 large egg

1 tablespoon mayonnaise

1 tsp lemon pepper

1 teaspoon paprika (plus a pinch to sprinkle on top later)

½ teaspoon each, salt & pepper (to taste)

6 oz crab meat (canned, drained of water)

2 tablespoon Panko breadcrumbs (or plain breadcrumbs)

½ tablespoon fresh parsley (finely chopped)

½ tablespoon green onion (finely chopped)

½ cup Parmesan cheese (freshly grated, plus a little extra to put on top)
---
Instructions
Add the egg, cream cheese, mayonnaise, lemon pepper, paprika, salt, and pepper to a medium mixing bowl. Toss everything together in a large mixing bowl until it's all well

12 teaspoons each of salt and pepper, 1 teaspoon lemon pepper, and 4 oz cream cheese, 1 large egg and one tablespoon mayonnaise

Add the panko, green onion, and parsley to the crab mixture. In a gentle motion, gradually fold in the ingredients until they're all well mixed together

Combine the Parmesan cheese, salt, and pepper in a large mixing bowl. Refrigerate the crab mixture for around 30 minutes once it has been thoroughly combined.

To prepare a baking sheet, preheat the oven to 350 degrees Fahrenheit (175 degrees Celsius).

Cut each fillet down the middle with a sharp knife, leaving an aperture in the middle (careful not to cut all the way through, just about halfway).

Scoop the mixture into the salmon fillets using a small spoon, then top with the rest of the fillets in the center. If desired, top with more paprika.

Bake for 15 to 18 minutes at 350°F (175°C) in a preheated oven. When the fillets are almost done, broil them for a minute or two to get a great finish on them.

Remove from the oven and, if wanted, top with a sprinkle of freshly grated Parmesan cheese and parsley. Serve right away.
Category:

Dinner

Method:

Baked

Cuisine:

American
Nutrition
Serving Size:

6

Calories:

328 kcal

Sugar:

1g

Sodium:

527mg

Fat:

19g

Saturated Fat:

7g

Unsaturated Fat:

0g

Trans Fat:

1g

Carbohydrates:

4g

Fiber:

1g

Protein:

34g

Cholesterol:

134mg
Keywords: salmon, seafood, fish
Frequently Ask Questions
How do you cook Wegmans crab stuffed salmon?
Remove the wrap from the oven and place it on the baking sheet. If the stuffing's interior temperature hits 165 degrees Fahrenheit after 30 minutes at 350 degrees Fahrenheit
How do you reheat crab stuffed salmon?
Preheat the oven to 275 degrees Fahrenheit. – Spread the leftover seafood on a baking sheet or casserole dish that has been lightly greased, then cover it with foil and water. – Place the fish in a preheated oven and cook for 10 to 15 minutes. When it's done, it should be between 125 and 130 degrees Fahrenheit inside.
How many calories are in crab stuffed salmon?
A savory Maryland style stuffing over your favorite Salmon is featured in Trident's new Seafood and Crabmeat packed Alaskan Fish Fillets. As a result, you get a mouthwatering dining experience.
Can you oven cook frozen salmon?
preheat the oven to 425 degrees F. In a baking dish, liberally coat two frozen 6-ounce salmon fillets, skin-side down, with cooking oil and your favorite seasonings or sauces. Using heavy-duty aluminum foil, securely cover the dish. 15 minutes in the oven to cook the salmon
How long is salmon good for in the fridge?
In most cases, raw salmon purchased from a supermarket can only be kept for a few days after it has been purchased. As a result of the extensive seafood supply chain, before it reaches the store, the salmon is shipped overseas to be processed before it reaches the store. The seafood may take 20-30 days to arrive at your local supermarket.
More Recipes to try
HONEY GLAZED CRAB STUFFED SALMON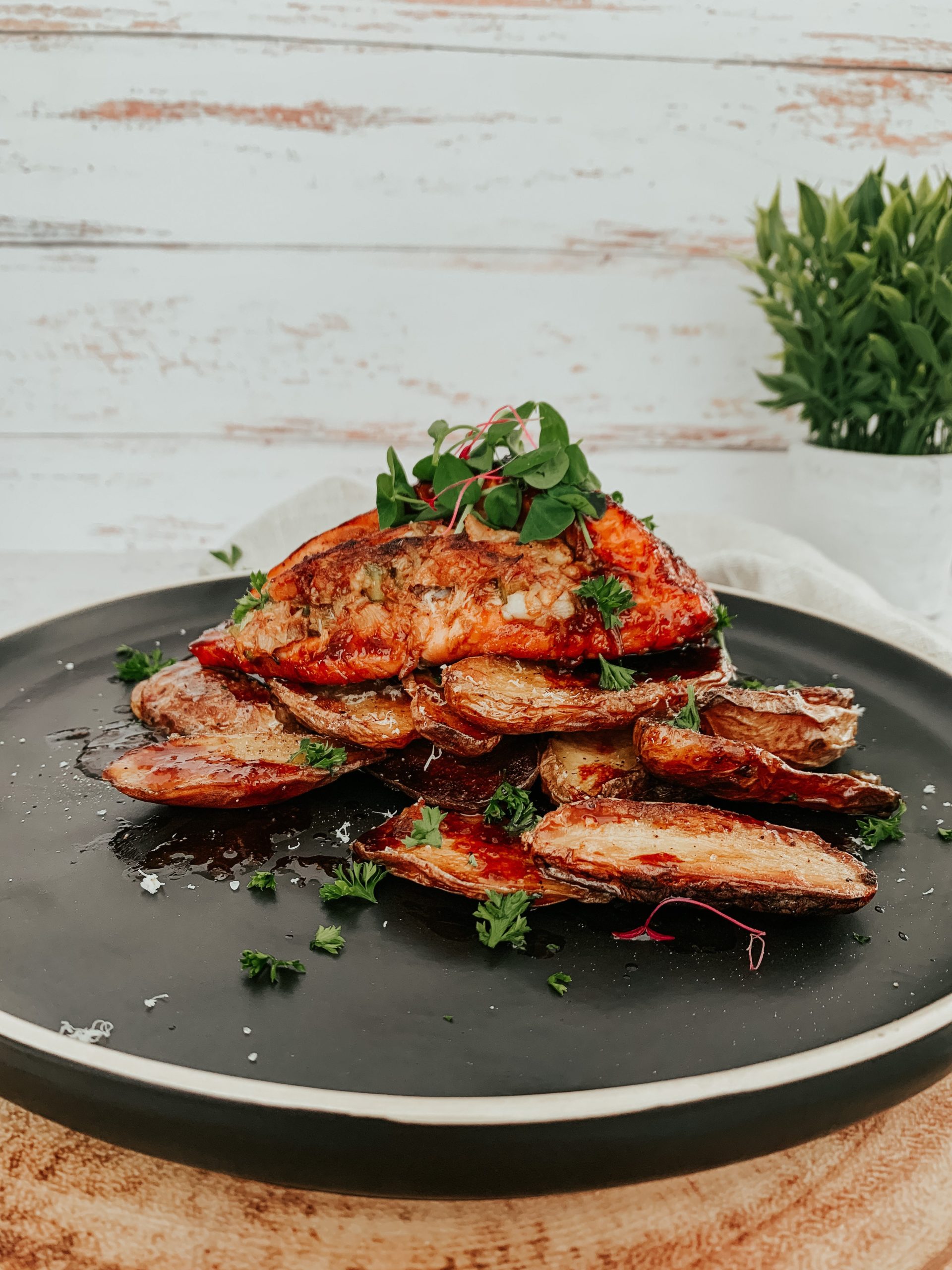 In less than 20 minutes, you can make sticky sweet honey glazed salmon filled with actual crab flesh. By stuffing the salmon with crab, you can really up the ante on your weeknight meal. Stuffing salmon with a simple crab stuffing made with actual crab meat coated in light mayo, diced celery, and old bay seasoning wonderfully fills every bite and adds flavor.
Polish Crab-Stuffed Salmon Pinwheels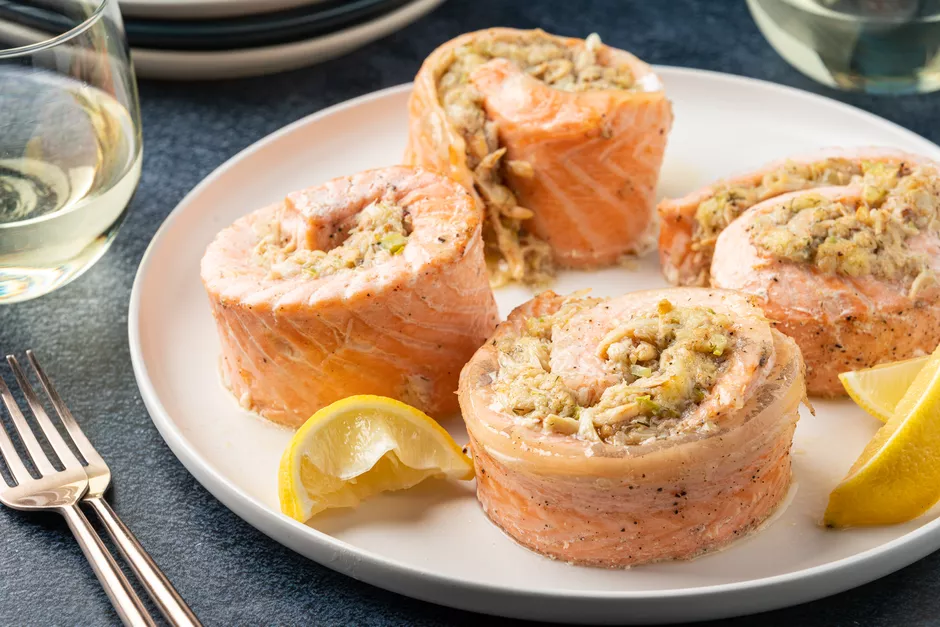 Salmon pinwheels may appear to be a tough dish to prepare, and you might avoid it since it appears to be quite technical. Fortunately, your fishmonger will handle the most of the labor for you, even before you start cooking—he'll cut the salmon thin enough for you to pack and roll it up. Make a lovely garlic pasta and top it with a pinwheel and some fresh herbs, or serve this delicious meal with a fresh salad and even some roasted potatoes. This salmon will be a crowd pleaser no matter how you serve it. It's simple to cook on a weeknight, but it's also special enough to be served at a dinner party.